Movie Review
My Summer of Love
The most dangerous thing to want is more.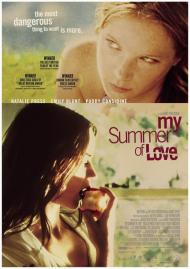 United Kingdom Release Date: 11-05-2004
Directed by: Pawel Pawlikowski
Starring
▸
▾
Natalie Press

,

as

Mona
Emily Blunt

,

as

Tamsin
Paddy Considine

,

as

Phil
Dean Andrews

,

as

Ricky
Michelle Byrne

,

as

Ricky's Wife
Paul Antony-Barber

,

as

Tamsin's Father
Lynette Edwards

,

as

Tamsin's Mother
Kathryn Sumner

as

Sadie

Reviewed on:
February 7th, 2011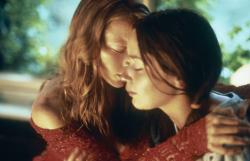 Natalie Press and Emily Blunt in My Summer of Love.
As the title implies this movie is a love story that takes place over the course of one summer. The hot, languid summer months pass slowly as love is born, burns brightly, but then must face the coming chill of Autumn.
Natalie Press stars as Mona, a teenaged orphan living in Yorkshire England. Her only family is her brother Phil, who has just been released from prison and apparently found god while incarcerated. Her married boyfriend breaks up with her immediately after having sex with her in his car. Life isn't seeming the brightest for her at the moment.
Enter Tamsin (Blunt in her first major film role), an upper-class girl who is spending the summer with her family in their country home near by. Tamsin is worldly and sophisticated and she fascinates Mona. They share confidences, as Tamsin reveals to Mona that her father is cheating on her mother and that her sister died of anorexia with her room kept as a shrine in her memory. Mona in turn, tells Tamsin about her born-again brother and her ex-lover.
Eventually the two begin a love affair. Mona seems to fall deeply in love with Tamsin, but you suspect from Tamsin's behavior that the feeling might not be as deeply reciprocated. Certainly the affair doesn't quite seem as between two equals. As the summer draws to a close, this becomes even more apparent and many truths emerge.
Both actresses do an excellent job. Press plays Mona as a girl with her heart on her sleeve who puts everything she has out where everyone can see it and so is consequently easily hurt. Blunt plays Tamsin much closer to the vest. You're never sure what is going on behind her heavy-lidded eyes. Even in this early role Blunt demonstrates her posh charisma and it's easy to see why her career has blossomed.
The pacing of the film is slow, but clearly intentionally so. It's a hot summer, by Northern England standards anyway, and you feel the heat and the long humid days as Mona and Tamsin explore the area and each other. It does a good job of evoking young love when the person you love seems to encompass the whole world.
While Blunt does several nude scenes and there is some girl-on-girl lovemaking, the sex is restrained and non-exploitive. If your reason for watching it is strictly titillation, than you'll be disappointed, although as Blunt's career progresses, I have a sneaking suspicion that this movie will be remembered strictly for being the one where she got her kit off and made out with another girl.
A small film, My Summer of Love is beautifully made and well-acted. A short story, but made with genuine feeling.
Reviewed on:
June 27th, 2015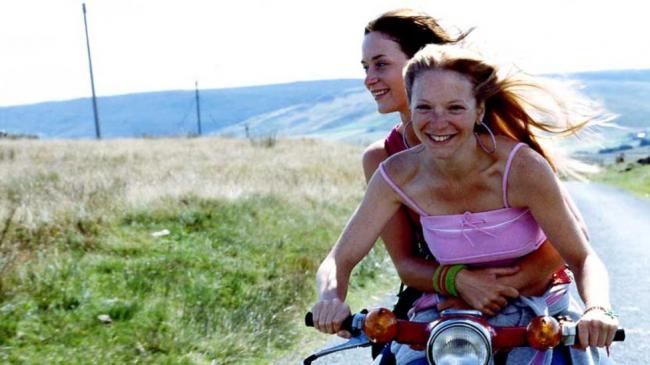 Emily Blunt and Natalie Press in My Summer of Love.
My Summer of Love creates and sustains a moody atmosphere perfectly suited to the subject matter. As Scott wrote, it's about a love affair between two young women who are at that age where every thought and feeling is ten times more intense than it will ever be again. As is often the case with summer flings, it takes place between two people from vastly different backgrounds. In addition to the disparity in class, these two girls also have very different personalities. Mona is a shy tomboy who wears jeans and rides a scooter while Tamsin is more traditionally feminine in her appearance and mannerisms and more outgoing in her behavior.
There are other bigger differences between them that are revealed late in the film.
I agree the acting by both women is excellent. Together or separately they are in nearly every scene and Press and Blunt share a believable chemistry together. Director Pawel Pawlikowski spent eight months searching for just the right actresses and his diligence paid off. Blunt, in particular, delivers a star making turn. Add her to the list of movie stars who were already fully formed in their first major roles.
What I didn't expect from My Summer of Love was just how dramatic it gets. The relationship between Mona and her brother becomes quite dark and violent in a way I didn't see coming. Paddy Considine is also very good as Phil, whose born again Christian beliefs conflict with his sister's budding relationship. Tamsin and Phil share a powerful scene together where she attempts to seduce him, only to laugh derisively when he moves in for a kiss. Thus revealing her true colors.
My Summer of Love is evocative and haunting in its depiction of young love. It is beautifully wrought and contains two powerful central performances. This is what it feels like to be a teenager and to find your soul mate. Someone you connect with on such a deep level that you feel as if you were incomplete before you met them and that you would literally die without them. It's a type of love that can only be experienced once and by the very young. My Summer of Love authentically captures the essence of this experience.
Photos © Copyright BBC Films (2004)