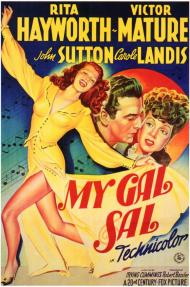 US Release Date: 04-30-1942
Directed by: Irving Cummings
Starring
▸
▾
Rita Hayworth

,

as

Sally Elliott
Victor Mature

,

as

Paul Dresser
John Sutton

,

as

Fred Haviland
Carole Landis

,

as

Mae Collins
James Gleason

,

as

Pat Hawley
Phil Silvers

,

as

Wiley
Walter Catlett

,

as

Col. Truckee
Mona Maris

,

as

Countess Rossini
Frank Orth

,

as

McGuiness
Stanley Andrews

,

as

Mr. Dreiser
Margaret Moffatt

,

as

Mrs. Dreiser
Libby Taylor

,

as

Ida
John Kelly

,

as

John L. Sullivan
Curt Bois

,

as

De Rochemont
Hermes Pan

as

Dancing Partner

Reviewed on:
September 14th, 2013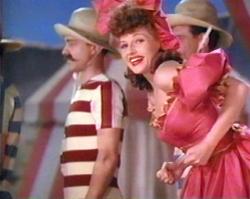 Rita Hayworth performs in My Gal Sal
In 1942, MGM was the undisputed king of the musical. Other studios tried to match MGM's success in the genre but most failed. My Gal Sal was one such effort but Twentieth Century Fox had not the proper stars to fill these roles. Victor Mature plays singer songwriter Paul Dresser, whose songs were popular in the late nineteenth century. Whereas the real Dresser was also a large man, Mature is no singer. His songs were dubbed by Ben Gage.
Carole Landis was originally offered the role of Sally Elliot after Alice Faye backed out due to her being pregnant. Landis refused to dye her hair red and was reduced to a supporting role. Darryl F. Zanuck then borrowed Rita Hayworth from Columbia. Her voice was dubbed by Nan Wynn. Although she was the third choice, Hayworth is the brightest attraction in this Technicolor musical. She shows more cleavage here than I have ever seen in her other films.
Dresser came from humble beginnings and got his start in show business in traveling side shows. He would sing his songs while someone hawked supposed medicinal liquids or faux jewelry. During one show, singing star Sally Elliot and friends happen by and hear one of his songs. She likes it and it ends up in one of her shows.
Dresser, who is dating a girl in the side show, is at first upset that Sally claims that she wrote his song. Since Sally is played by Hayworth, we know his anger will soon turn to adoration. Early on, Dresser tells his girlfriend of Sally, "Someday, I'll write a song. And she'll come begging to sing it." Sally meanwhile, has a beau making moves on her, but he is much too slick for his own good. What follows is a simple little love triangle story, accompanied by harmless quick little ditties.
In real life Dresser was a frequent visitor to a local brothel. Legend has it that his most famous song, "My Gal Sal", was written for Sallie Walker, a prostitute he had a long term "relationship" with. They broke up when she discovered he visited other ladies for rent as well. He died of an undisclosed illness at the age of 48. His brother suggested it may have been from syphilis.
In this film, Dresser is shown as having an eye for the ladies, and Carole Landis plays his first girlfriend as a woman of easy virtue, but no mention is ever made of a brothel. Hayworth's Sally Elliot is a sexy stage star only. She does get jealous at one point though when Dresser starts to see another woman.
Victor Mature has some decent screen presence but this is a musical and Gene Kelly he is not. Hayworth fairs better. She may not have been a singer but danced all her life and handles the performances like a pro. Unfortunately her famous long red hair is almost always up in the style of the 1890s. Her hottest moment is when she is woken by a serenade outside her window. She rolls on the bed with her hair down and a sexy smile.
My Gal Sal benefits from the presence of Hayworth and the fact that it was filmed in color. The songs are not actually bad, but are very dated and like the plot are consequently forgettable. The real story of Paul Dresser would have made a much better movie than this light, sanitized story.
Photos © Copyright Twentieth Century Fox Film Corporation (1942)