Movie Review
My Dog Skip
Every family needs an optimist.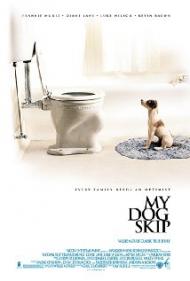 US Release Date: 03-03-2000
Directed by: Jay Russell
Starring
▸
▾
Frankie Muniz

,

as

Willie Morris
Diane Lane

,

as

Ellen Morris
Luke Wilson

,

as

Dink Jenkins
Kevin Bacon

,

as

Jack Morris
Bradley Coryell

,

as

Big Boy Wilkinson
Daylan Honeycutt

,

as

Henjie Henick
Cody Linley

,

as

Spit McGee
Caitlin Wachs

,

as

Rivers Applewhite
Peter Crombie

,

as

Junior Smalls
Clint Howard

,

as

Millard
Susan Carol Davis

,

as

Mrs. Jenkins
David Pickens

,

as

Mr. Jenkins
Harry Connick Jr.

,

as

Narrator (voice)
Nathaniel Lee Jr.

,

as

Sammy
Hunter Hayes

as

Accordion Boy

Reviewed on:
April 22nd, 2014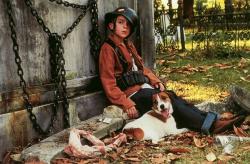 Frankie Muniz and Skip in My Dog Skip.
There isn't much about My Dog Skip that's original. This boy and his dog story drips with sentiment and nostalgia. It was based on the popular memoir by Willie Morris. It conjures up small town American innocence as it exists only in the movies, and it features the now grownup main character providing voice over narration like in To Kill a Mockingbird and A Christmas Story to name just two others. Jay Russell directs the solid cast who put over the heart tugging story in a winning manner. Yes it's predictable and emotionally manipulative but it openly embraces its own mawkishness. This is a movie for dog lovers, sentimentalists, and grandparents everywhere.
Nine year old Willie lives in Yazoo City, Mississippi. In the summer of 1942 he is given a puppy for his birthday. Willie's father (Bacon) -lame from a wound suffered during the Spanish Civil War- disapproves but is overruled by Willie's mother (Lane). And so the boy and his dog begin their happy life together. Skip helps Willie come out of his shell and make friends with boys his own age. Skip is also a bit of a chick magnet and soon Willie has his first girlfriend as well.
The plot consists mainly of a few colorful anecdotes about Willie's time spent in carefree summer pursuits with Skip at his heels. Skip comes to the rescue a few times and there is a subplot involving a neighbor. He's a local sports hero called Dink (Wilson) who goes off to fight in WWII but comes home in disgrace. The mood of the story stays lighthearted although there is one rather dramatic episode late in the movie.
In spite of myself I nearly always get a bit choked-up at the end. Willie goes to England to study at Oxford. The movie stays in Mississippi. In a brief montage we see Skip aging until the day comes when he can no longer jump up onto Willie's bed, where he sleeps. The dog that played him does some great canine acting. He puts one paw on the bed and leans his head against it. He doesn't overplay the part. Then comes the moment of truth. Harry Connick, Jr. narrates the following lines, "I received a trans-Atlantic call one day. "Skip died", Daddy said." It gets me every time. Just writing this is making me misty-eyed. My Dog Skip isn't a great movie but it sure as hell is emotionally affecting.

Reviewed on:
July 27th, 2014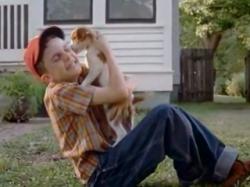 My Dog Skip
I know stories about a boy and his dog are not only found in the United States but that innocent love between child and beast invokes an emotional sense of nostalgia that seems, at least to me, to be exclusively American. The image of a boy and his dog is as sweet as it is comfortingly wholesome. As Patrick wrote, it is an easy way to evoke an emotional response from an audience; after all, even if you did not have a dog as a child, you likely had a friend who did.
Although the dog gets his name in the title, this is Willie's story about how his dog helped him grow up. Willie is a shy boy who enjoys reading and worships the next door neighbor, who was an only child as well. Willie's father at first comes across as the bad guy, not wanting Willie to get a dog. His father is a war veteran and is trying to protect his son from the heartache of loss that an animal can bring. He does not consider the positive Skip can bring but lucky for Willie, his mother does. One of the last scenes shows how his father has started to see Willie differently, telling Willie's mother at one point, "He's a big boy. He'll be okay."
What I found interesting was just how free Willie seems to be. Maybe it was the times or perhaps it was Willie's filtered memory, but Willie walks about town without any restrictions. He spends the night in a cemetery and Skip goes into movie theaters with him. Willie and Skip wander fields and woods. Like a Charlie Brown cartoon, parents and adults seem like an afterthought, only showing up for dramatic moments.
The cast is pleasantly adequate. With his cute, but not adorable, childish looks, Frankie Muniz does a good job in a role that basically plays second to a dog. The biggest flaw in his performance is that he barely manages an accent. The lack of which is especially noticeable whenever we hear Harry Connick Jr's sincere southern drawl narrating as the grown up Willie. I usually find Luke Wilson lacking in his acting talent but here, with limited screen time, he is fine as a man on top of the world before he goes to war and a pariah after he returns.
Sure, as Patrick wrote, this is not an original tale and contains tried and true plot elements intended to provoke our emotions. I can excuse those as My Dog Skip is such a likable and entertaining family film. It is a nice trip to a place that has mostly slipped into history. Sure there are country folks who let their dogs run without fences but I doubt there are many, if any, small towns that still allow a dog free reign of streets and stores.
Photos © Copyright Alcon EntertainmentMDS Productions LLC (2000)