Movie Review
My Big Fat Greek Wedding 2
People change. Greeks don't.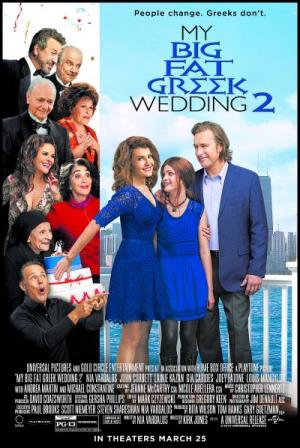 US Release Date: 03-15-2016
Directed by: Kirk Jones
Starring
▸
▾
Nia Vardalos

,

as

Toula
John Corbett

,

as

Ian
Michael Constantine

,

as

Gus
Lainie Kazan

,

as

Maria
Andrea Martin

,

as

Aunt Voula
Gia Carides

,

as

Nikki
Joey Fatone

,

as

Angelo
Elena Kampouris

,

as

Paris
Alex Wolff

,

as

Bennett
Louis Mandylor

,

as

Nick
Bess Meisler

,

as

Mana-Yiayia
Bruce Gray

,

as

Rodney Miller
Fiona Reid

,

as

Harriet Miller
Ian Gomez

,

as

Mike
Jayne Eastwood

,

as

Mrs. White
Rob Riggle

,

as

Northwestern Rep
Mark Margolis

,

as

Panos
Rita Wilson

,

as

Anna
John Stamos

,

as

George
Jeanie Calleja

,

as

Ilaria
Michael Sofos

,

as

Costa
Stavroula Logothettis

,

as

Athena
Leonidas Castrounis

,

as

Aristotle
Peter Tharos

as

Yanni

Reviewed on:
April 7th, 2016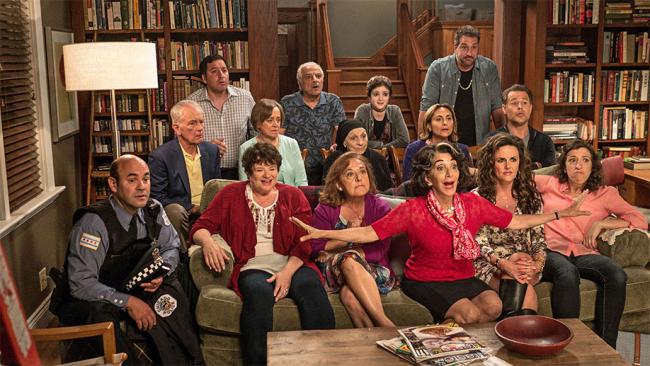 The family is all here.
My Big Fat Greek Wedding was one of the biggest surprise hits of its time. It raked in the money and was in theaters for months. Consider that it was made on a very modest budget and money was made by everyone. We met a likable woman, Toula, and her smothering, yet very charming, family. We witnessed as Toula learned to defy her fathers wishes but not by enough to break any ties. In fact, as this movie starts, Toula is back to working in her parents' Greek restaurant, just as the first film started.
Somethings have changed though. Her father's age is obvious and his health questionable, This means Toula has even more work to do than ever before. She and her husband, Ian, have a daughter, Paris, who is now a senior at the same school her father works as the principal. Toula has, of course, turned into a helicopter mom involving herself in as many of her daughters activities as possible. As their daughter and Toula's family takes up so much of her time, Ian is feeling ignored.

So now that you are caught up, here comes the plot, sort of. One day, Toula's parents discover that after 50 years of marriage they were never officially married, because of a lack of a signature on the certificate. The grandparents begin to argue as he thinks it is no big deal while she wants a proposal and a wedding. After having to sleep in another room, and getting stuck in the bath tub, he eventually pops the question. Finally a wedding date is set which will be on the same day as Paris's high school prom. To add another layer of conflict is the fact that Paris wants to go to college in New York and not in Chicago where her parents want her to go so as to stay close.

Yeah, the plot is about as interesting as a commercial for Windex. However, the characters are all still as funny and fun to be around. No event, no matter how small or personal, occurs without the rest of the family knowing or being involved. When Paris opens the front door for her prom date, he is surrounded by her staring family, with both her uncles, Angelo and Nick, giving him threatening looks. As Toula describes, "My family is close. We see no difference between hugging and suffocation" My favorite line comes from the scene stealing Adrea Martin who asks Angelo's partner if he is Greek. After he answers no, she says, "No need to apologize."

Having just had one of our birds leave the nest, my wife and I related to Toula and Ian. Having a domineering mother-in-law, also gave me another reason to relate, but that's a whole other story. I guess my point is that we can all see something in this movie and this family that connects with us. They can be a pain in the ass sometimes but they are all also always there for each other in times of need. How sweet is that. Everyone wants their own space at times but how comforting is it to know you have such a strong support system to help catch you if you fall.

My Big Fat Greek Wedding 2 is not a great film exactly but it is lots of fun to spend time with these people. A better story arc would have been to focus more on the daughter and less of the grandparents. Paris is the only one who grows, at all, over the course of the movie. Her conflict with her parents over her college choice and her love story should have taken center stage, while leaving the ever intrusive family to provide their unique, comedic flavor, in more supporting roles.

Photos © Copyright Gold Circle Films (2016)