Movie Review
My Best Friend's Wedding
Julianne fell in love with her best friend the day he decided to marry someone else.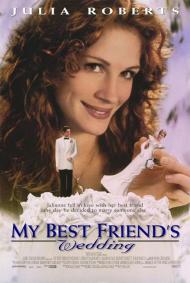 US Release Date: 06-20-1997
Directed by: P.J. Hogan
Starring
▸
▾
Julia Roberts

,

as

Julianne Potter
Dermot Mulroney

,

as

Michael O'Neal
Cameron Diaz

,

as

Kimberly Wallace
Rupert Everett

,

as

George Downes
Philip Bosco

,

as

Walter Wallace
M. Emmet Walsh

,

as

Joe O'Neal
Rachel Griffiths

,

as

Samantha Newhouse
Carrie Preston

as

Mandy Newhouse

Reviewed on:
June 20th, 2001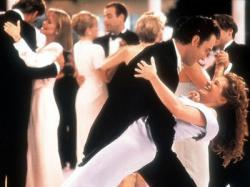 Rupert Everett and Julia Roberts in My Best Friend's Wedding.
Erin Brockovich won Julia Roberts the Oscar and Pretty Woman was her break out movie, but My Best Friend's Wedding best demonstrates her appeal and star quality.
Julianne finds out that her best friend is getting married in four days and with this sudden news comes the realization that she is in love with him. She flies to the wedding to stop it and steal the groom away. Once in Chicago she meets the ever-perky fiancé Kimmy. Immediately there is tension between the women as they each plot to manipulate the other.
Julianne constantly calls her editor, George, for advice. He eventually flies to Chicago to give support. Although George is gay, he ends up pretending to be Julianne's fiancé. To excuse his sudden visit and departure, Julianne tells Michael "He just flew in for a few hours to, fuck me." "It takes a few hours." George adds. The line is both funny and shocking. Most of the movie is G-rated. This line stands out like Anna Nicole Smith at Sunday morning church services.
One of the best things in My Best Friend's Wedding is that the cast breaks into song on several occasions. It's not quite a musical, but it could almost be considered one. The best number is when Rupert Everett leads an entire restaurant in singing "I Say A Little Prayer For You".
My personal favorite moment in the film is when Michael and Julianne are on a boat ride through the city. Michael tells Julianne that Kimmy said if you love someone you should just say it before the moment is gone. They each look at each other in silence as the boat goes under a bridge. Then it comes out of the shadow and the moment is lost.
Julia Roberts makes this movie. Her smile is at full wattage. She brightens many scenes just by spreading those large lips across her face. Her laugh is likewise contagious. Her on screen presence in this movie is unparalleled. No other actress of her time can hold a candle to her for shear presence when she lays on the charm.
The one and only problem I have with this movie is the ending. It is supposed to be a happy ending, and at first, it seems so. Michael ends up with Kimmy and Julianne is content with it. George shows up, again, to comfort her. So, Michael and Kimmy live happily ever after and Julianne becomes George's fag hag?
Photos © Copyright Columbia Pictures (1997)