Movie Review
The Music Lovers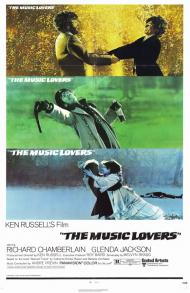 US Release Date: 01-24-1971
Directed by: Ken Russell
Starring
▸
▾
Richard Chamberlain

,

as

Pyotr Ilyich Tchaikovsky
Glenda Jackson

,

as

Nina (Antonina Milyukova)
Max Adrian

,

as

Nicholas Rubinstein
Christopher Gable

,

as

Count Anton Chiluvsky
Kenneth Colley

,

as

Modeste Tchaikovsky
Izabella Telezynska

,

as

Madame Nadedja von Meck
Maureen Pryor

,

as

Nina's Mother
Sabina Maydelle

,

as

Sasha Tchaikovsky
Andrew Faulds

,

as

Davidov
Bruce Robinson

as

Alexei Sofronov
Reviewed on:
April 29th, 2012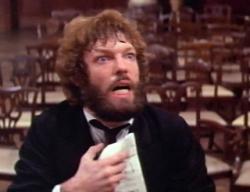 Richard Chamberlain as Tchaikovsky in The Music Lovers.
Director Ken Russell's take on the life of 19th Century Russian composer Pyotr Ilyich Tchaikovsky is a highly-sexualized, operatically-themed, visually-surreal exercise in bad taste. Richard Chamberlain stars as the musical genius who gave the world such well-known timeless works of art as The Nutcracker and Swan Lake ballets, as well as the 1812 Overture. Glenda Jackson (doing lots of full frontal nudity) plays his nymphomaniac wife, who ends her days in an insane asylum.
The movie features numerous examples of the composer's work, with André Previn conducting the London Symphony Orchestra. Richard Chamberlain does an impressive job miming this maestro's dramatic style of piano playing. As a gay man it's not surprising how effortlessly he captures the frustrations of a closeted homosexual trying to live a straight man's life. The fearless Glenda Jackson goes all the way as Nina, his sexually frustrated wife. They are two disturbed individuals, but whereas Tchaikovsky was able to (temporarily at least) conquer his inner demons, Nina succumbed to hers.
Izabella Telezynska plays Nadezhda von Meck, Tchaikovsky's wealthy benefactress. In a very Russian manner she explains her reasons for offering to financially support the struggling young composer. She has grown indifferent to any of the world's sights and bored by the conversations of everyone she knows. Tchaikovsky's music is the only thing left in life in which she sees beauty and love. She adamantly refuses to allow him to meet his patron however.
Ken Russell was famous for including plenty of nudity and graphic sex in his films. In some regards The Music Lovers is an old-fashioned musical biopic with gorgeous cinematography and traditional camera shots. These scenes are interspersed with surreal musical interludes featuring lots of slow zooms and visual flights of fancy. But true to his aesthetic Russell indulges in gratuitous nudity and scenes employed for shock value alone. See any of Jackson's scenes in the mental asylum for examples of this.
The Music Lovers was part of a series of movies made by the director about classical composers. It was preceded by Elgar (1962) and followed by Mahler (1974) and Lisztomania (1975). Although it received mostly negative reviews upon its initial release, The Music Lovers is quite entertaining. Like Tchaikovsky's music it's gloriously over-the-top in its emotions. It's also visually sumptuous to look at. There's nothing subtle about it and the style in which it's filmed is at times terribly dated but it retains its ability to shock, which is no small feat for a movie nearly half a century old.
Photos © Copyright United Artists (1971)