Movie Review
Muriel's Wedding
You just have to be there!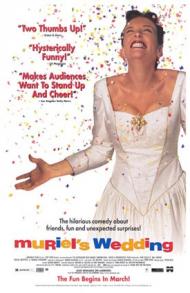 Australia Release Date: 09-29-1994
Directed by: P.J. Hogan
Starring
▸
▾
Toni Collette

,

as

Muriel Heslop
Rachel Griffiths

,

as

Rhonda Epinstall
Bill Hunter

,

as

Bill Heslop
Sophie Lee

,

as

Tania Degano
Jeanie Drynan

,

as

Betty Heslop
Gennie Nevinson

,

as

Deidre Chambers
Daniel Lapaine

,

as

David Van Arkle
Matt Day

,

as

Brice Nobes
Roz Hammond

,

as

Cheryl
Belinda Jarrett

,

as

Janine
Pippa Grandison

as

Nicole

Reviewed on:
November 11th, 2014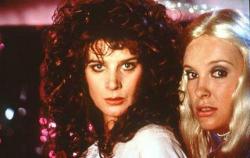 Rachel Griffiths and Toni Collette in Muriel's Wedding.
Before Mamma Mia! became an internationally renowned stage musical, and then a hit movie, there were two independent Australian movies -both released in 1994- that utilized songs by 1970s Swedish pop group ABBA. The Adventures of Priscilla, Queen of the Desert, about three drag queens' journey across the outback, was one (it has since followed the opposite route of Mamma Mia!, moving from screen to stage). Muriel's Wedding is the other. No less than five ABBA classics are heard over the course of the film. These include "Mamma Mia", "Waterloo", "Fernando", and "I Do, I Do, I Do, I Do, I Do". "Dancing Queen" was even adapted as an orchestral piece and serves as Muriel's Wedding's unofficial theme song.
Muriel Heslop is a proud member of the slacker generation. Muriel loves two things: ABBA and weddings. She spends hours listening to her favorite group in her room while fantasizing about having the perfect wedding. Her father is a corrupt local politician in Porpoise Spit, Australia who is verbally abusive to his adult children, all of whom still live at home. Muriel's siblings are all as unmotivated as Muriel. They sit around the house all day in front of the television, eating and bickering. Their mother is meek and mousy, she enables her overgrown kids in their pursuit of nothingness.
Muriel is about to have a life altering adventure, during which she will finally grow up. Her story is filled with humor but also contains several dramatic incidents. The script deftly balances the two. Muriel is at first exasperating. She lives in her own world. Only when she is forced to see herself as others do does she begin to change. Toni Collette gained 40 pounds for the role and she's wonderful in the part. This is the movie that really put her on the map.
Rachel Griffiths is equally good as Rhonda Epinstall. She's a rather wild young woman who becomes Muriel's first real friend - long before Muriel becomes a true friend to her in return. As Muriel tells her, "When I lived in Porpoise Spit, I used to sit in my room for hours and listen to ABBA songs. But since I've met you and moved to Sydney, I haven't listened to one ABBA song. That's because my life is as good as an ABBA song. It's as good as "Dancing Queen"." And yes there is a wedding along the way.
I have to mention Gabby Millgate. She plays Muriel's sister Joanie. She has a face only a mother could love but it makes me laugh whenever she appears on screen. She has a line she repeats to her sister throughout the movie, and you just might find yourself repeating it aloud by the end. "You're terrible, Muriel."
Muriel's Wedding was the first big hit for Australian director/writer P.J. Hogan. It was so successful in America that Julia Roberts personally chose him to direct her in My Best Friend's Wedding in 1997. As a final bit of trivia, Bill Hunter, who plays Muriel's father, was also in The Adventures of Priscilla, Queen of the Desert. In fact he was filming both movies at the same time. A feat complicated by the fact that each part required a different hair and beard length and were shot in different parts of Australia.
In short, Muriel's Wedding is a quintessential quirky little comedy with oddball characters and plenty of heart.

Reviewed on:
November 13th, 2014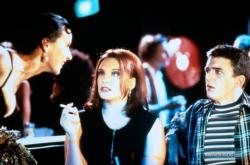 Rachel Griffiths, Toni Collette and Matt Day in Muriel's Wedding
The one thing that has stayed with me the most after watching Muriel's Wedding is the song "Waterloo." It has been playing in my head for the past 24 hours. God Damn ABBA and their friggin catchy tunes!
The song is played when Muriel goes away on a vacation with the money she stole from her parents. There is a karaoke contest at the resort that Muriel and her new best friend, Rhonda, easily win. They dress up and dance to the peppy song, getting the audience on their feet as well. In the line Patrick mentioned, Muriel told of her life of listening to ABBA records for hours at a time. In other words, she has been practicing for that performance for most of her life. Not only is the song joyously contagious but it is the happiest moment of Muriel's life, thus far.
Reality hits when she comes home from vacation to her horrible family. All of her siblings deserve an ass kicking. Especially Joanie and her, "You're terrible, Muriel." catch phrase. Muriel moves to Sydney where it looks as if she may be about to grow up. She gets a job and goes on a date with a shy boy named Brice. He is clearly the one for her but she is not in a place where she can realize it. Things are going well for them when they get interrupted by two naked sailors. You have to see it to understand.
Muriel's parents have legal and marital trouble but she is too caught up in her own childish fantasies to truly care. When Rhonda becomes ill she is forced to help her but then a marriage opportunity arises and Muriel finally sees her dream of a wedding coming true. She is so caught up in that one day that she does not care that she does not love the groom or hates the popular girls she has asked to be her bridesmaids. She is finally getting married and that is all that counts. Note, that for some unexplained reason, Brice attends the wedding.
Muriel's Wedding is a slightly awkward coming of age story. Muriel learns that growing up does not mean having dreams fulfilled so much as it means being responsible for your life and the direction it takes. She can live a made up life of fantasy, pretending to have a good looking husband that loves her and popular friends that are there for her or she can accept her lot in life and make the best of it.
Spoiler alert: Muriel and Rhonda end up friends again as their relationship was one of the truly sincere ones Muriel has ever had. I would have also liked a brief scene of her and Brice reconnecting. Just a simple, "I'll call you." would have sufficed. After all, why include him in the wedding scene if he is not intended to be part of her adult life. As this is such a chick film, I would have liked a male character to root for and he is the only one worth liking.
Photos © Copyright Miramax Films (1994)
Related Review