Movie Review
The Muppets
They're closer than you think.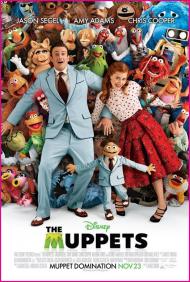 US Release Date: 11-23-2011
Directed by: James Bobin
Starring
▸
▾
Jason Segel

,

as

Gary
Amy Adams

,

as

Mary
Chris Cooper

,

as

Tex Richman
Rashida Jones

,

as

Veronica, CDE Executive
Steve Whitmire

,

as

Kermit / Beaker / Statler / Rizzo (voice)
Eric Jacobson

,

as

Miss Piggy / Fozzie Bear / Animal / Sam Eagle / Marvin Suggs (voice)
Dave Goelz

,

as

Gonzo / Dr. Bunsen Honeydew / Zoot / Beauregard / Waldorf / Kermit Moopet (voice)
Bill Barretta

,

as

Swedish Chef / Rowlf / Dr. Teeth / Pepe the Prawn / Bobo / Fozzie Moopet (voice)
David Rudman

,

as

Scooter / Janice / Miss Poogy (voice)
Matt Vogel

,

as

Sgt. Floyd Pepper / Camilla / Sweetums / 80's Robot / Lew Zealand / Uncle Deadly / Roowlf / Crazy Harry (voice)
Peter Linz

,

as

Walter (voice)
Alan Arkin

,

as

Tour Guide
Bill Cobbs

,

as

Grandfather
Zach Galifianakis

,

as

Hobo Joe
Ken Jeong

,

as

'Punch Teacher' Host
Jim Parsons

,

as

Human Walter
Sarah Silverman

,

as

Greeter
Donald Glover

,

as

Junior CDE Executive
Emily Blunt

,

as

Miss Piggy's Receptionist
Selena Gomez

,

as

Herself
David Grohl

,

as

Himself
Neil Patrick Harris

,

as

Himself
Judd Hirsch

,

as

Himself
John Krasinski

,

as

Himself
Rico Rodriguez

,

as

Himself
Mickey Rooney

,

as

Himself
Whoopi Goldberg

as

Herself


Reviewed on:
November 25th, 2011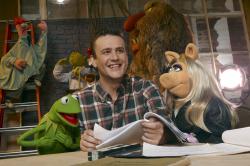 Jason Segel, a Muppet fan.
I will proudly admit that I have long been a big Muppet fan. I loved their first movies. I watched the shows. I listened to their Christmas album. Their version of "The Twelve Days of Christmas" is one of the best ever recorded. I liked their version of A Christmas Carol with Michael Cain. I was anxious yet had some trepidations about what they would do with this film.
Written partly by Jason Segel, The Muppets is a glowing tribute and revitalization of those iconic characters. Clearly Segel is a fan of this subject matter. It shows in the story and the humor. One of my favorite moments is when Segel sees Adams, and she comments that he seems sweaty or tired and he answers that it is because he just did a production number on the way to school.
Segel plays Gary, whose brother Walter, for some never explained reason, is a muppet. They are very close. As adults they still live together. The brothers grew up watching The Muppet Show and as a muppet himself, Walter worshipped them as his heroes. Gary, Walter and Mary (Adams) hit the road to Hollywood to take a tour of The Muppet studios. Once there, Walter finds that the studio has long been abandoned by the stars and the place is in disrepair. He also discovers a plot by a rich man named Richman to take the property from the Muppets, who still own the unused lot, unless they can raise ten million dollars. What is a muppet to do but gather the old gang and put on a show.
Fans of the television show will be greatly rewarded. They recreated the stage from the television show. Kermit's office is packed with old photos of former celebrity hosts. They sing and perform the original television theme song. My favorite piece of nostalgia was when Kermit, Miss Piggy and company sing "Rainbow Connection," from the first film.
Throughout the movie we are constantly reminded that the Muppets use to be famous. A television executive tells them, "I'm gonna shoot straight: you guys aren't famous anymore." To which Fozzie Bear comments, "Yeesh. I wish she'd shot a little more curvy." Current Walt Disney teen "It" girl, Selena Gomez says to Kermit, "I don't know who you are." When Kermit needs a guest host for their show he goes through his old rolodex, calling such stars of the 1980s as Molly Ringwald.
The stars turn out to do cameos, just as they did in the early Muppet films. They range from has beens like Whoopi Goldberg to Neal Patrick Harris, who seems to be every where this year. Rico Rodriguez, a child star of television's Modern Family, makes an appearance as does Mickey Rooney, who was a child star before Rodriquez's great grandparents were born. The best cameo moments belong to Jack Black as Animal's anger management sponsor.
The Muppets is a great film for Muppet fans. I only hope that it will create many new ones as well.
Reviewed on:
November 25th, 2011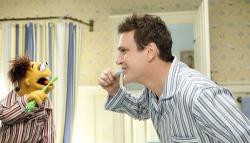 Jason Segel and his brother Walter in The Muppets.
Speaking of cameos, my favorites were the Muppets themselves. Yes, that's right, in a movie called The Muppets, many of the iconic felt skinned characters from the beloved series and movies are reduced to making cameo appearances. Segel, Adams and new Muppet Walter get far more screen time than Miss Piggy, Fozzie and even Kermit.
Like you Eric, I enjoyed hearing "The Rainbow Connection", both Fozzie's commercial jingle version and the actual version, not least because it's the only memorable song in the film. The new songs range from the forgettable to embarrassing (particularly Chris Cooper's rap song). One of the few songs that I enjoyed was the Gary and Walter duet, "Man or Muppet".
My favorite sequence in the film is when the old gang is reassembled. From Fozzie's Muppet tribute band, The Moopets, to Miss Piggy's Devil Wears Prada spoof, I laughed more during that 15 minute portion of the film than I did during the rest of the movie combined. The gang travels by map to collect all the old familiar faces, including Gonzo, Rowlf the dog and Dr. Teeth and The Electric Mayhem.
One aspect of the movie that was difficult to get used to was no fault of the filmmakers and that was the voices. The loss of Henson as Kermit is particularly felt and his voice is the most obviously changed. It took some getting used to.
The original Muppet movie is a great movie that can be enjoyed by all ages. I don't know if it's a result of the Muppets being purchased by Walt Disney, but they seem content now to aim their humor for a younger audience. Yes, there are some bones thrown to the adults, like the mention of Molly Ringwald and the inclusion of Mickey Rooney, but the jokes themselves are of the lowest common denominator.
Like you Eric, I am a fan of The Muppets and I'm glad to see them making a comeback. Maybe if this movie is a hit, they'll make a sequel where they'll actually get to be the stars of their own film.
Reviewed on:
November 25th, 2011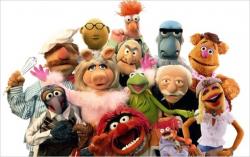 The gang reunites in The Muppets.
Scott, I actually think this movie was aimed more at adults than children. As Gen-Xers we are this movies' target audience. Children will not get the many references to the old Muppet Show or The Devil Wears Prada spoof or get why Mickey Rooney would appear in a movie about putting on a show. Sure Disney wants us to bring along the kiddies but nostalgia is what this movie is really selling. Hearing the old theme song and "The Rainbow Connection" again is like mainlining sentimental longing in its most pure form.
You say mentioning Molly Ringwald is a bone thrown to the adults in the audience but I say the entire movie is designed to conjure dusty memories. If there is a "bone" being thrown at all it is the slapstick jokes aimed at the kiddies. No The Muppets was definitely made by adults for adults with the excuse of introducing these classic felt characters to a new generation. I think the number of restless toddlers running up and down the isles in the theater seems to back me up.
I do agree with you Scott, that the new voices are distracting and I wish the story had focused a bit more on Kermit and company. In the old movies the focus was almost always on the muppets themselves while the humans were in supporting parts or cameos. I also thought the ending took too long to wrap up. But like Eric, I thoroughly enjoyed this heartfelt and abundantly cheerful reboot of these beloved characters.
In this 21st Century world I love the idea of felt puppets as famous personalities. The fact that so much entertainment can still be produced by sewn together pieces of cloth with strings attached is both amazing and comforting. Like Kermit revisiting the rundown old muppet theater in the movie, for a Gen-Xer like me, watching The Muppets is like going through the attic of your memory and delighting at all the cobweb covered images you rediscover. If you're old enough to remember The Muppet Show then by all means rush out and see this movie (oh and take the kids along too if you want).

Photos © Copyright Walt Disney Pictures (2011)
Related Reviews