Movie Review
Muppets Most Wanted
2 Frogs 1 Pig Epic Mayhem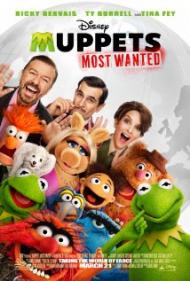 US Release Date: 03-21-2014
Directed by: James Bobin
Starring
▸
▾
Ricky Gervais

,

as

Dominic Badguy
Ty Burrell

,

as

Jean Pierre Napoleon
Tina Fey

,

as

Nadya
Steve Whitmire

,

as

Kermit the Frog/Foo Foo/Statler /Beaker/Lips/Rizzo the Rat/ Link Hogthrob /The Newsman
Eric Jacobson

,

as

Miss Piggy/Fozzie Bear/Sam Eagle/Animal
Dave Goelz

,

as

The Great Gonzo/Dr. Bunsen Honeydew/Zoot/Beauregard/Waldorf
Bill Barretta

,

as

Pepe the King Prawn/Rowlf the Dog/Dr. Teeth/The Swedish Chef/ Bobo the Bear/Big Mean Carl/Baby Boss/Carlo Flamingo/Leprechaun Security Guard
David Rudman

,

as

Scooter/Janice/Miss Poogy/Bobby Benson/Wayne
Matt Vogel

,

as

Constantine/Floyd Pepper/Sweetums/Pops/Robin/Lew Zealand/ Crazy Harry/80's Robot/Camilla/Uncle Deadly
Peter Linz

,

as

Walter/Manolo Flamingo
Tony Bennett

,

as

Himself
Lady Gaga

,

as

Herself
Hugh Bonneville

,

as

Irish Journalist
Sean Combs

,

as

Himself
Rob Corddry

,

as

First AD
Mackenzie Crook

,

as

Prado Museum Guard #1
Celine Dion

,

as

Piggy Fairy Godmother
Jemaine Clement

,

as

Prison King
Zach Galifianakis

,

as

Hobo Joe
Josh Groban

,

as

Maximum Security Prisoner
Salma Hayek

,

as

Herself
Tom Hiddleston

,

as

The Great Escapo
Tom Hollander

,

as

Theater Manager
Toby Jones

,

as

Prado Museum Guard #2
Frank Langella

,

as

Beefeater Vicar
Ray Liotta

,

as

Big Papa
James McAvoy

,

as

UPS Guy
Chloe Grace Moretz

,

as

Newspaper Girl
Dylan Postl

,

as

Prisoner One
Usher Raymond

,

as

Wedding Usher
Miranda Richardson

,

as

Berliner at Window
Saoirse Ronan

,

as

Herself
Til Schweiger

,

as

German Cop
Russell Tovey

,

as

Delivery Man
Danny Trejo

,

as

Prisoner
Stanley Tucci

,

as

Ivan the Guard
Christoph Waltz

as

Himself


Reviewed on:
March 22nd, 2014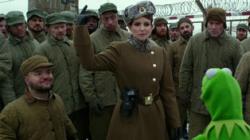 Dylon Posti, Tina Fey, Ray Liotta and Kermit in Muppets Most Wanted
Muppets Most Wanted takes up mere seconds after The Muppets (2011) ended. The gang is all together and ready to put their show back on. Enter International Tour Manager Dominic Badguy (its pronounced "Bad-gee"). He talks the Muppets into taking their act on a European tour.
Meanwhile, Constantine, the number one most wanted criminal in the world, escapes from his Siberian prison and frames Kermit. Before you know it, Kermit is behind bars and Constantine is acting like Kermit, while none of the other Muppets seem to notice that Kermit suddenly has an accent.
The Muppet's performances just happen to stop at venues that are next to Museums and banks. Wouldn't you just know it, those very banks and museums get robbed on the same night as each of their shows? Luckily a human Interpol agent and a muppet CIA agent are on the case.
As the dastardly fiends continue their rampage of robberies across Europe, poor Kermit is forced to direct the annual prison talent show. What will happen when the criminals turn their eyes to the Royal Crown jewels in London Tower and Constantine proposes to Ms. Piggy? A heist, a prison escape, a wedding, delightful songs and more cameos than you can throw a sock puppet at keep this film moving along with humor for young and old.
Fozzy being too stupid to see past a mole on Kermit's face is childishly funny as are the pratfalls and Miss Piggy's ego. When in prison, Kermit tries to escape by digging a tunnel behind a poster of Ms. Piggy posed like Rita Hayworth. In Germany, Ms. Piggy says, "Ich bin ein Berliner!" (I am a Berliner), which is a quote from John F. Kennedy when he made a speech in Berlin in 1963.
The film also has a smidge of drama as Kermit gets his feelings hurt when no one misses him. Kermit gave direction while Constantine, as Kermit, lets them do whatever they want in their shows. The real high light comes when Kermit and Piggy have a show down with the bad guy and Kermit proudly states that Piggy is his woman.
The Muppets have been around for a few decades now and as long as they continue to put out such entertaining fare, they should be around for many more.
Reviewed on:
March 22nd, 2014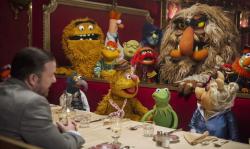 Ricky Gervais and the Muppets in Muppets Most Wanted.
Although I haven't been as big a fan of the recent Muppet revival as some others have been, I too would like to see them continue for decades to come. To that end, I think that Walt Disney needs to be careful not to go to the well too often. As the opening song in this film points out (accurately as it turns out), sequels are inevitably weaker than the original. However, as it also points out, this is actually the 8th Muppet movie, counting the six original. Disney should keep this in mind and space out the films more widely. 2011's film was so warmly received in part because it had been so many years since we'd seen a Muppet movie. Every subsequent film, including this one, loses more of that automatic goodwill.
My biggest complaint about 2011's The Muppets was that too much focus was spent on characters who weren't the original Muppets. Jason Segel, Amy Adams and new Muppet Walter all got more screen time than Kermit, Ms. Piggy or Fozzie. That issue is only slightly rectified in this installment. Kermit has become one of the film's main characters again, but Ricky Gervais, evil frog Constantine, Ty Burrell and Tina Fey all have larger parts than Fozzie or Piggy. Not to mention that the cameos, which the Muppets have always been famous for, are here so plentiful that they almost become ridiculous. It seems that the producers had more of a problem saying no to celebrities who wanted to be in the film than they did finding those who wanted to appear.
As Eric wrote, there are plenty of jokes for the adults in the audience. It's certain that the little ones weren't likely to pick up on the references to The Seventh Seal or The Shawshank Redemption. There are also several in-jokes in the script that send up the Muppets themselves. There's even a joke about my complaint when it's mentioned that Walter got so much screen time in the last film that several well known supporting Muppet characters were never shown at all.
Although I sound rather negative about these new Muppet films, I do actually enjoy them. There's plenty to laugh at here. Of the humans, Tina Fey gets many of the film's best jokes. Ricky Gervais gives it his all, but plays second fiddle to a frog, both in the story and in terms of billing. Ty Burrell's character provides one of the films running jokes that pokes fun at the European work ethic, which is another of the jokes likely to go over the heads of the kiddies.
I was again disappointed by the songs. They're suitable to the film but even now, just a few hours after watching, I can't really remember any of them with much accuracy. There's certainly no classics among them.
This is entertaining fare. It's not a classic, but it is lightweight entertainment.
Reviewed on:
July 23rd, 2014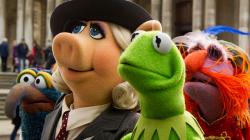 Gonzo, Miss Piggy, Kermit, and Floyd Pepper in Muppets Most Wanted.
Since the 1970s I have been an unabashed fan of the Muppets. I prefer their movies to most animated or CGI heavy family films. Unlike animation and CGI, the Muppets exist in the physical world. Much of their appeal has always come from their interaction with real actors and real props. Do you remember the first time you saw Kermit riding a bicycle? And on top of that the Muppets sing, dance and act - yes, I said act. They are triple-felt-threats. With their infectious combination of childish abandon and sly adult wit, what's not to like about them?
As mentioned above (and in the movie) this is the eighth theatrical release in the franchise's history (as a side note 2014 also saw the release of the eighth Planet of the Apes movie). For the record the previous Muppet films are The Muppet Movie (1979), The Great Muppet Caper (1981), The Muppets Take Manhattan (1984), The Muppet Christmas Carol (1992), Muppet Treasure Island (1996), Muppets from Space (1999), and The Muppets (2011). The Muppets themselves were born way back in the 1950s and over the past 60 years their empire has grown to include -in addition to those eight theatrical films- the following: two telefilms, half a dozen TV series, two direct to video releases, three web series, no less than 27 television specials, and 15 record albums. To quote Miss Piggy, "Not bad."
Muppets Most Wanted never strays from their tried and true formula. A silly caper for Kermit and company, lots of surprise cameos, clever inside jokes, and spoofs of both classic and popular culture (can you name another movie that references both Ingmar Bergman and Busby Berkeley in the same number?), and catchy songs and dances. Oh and just enough heart to make the audience care.
Speaking of the music, Muppets Most Wanted includes original songs but also quite a few famous hits. There is a very brief version of "Moves Like Jagger" and Miss Piggy gives us her rendition of "Macarena". Celine Dion even shows up to duet with the original pork diva on "My Heart Will Go On". The Muppets most enduring song "Rainbow Connection" gets trotted out once again when Constantine watches old Muppet clips in order to practice imitating Kermit, "Thee louvers, thee dreemers and chee-e-e-e-e-se! (smirk) Nailed it." My favorite number was the Russian inmates rehearsing "I Hope I Get It" from A Chorus Line. Their exuberance becoming more flamboyant as the song goes along.
If you love the Muppets (and really, who doesn't?) then you will most definitely enjoy Muppets Most Wanted. You know exactly what to expect and you won't be disappointed.
Photos © Copyright Walt Disney Pictures (2014)
Related Reviews