Movie Review
Mrs. Parker and the Vicious Circle
New York in the 1920's. The only place to be was the Algonquin, and the only person to know was Dorothy Parker.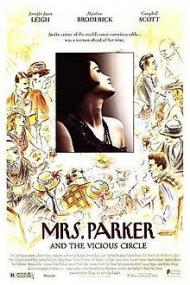 US Release Date: 11-23-1994
Directed by: Alan Rudolph
Starring
▸
▾
Jennifer Jason Leigh

,

as

Dorothy Parker
Campbell Scott

,

as

Robert Benchley
Matthew Broderick

,

as

Charles MacArthur
Peter Gallagher

,

as

Alan Campbell
Jennifer Beals

,

as

Gertrude Benchley
Andrew McCarthy

,

as

Eddie Parker
Wallace Shawn

,

as

Horatio Byrd
Martha Plimpton

,

as

Jane Grant
Sam Robards

,

as

Harold Ross
Lili Taylor

,

as

Edna Ferber
James Le Gros

,

as

Deems Taylor
Gwyneth Paltrow

,

as

Paula Hunt
Nick Cassavetes

,

as

Robert Sherwood
David Thornton

,

as

George S. Kaufman
Heather Graham

,

as

Mary Kennedy Taylor
Keith Carradine

,

as

Will Rogers
Stanley Tucci

,

as

Fred Hunter
Jean-Michel Henry

,

as

Harpo Marx
Stephen Baldwin

,

as

Roger Spalding
Tom McGowan

,

as

Alexander Woollcott
Jon Favreau

,

as

Elmer Rice
Cyndi Lauper

as

Picnic Guest

Reviewed on:
September 24th, 2013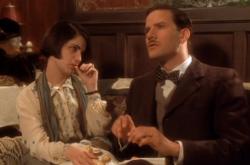 Jennifer Jason Leigh as Dorothy Parker with Campbell Scott as Robert Benchley in Mrs. Parker and the Vicious Circle
In the early 90s writer/director Alan Rudolph decided to make a sort of companion piece to his 1988 film The Moderns. That movie was set in Paris in the 1920s and dealt with expatriate writers of the Lost Generation and modernist literature. Although it featured Ernest Hemingway and Gertrude Stein, among other real people, it was a fictional story. Dorothy Parker and the Vicious Circle attempts to tell the true story of the famously acerbic American writer and her life amidst her celebrated friends who made up the Algonquin Round Table.
Jennifer Jason Leigh stars as Dorothy Parker. To prepare for the role she read everything Parker ever published and listened to audio tapes of Parker's distinct speaking voice. She insisted on staying in character throughout the shoot. The result is one of the best performances of her career, aided by her physical resemblance to the woman. She captures Parker's essence even if the script never really gets under its subject's skin.
Campbell Scott costars as Robert Benchley. He may not look a thing like the real man did but he does a decent impression of Benchley's stammering comic readings. Although the story includes the many various members of the Algonquin Round Table, for the most part its focus remains on the platonic (yet romantic) relationship between Parker and Benchley. As coworkers they spend more time together than either of them does with their respective spouses.
The movie begins with Parker in Hollywood in 1937 before flashing back in time. It covers Parker's life from her years writing theater reviews for Vanity Fair beginning in 1918. It includes her husband's return from serving overseas during the First World War. According to this movie Edwin Parker returned from the battlefields a morphine addict. Parker is eventually fired from Vanity Fair for her abrasive and outspoken opinions. In a show of solidarity both Robert Benchley and Robert Sherwood resign in protest.
The movie follows her to The New Yorker after its founding in 1925. This section of the movie also details the development of the Round Table and shows its various members as they dine together whilst conversing in sparkling bon mots. George S. Kaufman, Alexander Woollcott, Edna Ferber, Harpo Marx and Will Rogers, among many others, are depicted.
Parker's abortion and subsequent suicide attempt is covered. The story then follows Parker to Hollywood (where the movie began) and eventually to her final years as a sad alcoholic back in Manhattan. Upon her death in 1967 she bequeathed her entire estate to Martin Luther King Jr. (Upon his death the following year her estate went to the NAACP).
Dorothy Parker wrote poetry, free verses and short stories as well as theater reviews. She also co-wrote a play and was twice nominated for an Oscar for screenwriting, including for co-writing the script for the original version of A Star is Born. For some reason this movie seems to focus only on her short, depressing verses. Here are two examples that get quoted in the movie. "The sun's gone dim, the moon's turned black; for I loved him and he didn't love back." and "Razors pain you, rivers are damp, acids stain you, drugs cause cramp. Guns aren't lawful, nooses give, gas smells awful; you might as well live."
Produced by Robert Altman, Mrs. Parker and the Vicious Circle is an ambitious movie that only partly succeeds. It offers a vividly wrought peak into the past through the life of one of this countries' most original voices while at the same time recreating a glamorous part of our collective literary past. It's just too bad the script isn't as good as the cast, sets, costumes and direction all are. Despite a compelling performance by Leigh it never really gets inside this complex woman's head.

Reviewed on:
June 25th, 2014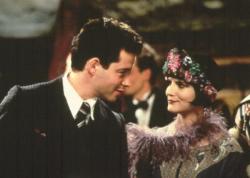 Matthew Broderick and Jennifer Jason Leigh in Mrs. Parker and the Vicious Circle
I agree with Patrick that Mrs. Parker and the Vicious Circle is an ambitious movie but for me it barely succeeds. It does offer a vividly wrought peak into the past but it does so through the life of one of this country's most depressing voices. It was literally torture for me to spend time with this character. She mopes around as if she is the most pathetic human being who ever lived.
She is a paid writer. Can there be a better job on the face of the earth. She seems to spend as much time socializing as anything else. "I hate the Office; It cuts in on my social life." Sure, she has problems, such as an income she deems to small and is married to a drug addict. She however, is responsible for her choices. She chose not to divorce him. She chose to have an affair with a married man that resulted in a pregnancy and she is, of course, responsible for her suicide attempts.
She has plenty of friends, lovers and fans, yet she does nothing but bitch about her life. Early on she types, "Please God, let me write like a man." When pregnant, she laments to a friend, "I can't even get morning sickness when you're supposed to." As Patrick wrote, the script uses such real Parker quotes as, "I'll wear my heart on my sleeve like a wet, red stain." Wake me when the funeral is over.
As far as the Algonquin Round Table goes, the group seems like a bunch of arrogant asses. It would probably have been fun being a member of the club, drinking in each other's cleverness, but they seemed like the kind of people that looked down on others as they have put themselves on such pedestals, complimenting each other to no end. After missing a gathering, Parker asks one member, "How was lunch? Did they talk about me?"
There is barely a plot to speak of. We simply spend time with Dorothy Parker as she moves about like the living, breathing definition of melancholy. "I do not like my state of mind…" The camera rarely leaves her, and when it does, it is so other characters may talk about her. Her writing may have touched others, but for me she was an example of all that is wrong with modern woman. She has everything anyone could ever want yet still seeks out more. In fact, as portrayed here, it seems that Dorothy Parker never knew what the fuck she wanted and as such I was left cold by this film. I cared not for Dorothy and other than the news of Benchley's death, never had the least bit of sympathy for her.
Jennifer Jason Leigh does a remarkable job as Dorothy Parker but she so rarely allows us to see her happy. With so many friends, she must have had a sunny side to her disposition that occasionally made an appearance but you would never know it from this film. Sure, she makes some cute quips and sometimes swears, but I would have never sought her company out as she is portrayed here.
Photos © Copyright Fine Line FeaturesMayfair EntertainmentMiramax Films (1994)