Movie Review
Mrs. Henderson Presents
The show must go on, but the clothes must come off.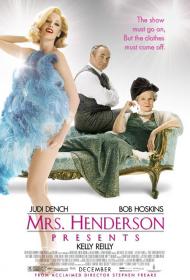 US Release Date: 12-09-2005
Directed by: Stephen Frears
Starring
▸
▾
Judi Dench

,

as

Laura Henderson
Bob Hoskins

,

as

Vivian Van Damm
Will Young

,

as

Bertie
Kelly Reilly

,

as

Maureen
Thelma Barlow

,

as

Lady Conway
Christopher Guest

,

as

Lord Cromer
Shona McWilliams

,

as

Gracie Kramer
Camille O'Sullivan

,

as

Jane
Doraly Rosen

,

as

Maggie
Sarah Solemani

,

as

Vera
Natalia Tena

as

Peggy

Reviewed on:
February 5th, 2006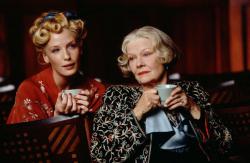 Judi Dench in Mrs. Henderson Presents.
Mrs. Henderson Presents is a very British movie. Filled with British pluck, repressed emotions and a nice amount of British humor, this is a movie that would have been very different had it been made in America.
Dame Judi Dench stars as the Mrs. Henderson of the title. Newly widowed in London of the 1930s, she buys a condemned theater on a whim. She hires Vivian Van Dam (Hoskins) to manage it for her and the two immediately begin a love/hate relationship that results in a musical revue that is the smash of the West End. But when the other theaters begin stealing their ideas and business goes down, Mrs. Henderson comes up with a new idea to pack the seats.
Her idea is to feature nude women in the show. However, since this was a time when such things were unheard of in legitimate theater, she must first get permission to be licensed for such a thing from the government. Fortunately Mrs. Henderson is quite well connected and after showing the Lord Chancellor a preview performance, he agrees to allow the nudity on one condition. The nude girls never move while on stage. This allows everyone to compare the nudity on stage to the nudity in a painting hung in a museum and thus it becomes art.
Although there is a fair amount of nudity in the movie, this is not a movie about sex or even really a sexy movie. The real story is about the eccentric Mrs. Henderson herself. As played by Judi Dench she is on the surface a rather flighty high society widow who is perhaps for the first time experiencing the unsheltered aspects of life and having fun while doing it. Her banter with Hoskins' Van Dam is the highlight of the film.
After World War II starts, Mrs. Henderson's nude review is the only show left running, in part due to the protests of the servicemen when the government tries to shut it down and in part to Mrs. Henderson's influence. "If we're going to ask our young men to give up their lives," she says, "The very least we can do is to show them a little joy before they do."
While this rather light-hearted movie might not seem the type of fare that generates Oscar nominations, Dame Judi's was fairly earned. Along with the comedy, but never detracting from it, she slips in several moments of drama. Mrs. Henderson's son died during the First World War and in a way her show for the boys in uniform is done for him. The London blitz also plays a dramatic part in the story. But most of all, the Oscar nomination was earned simply by how effortless Dench's performance is given. With decades of experience behind her she can say more with just her eyes than many young actresses of today can say with whole pages of dialogue.
Since the Oscar race for Best Actress seems to be focused entirely on Felicity Huffman and Reese Witherspoon, it's doubtful that Dench will pull off an upset, but with any luck the mere nomination will encourage others to see this small, but delightful movie.

Reviewed on:
February 2nd, 2015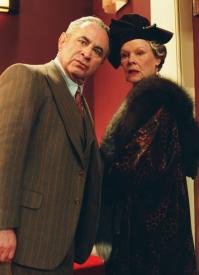 Bob Hoskins and Judy Dench in Mrs. Henderson Presents
Judi Dench is often hilarious as a rich old broad with too much time and money. "I am bored with widowhood. I have to smile at everyone. I never had to smile at everyone before. In India, there were always people to look down upon."
As Scott wrote, Mrs. Henderson is allowed to display nudity on stage if it can be considered art. To get the uncomfortable women passed their first disrobing, some male stage hands and Mr. Van Damm strip. Of course, this is the very moment that Mrs. Henderson walks in. "Why, Mr. Van Damm, you are jewish!" Mrs. Henderson acts in a very awkward way when she meets Mr. Van Damm's wife, suggesting jealousy but her feelings go deeper.
The movie also has an underlying serious tone. Mrs. Henderson's son died in the First World War. She often visits his grave in France. When her theater is threatened with closure during the war, she observes, "When you lose a son in the war you do know, no matter what anyone might say, that his death has been in vain. It won't stop others from following, other wars, other young men."
Her refusal to shut down her theater as it provides soldiers with a much needed distraction comes from a very personal place. The scene where the nude woman on stage holds up her fingers in the sign of victory, during a bombing, is beautifully powerful. Later, Mr. Van Damm scolds Mrs. Henderson for being outside watching a distant bombing. She shuts him down with, "I take war far more seriously than you could ever dare imagine."
Mrs. Henderson is exasperating one minute and emotionally encouraging the next. Her setting up her star nudist and the soldier, who obviously reminds her of her son, is a bit moving. It does however, backfire horribly.
I was reminded of the 1945 Rita Hayworth film Tonight and Every Night. It is about a London show that featured lovely, although clothed girls, which stayed open throughout the London Blitz. I now wonder if it was loosely based on Mrs. Henderson's revue at The Windmill Theater. While that film is for Rita Hayworth fans only, Mrs. Henderson Presents is a very solid piece of entertainment.
Reviewed on:
February 6th, 2015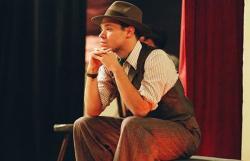 Will Young as Bertie in Mrs. Henderson Presents.
Mrs. Henderson Presents has wit and charm to spare. It has an old fashioned theatrical quality that perfectly suits the story. It conjures up its setting vividly, leaning more towards a romantic/nostalgic reminiscence of war than to the blood and gore of the real thing. Even when death occurs it is filmed as if in the haze of memory. This fits the film's lighthearted/sentimental tone and allows Judi Dench to run the gamut from comedy to pathos. Her blue piggy eyes convey cruelty as easily as compassion. As noted above, Mrs. Henderson is stubborn and exasperating but she's also an angel of mercy. It's a great part and Dench makes the most of its duality.
Bob Hoskins is equally good, although his is the less showy role (not counting his full Monty). Stephen Frears was requested as director by the two leads and he clearly trusted his stars in return. Notice the scene where Mrs. Henderson and Vivian Van Damm argue over whether to call the girls Millettes or Millerettes. It was shot in one long continuous take as they make their way, in heated debate, through the theater.
Thelma Barlow steals a few scenes as the eccentric Lady Conway, constantly offering Mrs. Henderson advice on widowhood. She gets several of the film's best lines including my personal favorite, "You obviously require a battle plan. My second husband, the general, always advocated attacking from the rear, which, although it did nothing to enhance our marriage, did bring him some success on the field."
I was most intrigued by the character Bertie. He's played by Will Young the openly gay British pop singer, here making his movie debut. In one scene Van Damm announces that Bertie was kept out of the military due to a heart murmur. Everyone chuckles because they all know he's gay. Of course homosexuality was against the law at the time but recruiting officers were so reluctant to even mention the word that many obviously gay men were rejected under false pretenses. Young has a high clear singing voice. I enjoyed his rendition of Jerome Kern and Oscar Hammerstein's "All the Things You Are".
Mrs. Henderson Presents offers an amusing, and often touching, look at this larger than life woman who certainly left her mark on the world of British theater.
Photos © Copyright The Weinstein Company (2005)
Related Review