Movie Review
Mrs. Brown's Boys D'Movie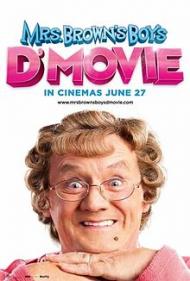 United Kingdom Release Date: 06-27-2014
Directed by: Ben Kellett
Starring
▸
▾
Brendan O'Carroll

,

as

Agnes Brown
Jennifer Gibney

,

as

Cathy Brown
Fiona O'Carroll

,

as

Maria Brown
Jamie O'Carroll

,

as

Bono Brown
Rory Cowan

,

as

Rory Brown
Martin Delany

,

as

Trevor Brown
Paddy Houlihan

,

as

Dermot Brown
Dermot O'Neill

,

as

Grandad Brown
Pat Shields

,

as

Mark Brown
Amanda Woods

,

as

Betty Brown
Robert Bathurst

,

as

Maydo Archer
Raj Ghatak

as

Rab Patel
Reviewed on:
July 4th, 2014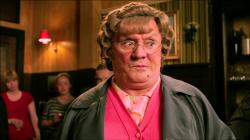 Brendan O'Carroll in Mrs. Brown's Boys D'Movie.
There's an old fashioned feel to Mrs. Brown's Boys D' Movie. Its humor is an odd combination of politically incorrect jokes and overdone sentimentality. Perhaps given that the average age of the audience for the sitcom this movie is based on is 50, this shouldn't be surprising. And the built-in fans is who writer/star Brendan O'Carroll seems to be aiming for and he's giving them what they expect, only on a movie budget, which means more scenes shot on location. Given the film's larger than expected (but still relatively small) opening weekend, he seems to know what he's doing.
The character of Agnes Brown has been around in different forms since 1992, appearing on radio, in books, on stage and television. There was even an earlier film adaptation in 2000 starring Angelica Huston. Following the success, in the UK, of that film, creator Brendan O'Carroll adapted his books into a series of straight to DVD films, only this time with himself playing the lead character in drag. This lead to a series of successful stage shows that played around the United Kingdom and Ireland. Finally, in 2009, the BBC approached O'Carroll about creating a television show around the character. The show was a hit with viewers, but not with critics.
Mrs. Brown runs a fruit and veg stall in the Dublin Moore Street Market. She's a widow and mother to a large brood of grown children. The impetus to the plot is that a large corporation wants to buy out all the stalls in the market and build offices there instead. When Mrs. Brown won't sell, she is accused of owing a large amount of back taxes that were unpaid by her grandmother. The amount is so high that she will never be able to pay. Mrs. Brown then goes to court to try and prove that her grandmother did pay her taxes. Her case isn't helped by the ineptness of her family who try to rally around her, the fact that her key witness is killed by a passing bus, and that her barrister suffers from Tourettes.
The television show is known for breaking the 4th wall and that habit is brought to the movie. It's acknowledged with a wink to the audience that this is a movie. Along with addressing the audience, a couple of times, bloopers are left in the film and scenes are restarted. This laissez-faire style might work on television, but it seems a little jarring here, taking you out of the film. It's particularly odd if you're unfamiliar with this practice, but clearly O'Carroll wasn't expecting anyone to see this film who wasn't already familiar with it.
There's some mildly politically incorrect humor in the story, but it seems so innocent and old fashioned that it's hard to see anyone really being offended by it. There's a Mr. Wang who runs a ninja school for the blind who is also played by O'Carroll in yellow face, complete with stereotypical accent. A running joke in the story is that Mrs. Brown and the other stall owners all believe an Indian character is from Jamaica. And plenty of the jokes, and some of the funniest, involve Mrs. Brown's foul language.
Amongst the jokes there's also a mild attempt to tug at the heart strings, but this is the film's least successful aspect. Mrs. Brown feels guilty that for a short while after her husband's death she put her children in care while she came to terms with her grief. With all the silliness and acknowledgement that it's all just a movie, this fails to really evoke much emotion, nor does the final speech in the courtroom by Mrs. Brown's daughter.
As a lightweight, silly little bit of fluff, this movie will make you laugh occasionally. As a proper movie though, it never quite works. It feels exactly like what it is, a sitcom blown up to fit on the big screen, a size it never really seems comfortable with.
Photos © Copyright Universal Pictures (2014)