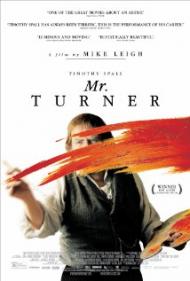 US Release Date: 12-19-2014
Directed by: Mike Leigh
Starring
▸
▾
Timothy Spall

,

as

J.M.W. Turner
Paul Jesson

,

as

William Turner
Dorothy Atkinson

,

as

Hannah Danby
Marion Bailey

,

as

Sophia Booth
Karl Johnson

,

as

Mr. Booth
Ruth Sheen

,

as

Sarah Danby
Sandy Foster

,

as

Evelina
Amy Dawson

,

as

Georgiana
Lesley Manville

,

as

Mary Somerville
Martin Savage

,

as

Benjamin Robert Haydon
Richard Bremmer

,

as

George Jones
Roger Ashton-Griffiths

,

as

Henry William Pickersgill
James Fleet

,

as

John Constable
David Ryall

,

as

Footman
Stuart McQuarrie

,

as

Ruskin's Father
Fenella Woolgar

as

Lady Eastlake
Reviewed on:
December 29th, 2014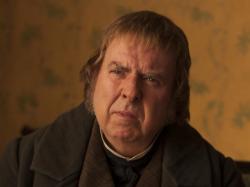 Timothy Spall in Mr. Turner.
Since Timothy Spall won the Best Actor award at Cannes, he has been one of the front runners in the Oscar race. The film has also been in the news as part of the Sony hack scandal since it was one of several movies posted illegally online. Given its target audience however, it's doubtful this early release will have much impact on its box office.
Written and directed by Mike Leigh, Mr. Turner tells the story of the last half of 19th century English painter J.M.W. Turner's life. It's not a detailed or scholarly look at the artist, but rather a portrait of the man and his relationship with those closest to him. We see the shoddy and neglectful way he treats his daughters that he had out of wedlock, the oddly sexual relationship he had with his maid, the happiness he found with the woman he lived with, but never married, for the last 18 years of his life, and seemingly his closest relationship, the one he had with his father, who lived with him up until his father's death. We also see how his art evolved over the years going in and out of fashion.
Spall inhabits the lead character, which is important since this is more of a character study than a plot-centric film. He stalks through the film with a constant sneer and a snarl. His voice is a growl and he's often difficult to understand, especially at the beginning of the film before you get used to his method of talking. Often he communicates simply by grunting. In appetite he is likewise animalistic, taking sex with his maid when and where it strikes his fancy. Being English, his emotions are restrained except for one notable occasion, during which the tears rise in him as if from some twisting labyrinth at the center of his being that are forced upward and out of him uncontrollably. Even his painting style is that of an animal. He attacks his canvas, snarling and spitting as he works. He's not a particularly likeable character, but he is an interesting one.
Director Leigh and cinematographer Dick Pope have created a beautiful film wherein several scenes pay careful tribute to Turner's work and the land and sea scapes that inspired him. Each scene was obviously laid out and set up with great care and the result is magnificent and a pleasure to look at.
However, at nearly 2 and a half hours, the film does drag in several places. Instead of a plot, there's really just a series of vignettes, many of which could and probably should have been cut. Long before the two hour mark we've come to know this man intimately and no longer need so many little scenes that demonstrate his personality.
Those with an interest in art and Turner in particular will no doubt be delighted with this film. Even those with no particular interest in art or art history are at least provided with a masterful performance by Spall. All of the award buzz is well deserved, at least for his performance and the look of the film. A tighter edit and more eventful script would have made for a more enjoyable story. As it is, it may be art, but it's not entertainment.
Photos © Copyright Sony Pictures Classics (2014)