Movie Review
Mr. Skeffington
A woman is beautiful only when she is loved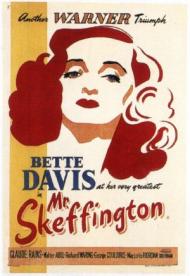 US Release Date: 05-25-1944
Directed by: Vincent Sherman
Starring
▸
▾
Bette Davis

,

as

Fanny Trellis
Claude Rains

,

as

Job Skeffington
Walter Abel

,

as

George Trellis
Richard Waring

,

as

Trippy Trellis
Marjorie Riordan

,

as

Young Fanny
Jerome Cowan

,

as

Edward Morrison
Johnny Mitchell

,

as

Johnny Mitchell
Dorothy Peterson

,

as

Manby
Peter Whitney

,

as

Chester Forbish
Bill Kennedy

,

as

Thatcher
Patrick Cunning

as

Playboy
Reviewed on:
January 12th, 2006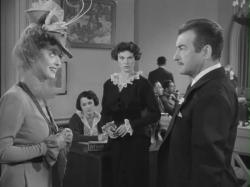 Bette Davis and Claude Rains in Mr. Skeffington.
Mr. Skeffington was yet another starring vehicle for Bette Davis during her nearly 20 year run as the Queen of Warner Bros. Released in 1944 it gave Miss Davis her 7th Best Actress Academy Award nomination in 10 years. She was nominated in 1935, '38, '39, '40, '41, '42, and '44. She won twice, in '35 and '38 making her just the second actress to accomplish that feat (Luise Rainer was the first).
Mr. Skeffington is an epic melodrama about a woman who is the belle of New York City right before the First World War. It is different from most of Bette Davis' roles in that she is playing someone who is supposed to be the most beautiful woman in the city. Since Bette Davis was not a conventionally beautiful woman she seems, on the surface, to have been miscast. Somehow though she pulls off the part and makes you believe that she is incredibly beautiful and that many, many men are dying for her affections.
She marries Mr. Skeffington, a wealthy Jewish businessman whom she proceeds to treat more like a friend than a husband. She still gets visits and proposals from dozens of men, although she remains technically faithful to her doting husband. They have a daughter but soon after her husband returns from serving overseas they get a divorce. Fanny, not being interested in being a mother, let's her ex-husband raise their daughter while she continues her carefree life of men.
Time passes and the roaring '20's come and go. Somehow Fanny Skeffington manages to keep her looks. Then in 1935, shortly after seeing her now grown-up daughter for the first time in a decade, she comes down with diphtheria, a disease that ages her so that she goes from looking like a woman in her 30's to a woman of 60. She is in reality about 50. Her garish post-disease makeup foreshadows Baby Jane.
The ending is melodrama of the highest order. Fanny is crushed by the fact that she has lost her looks and with them all her male suitors. Then Job Skeffington returns from Europe, where he has been living for many years, escaping the clutches of the Nazi's shortly after their rise to power, and comes to see her. Fanny assumes that he will be like all the others, but destiny, under the swastika banner, has intervened, Mr. Skeffington is now blind. She will forever be the beautiful young Fanny to him. Fanny quotes one of her husband's favorite lines, "A woman is beautiful only when she is loved."
All the high drama is balanced with light humor. There is a running gag about Fanny constantly canceling luncheon dates with the never-seen Janey Clarkson. In fact the final moment of the movie mentions her.
Claude Rains is wonderful as the patient Job Skeffington. His name is a not very subtle Biblical reference. Fanny is a wonderful part. Bette Davis gives her a higher speaking voice than she normally used, and she really buries herself in the part, remaining in character the entire movie without ever letting the scenery chewing BETTE DAVIS take over the role.
This isn't the best movie of Bette Davis' amazing career but it is one of my personal favorites. It is a great movie for a rainy day or to catch late at night. It is easy to get caught up in the story and you may find yourself shedding a tear or two at the ending.
Photos © Copyright Warner Bros. (1944)