Movie Review
Mr. Popper's Penguins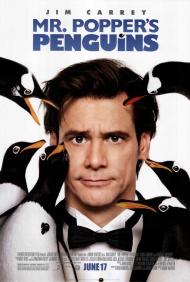 US Release Date: 06-17-2011
Directed by: Mark Waters
Starring
▸
▾
Jim Carrey

,

as

Mr. Popper
Carla Gugino

,

as

Amanda
Angela Lansbury

,

as

Mrs. Van Gundy
Ophelia Lovibond

,

as

Pippi
Madeline Carroll

,

as

Janie
Clark Gregg

,

as

Nat Jones
Jeffrey Tambor

,

as

Mr. Gremmins
David Krumholtz

,

as

Kent
Philip Baker Hall

,

as

Franklin
Maxwell Perry Cotton

,

as

Billy
James Tupper

as

Rick

Reviewed on:
June 18th, 2011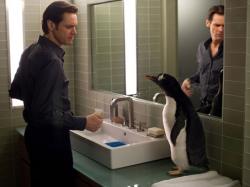 Jim Carrey and a computer generated penguin in Mr. Popper's Penguins.
Mr. Popper's Penguins (which is fun to say out loud), surprised me a bit by actually being enjoyable. It reminded me of one of those old fashioned live action Walt Disney movies from the 1960s an '70s. It also surprised me by downplaying the penguins and keeping them in the supporting role while Jim Carrey does his thing.
Carrey plays Popper, a hotshot real estate broker who, when the movie opens, convinces the owner of the Flat Iron Building to sell it to him. All he needs to do to make partner at his firm is land one more property; the famed Tavern on the Green (which in this movie is still open). As successful as he is in his professional life, he's equally unsuccessful in his family life. He's divorced and his two kids don't particularly enjoy spending time with him. He's still carrying emotional baggage from his childhood from which his own father was mostly absent.
Popper's life is disrupted by the news of his father's death. In the will he is left a penguin (and following a miscommunication in trying to get rid of them, ends up with six). You can probably guess the rest. Popper's son and daughter love the penguins and they help him form a bond with his kids. However, the penguins also disrupt Popper's professional life by causing mischief and disturbing his routine.
Thematically this is familiar ground for Carrey. As he did in Liar, Liar, he plays a divorced father who is successful in business, but a disappointment as a father and husband. He must learn his lesson to find a balance in his life and he must learn what to prioritize. But this is a movie aimed at kids (although it can definitely be enjoyed by the whole family), who won't care if it's a bit of a repeat of the character from that film.
From the previews I expected to be overwhelmed by the cutesy humor featuring the penguins, but surprisingly it's kept to a minimum. The biggest moment of it is shown in the previews when Popper does a little dance routine with the penguins in a line. They still behave as if they were semi-human, as animals always do in Hollywood movies (which annoys the fuck out of me, am I the only one?), but in a tolerable way. Their antics are the ones most aimed at kids though, with their shenanigans at the Guggenheim museum and their escape from Zoo in the film's climax.
At just 90 minutes, the story moves briskly. There's not really enough time for Popper or his penguins to outstay their welcome. The humor is often quite childish and penguin poop is used at least three times too many as a punchline, but it's mostly pleasant and amusing enough.
Not a classic by any means, but Mr. Popper's Penguins does manage to provide some mildly, entertaining family fun.

Reviewed on:
June 21st, 2011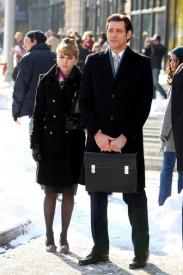 Ophelia Lovibond and Jim Carrey in Mr Popper's Penguins.
Mr Popper's Penguins is a parable about a posturing palooka who panders to people with property so as to purchase it from the proprietor. As a parent, Popper is a passive paternal poser, pretending to be a positive participant in his progeny's lives. Pandemonium prevails when the parcel of playful penguins arrive at Popper's pad. Popper is perhaps a pathetic parent, but he practically produces a polar penguin paradise, putting piles of snow around his place Popper's pleading progeny persuade Pop to put up the penguins. Popper placates them, perseveres and perfects perpetual parental prowess.
As Scott wrote, the penguins perform in preposterous ways, and yes that does bother me as well. However, Mr Popper's Penguins is aimed at kiddies so I excuse the stretching of reality. This movie provides some laughs, but not nearly as much as Carrey's earlier work. Like Eddie Murphy and Robin Williams before him, Jim Carrey has slipped into family film making. It is where good comedians careers go to die.
If you have seen the movie you already know by my first paragraph that my favorite character is Popper's alliteration obsessed assistant Pippi. Every line she says is filled with words starting with the letter "p". I chuckled when she found a boy friend. That chuckle, by the way, was the biggest laugh I found in the film.
Photos © Copyright 20th Century Fox (2011)