Movie Review
Mr. Peabody & Sherman
History is catching up with them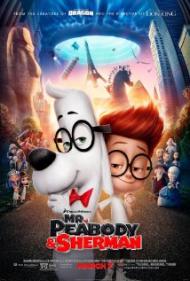 US Release Date: 03-07-2014
Directed by: Rob Minkoff
Starring
▸
▾
Ty Burrell

,

as

Mr. Peabody (voice)
Max Charles

,

as

Sherman (voice)
Lauri Fraser

,

as

Marie Antoinette / Egyptian Woman (voice)
Patrice A. Musick

,

as

Teacher (voice)
Ariel Winter

,

as

Penny Peterson (voice)
Stephen Tobolowsky

,

as

Principal Purdy (voice)
Allison Janney

,

as

Ms. Grunion (voice)
Dennis Haysbert

,

as

Judge (voice)
Stephen Colbert

,

as

Paul Peterson (voice)
Leslie Mann

,

as

Patty Peterson (voice)
Zach Callison

,

as

King Tut (voice)
Stanley Tucci

,

as

Leonardo da Vinci (voice)
Lake Bell

,

as

Mona Lisa (voice)
Patrick Warburton

,

as

Agamemnon (voice)
Tom McGrath

,

as

Odysseus (voice)
Mel Brooks

as

Albert Einstein (voice)

Reviewed on:
March 20th, 2014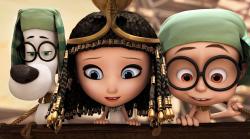 Mr. Peabody, Penny and Sherman
Mr. Peabody & Sherman is a clever variation on the "boy and his dog" story. Here it is business mogul, scientist, Olympic medalist and genius inventor dog and his boy. As a Judge explains when Mr. Peabody adopts baby Sherman, "If a boy can adopt a dog, I see no reason why a dog cannot adopt a boy." Mr. Peabody rationalizes raising a son to the judge, "Given all that I've accomplished, how hard could it possibly be?" Of course, he soon finds out.
Sherman is a well-educated child, especially when it comes to history lessons, as his father takes him on daily time travel adventures in his WABAC machine. Mr. Peabody has made every effort to educate Sherman intellectually but not so much socially. On his first day of school, Sherman gets into a fight with Penny, a girl whose ego he has unknowingly bruised. To make amends and stop social services from taking Sherman away from him, Mr. Peabody invites the girl and her parents to dinner in their penthouse.
While making cocktails for Penny's parents, Sherman innocently pokes his head around the corner and says that he needs to speak to Mr. Peabody alone. Going against his father's rules, Sherman took Penny for a trip in the WABAC and she is now living in ancient Egypt with her fiancé, King Tut. Mr. Peabody and Sherman return to Egypt where Penny is enjoying being treated like a princess. Mr. Peabody explains that Tut does not live long and Penny learns what happens to her when that occurs.
Here is an example of the brilliant possibilities of this film. We have a child's adventure, with the heroes being chased by guards and we also have some history lessons easily thrown in. Come on, kids often pay better attention to entertainment than they do school lessons. My sons know who Leonardo da Vinci is from the video game Assassin's Creed.
The action and adventure is squarely aimed at children but there are plenty of jokes for the adults. The always great in any animated film Patrick Warburton as Agamemnon is a great example. He creates laughs for the kids, such as when he falls in love with the hideous social worker but he also has a line that only educated adults would understand, "All sons have had some issues with their parents. Odysseus was going to be left stranded at home. Ajax was going to be in a Greek chorus. And Oedipus... you do not want to go to his house for the holidays!"
Mr. Peabody & Sherman is an entertaining adventure film that travels to different times and appeals to different generations. It is a fast paced adventure film that employs that old Doctor Who staple of having a problem with the space-time continuum. It has a heart as Mr. Peabody and Sherman come to a new understanding in their father/son relationship.
Its greatest strength for me though, is in the humor. My favorite joke in the entire film is when George Washington states, "I hereby grant Mr. Peabody a Presidential pardon." Abraham Lincoln agrees, "Me too!" and not to be left out, Bill Clinton adds, "I've done worse."
Photos © Copyright DreamWorks Animation (2014)