Movie Review
Mr. Holmes
After a lifetime of detective work, there's one mystery left to solve: his own.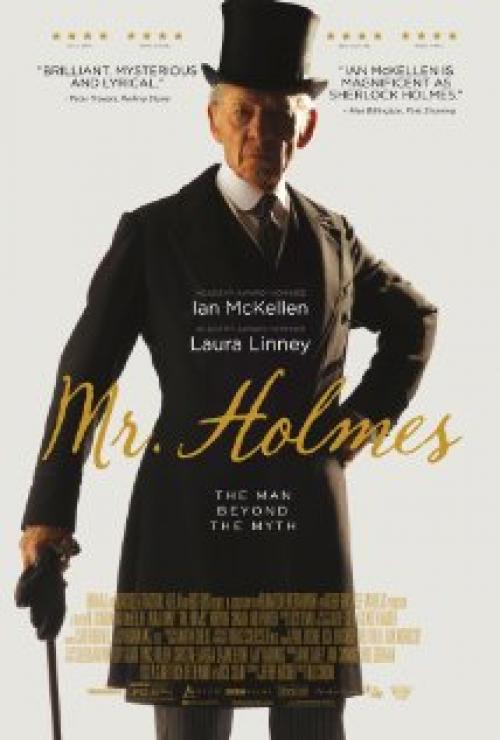 US Release Date: 07-17-2015
Directed by: Bill Condon
Starring
▸
▾
Ian McKellen

,

as

Sherlock Holmes
Laura Linney

,

as

Mrs. Munro
Milo Parker

,

as

Roger
Hiroyuki Sanada

,

as

Tamiki Umezaki
Hattie Morahan

,

as

Ann Kelmot
Patrick Kennedy

,

as

Thomas Kelmot
Roger Allam

,

as

Dr. Barrie
Philip Davis

,

as

Inspector Gilbert
Frances de la Tour

,

as

Madame Schirmer
Charles Maddox

,

as

Oswald
Takako Akashi

,

as

Maya Umezaki
Zak Shukor

,

as

Masuo Umezaki
John Sessions

as

Mycroft Holmes
Reviewed on:
July 27th, 2015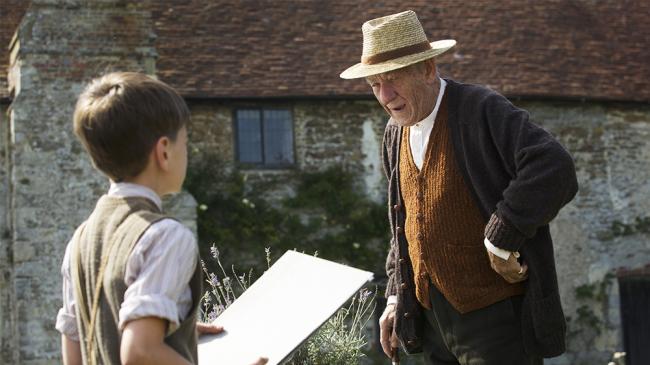 Milo Parker and Ian McKellan in Mr. Holmes.
Mr. Holmes, based on the 2005 novel, "A Slight Trick of the Mind" by Mitch Cullins, is a well acted drama featuring a strong central performance by Ian McKellan as an aging Sherlock Holmes. However, the intriguing premise of the aging detective grappling with the decline of his celebrated mental faculties is never as fully explored or developed as it could have been and the final case over which he is obsessed with remembering is particularly disappointing. The cast saves the movie, but it never feels as satisfying as it should have felt.
The story is set in 1947 with a 93 year old Sherlock Holmes long since retired and living in the Sussex countryside where he spends his time beekeeping. With his memory failing him, he is no longer the brilliant detective he once was. He lives alone apart from his housekeeper Mrs. Munro (Laura Linney) and her young son Roger, who is a fan of the great detective through the stories written about him by Dr. Watson. The aging detective and the young boy develop a bond and Holmes discovers that talking to Roger helps prompt his memory of his final case, which he has been struggling to remember and document.
It is this final case of Holmes's that is the most disappointing aspect of the film. As Holmes remembers the case and writes it down, we see in flashbacks the nature of the case and what lead up to his retirement. The problem with this last case is simply that there really is no mystery to it at all. And I don't mean that it's easy to solve, but that literally there is no mystery to it. A husband comes to Holmes because his wife is depressed over the miscarriage of two children. Why he goes to a detective instead of a priest or a doctor is never explained. And why Holmes would take on such a non-case is also a mystery. Holmes spends 15 minutes in conversation with the man's wife and her actions following this conversation are supposed to be enough to cause him to retire, but it never rings true. This is supposed to be a more realistic Holmes and the script pokes fun of Watson's portrayal of him, but a man who would be so affected by the brief encounter with this woman has nothing in common with anything ever written about Sherlock Holmes.
The heart of the story is the relationship between Sherlock and Roger. They share a nice grandfather/grandson type chemistry. Roger is excited to befriend his hero, but is a witness to the declining mental abilities of his idol. Sherlock gets as much, if not more, out of their relationship. Their scenes together are the most enjoyable in the film. Linney delivers a solid performance as Roger's mother (has she ever given a bad performance?), but is very much in a supporting part.
Holmes' country home is situated in the English countryside near the famous White Cliffs and director Bill Condon shows the area off to great effect. Although it's difficult to separate Holmes from foggy Victorian London, it's easy to believe anyone would want to retire to such a beautiful place.
As a finely acted, emotional story, Mr. Holmes works, but as an epilogue to Sherlock Holmes' career it's lacking that vital spark.
Photos © Copyright Roadside Attractions (2015)