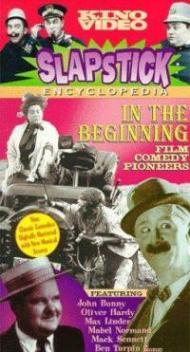 US Release Date: 05-12-1909
Directed by: Broncho Billy Anderson
Starring
▸
▾

Reviewed on:
October 8th, 2010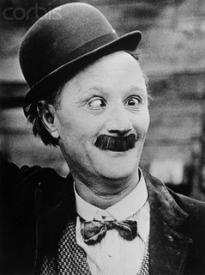 Ben Turpin
Cross-eyed Ben Turpin was arguably the very first comic movie star, beginning his screen career in 1907. He originally worked as janitor, stuntman and shipping clerk at Essanay studios in Chicago, Illinois before getting his break in front of the camera. He would continue making comedy shorts into the sound era and up to his death in 1940 at the age of 70. He was born in 1869 just 4 years after the American Civil War ended. He wasn't cross-eyed at birth but apparently became that way permanently while playing the cross-eyed character Happy Hooligan in Vaudeville. With his large fake mustache and stooped-over, quick-step manner of walking he was clearly an influence on Groucho Marx.
Mr. Flip is a 4 minute short from 1909. It was directed by Broncho Billy Anderson the very first western star in the movies. It consists of Turpin flirting outrageously with a string of different women while they attempt to do their jobs. He goes through a sales girl, a manicurist, a telephone operator, a lady barber, a female bartender and a waitress; getting quickly rejected by each one.
If you've ever wondered how old certain gags are this movie proves that several have been around for more than a century. One of the manicurists sticks a pair of scissors under a chair that Turpin sits on, springing up in pain while grabbing his behind. At the bar he gets spritzed by a couple of seltzer bottles and the movie ends when the waitress (you guessed it) hits him in the face with a pie. Legend has it that this is the very first movie to feature this iconic and ubiquitous bit of slapstick, hence the 4 stars I am giving it.
From an historical context this movie shows that many jobs were open to women 11 years before they could even vote. It also shows that men have been aggressively flirting with them ever since they entered the work force. Finally it proves that Ben Turpin had a natural comic flair even though he is all but forgotten today.

Reviewed on:
October 9th, 2010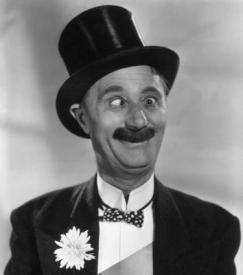 Ben Turpin in a photo not from Mr. Flip.
Mr. Flip definitely needs to come up with a new way of picking up women. He seems to rely on the chin tickle way too much. Maybe he figures that if he tries it out on enough girls, one of them will finally respond. Just not in this short.
With the quality of the film, at least in the version I saw (available for viewing on YouTube), being so poor and the absence of close-ups in the film, you could easily be forgiven for thinking that was Groucho Marx running around sexually harassing women in this short. If Turpin wasn't an influence on Groucho, than it's a mighty big coincidence.
Turpin is one of those names that I'd heard of, but never seen in anything. It's hard to judge his work from this one little short. At least you can see that he's got energy, which was important in these silents shorts.
As for the short itself, it's amusing enough, but it lacks a payoff at the end. He should have either been beaten up by one of the girl's husbands or finally found a girl who responded to that chin tickle.

Reviewed on:
October 9th, 2010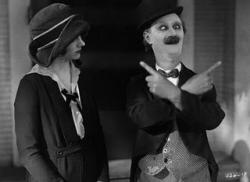 He needs to keep his fingers to himself.
What a pervert! This guy needs to go take a cold shower, or find some privacy and rub one out.
At only four minutes, and a plot that is simply women being put out by his flirting, this is more of a skit than an actual movie. Giving this more than one star is an insult to every other film that actually took the time to make a cohesive story line.
Photos © Copyright Essanay Film Manufacturing Company (1909)