Movie Review
Mortdecai
Sophistication has a name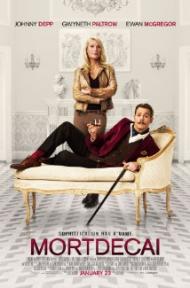 US Release Date: 01-23-2015
Directed by: David Koepp
Starring
▸
▾
Johnny Depp

,

as

Mortdecai
Gwyneth Paltrow

,

as

Johanna
Paul Bettany

,

as

Jock
Ewan McGregor

,

as

Martland
Olivia Munn

,

as

Georgina
Jonny Pasvolsky

,

as

Emil
Michael Culkin

,

as

Sir Graham
Ulrich Thomsen

,

as

Romanov
Alec Utgoff

,

as

Dmitri
Rob de Groot

,

as

Vladimir
Guy Burnet

,

as

Maurice
Jeff Goldblum

,

as

Krampf
Paul Whitehouse

,

as

Spinoza
Michael Byrne

as

The Duke

Reviewed on:
January 25th, 2015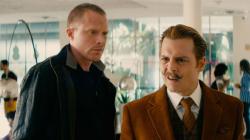 Paul Bettany and Johnny Depp in Mortdecai
I have only ever liked Johnny Depp in comedies. He seems to enjoy throwing himself into the most over the-top characters he can. Here he plays Charles Mortdecai, an irresponsible British lord with a checkered past. He is a creation of British novelist Kyril Bonfiflioli, with this film being based on his book, "Don't Point That Thing at Me."
After an art restorer is found dead and the painting she was cleaning comes up missing, MI6 agent Martland (Ewan McGregor) seeks out the help of Lord Mortdecai as he is considered an art expert. Well, he also uses it as an excuse to visit with Mortdecai 's wife Johanna (Gwyneth Paltrow), whom Martland is in love with. Mortdecai agrees to help in the investigation for a percentage as he owes millions of back taxes.
Before he knows it, Mortdecai is dealing with Russian thugs, terrorists and a beautiful nymphomaniac. Besides his wife, Mortdecai is assisted by his man servant Jock, played by a scene stealing Paul Bettany. He is Mortdecai's muscle and a sex machine, nailing one beautiful woman after another. Jock is painfully loyal to Mortdecai even though Mortdecai accidentally shoots him no less than three times.
As the film begins, Mortdecai has just grown a mustache. Johanna dislikes it as kissing him with it makes her gag. She decides to deny him sex until he has shaven it off. It becomes a running gag. Oops, a pun. Mortdecai is whipped, "I'm afraid I shall have to put my foot down, darling." He tells Johanna, who quickly asks, "Sorry?" causing Mortdecai to recant, "With your permission, of course."
All of the characters get their moments but the movie belongs to Mortdecai. When being assaulted by two Russians, Mortdecai looks at one (Alec Utgoff) and tells him that his parents only met once and money was exchanged. After Jock gets sick as they are being pursued in a high speed car chase, Mortdecai admonishes Jock for eating shellfish at a catered event.
Mortdecai is not a great film. The outcome is unimportant and the mystery is pointless. There is however, plenty of silly British humor with Johnny Depp doing what he does best.
Photos © Copyright Huayi Brothers Media (2015)