Movie Review
Morocco
Fate flings into her arms a man who offers everything a woman craves. But out of the Legion comes a lover who offers nothing but love. Which should she choose?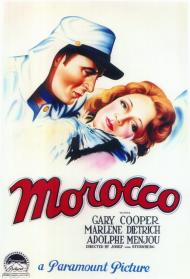 US Release Date: 11-14-1930
Directed by: Josef von Sternberg
Starring
▸
▾
Gary Cooper

,

as

Legionnaire Tom Brown
Marlene Dietrich

,

as

Mademoiselle Amy Jolly
Adolphe Menjou

,

as

Monsieur La Bessiere
Ullrich Haupt

,

as

Adjutant Caesar
Eve Southern

,

as

Madame Caesar
Francis McDonald

,

as

A Sergeant
Paul Porcasi

as

Lo Tinto

Reviewed on:
November 14th, 2001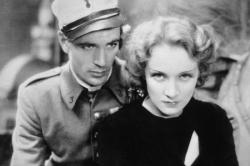 Gary Cooper and Marlene Dietrich in Morocco.
Morocco is classic Hollywood magic distilled to its most pure essence, as evidenced by the fact that nearly everything about this movie is now a time-honored cliché.
Gary Cooper plays Tom Brown a disillusioned yet noble American who has run off to join the French Foreign Legion. How many times has that plot device been used in a movie? Long before John Wayne, Cooper was famous for his strong silent types. He combined Gable's virility with Grant's looks into one potent combination.
Marlene Dietrich plays a sexy cabaret singer named Amy Jolly. Everyone from Mae West to Marilyn to Liza to Renée Zellweger and Catherine Zeta-Jones have done their own versions of this character, but Marlene was the first woman to make this image famous by performing a cabaret act in a movie. Everything she does in Morocco is iconic, including the scene where she comes out dressed in male-drag and kisses a woman on the lips.
Enter the impeccably tailored and charmingly mannered Adolphe Menjou. For those not familiar with his work, trust me when I say that 'Class' like his just doesn't exist anymore. And then there's the brilliant Josef von Sternberg, with his highly dramatic visual flair, directing a movie with as exotic a classic Hollywood setting as you are likely to find. In this case the African Sahara, specifically the city of Mogador.
Tom Brown's legion marches into town just as Amy Jolly arrives from Paris to work at Lo Tinto's cabaret. He catches her act and they are quickly attracted to each other. But life is ever complicated and when he overhears a proposal to Amy from the very wealthy and honorable Monsieur La Bessiere (Menjou) he knows in his heart that he can never offer her as much and so he nobly leaves town.
There are a few minor plot twists leading to the unforgettable final shot. Amy, unable to give up her passionate love for Tom, sacrifices everything by walking out into the desert with all the other heartsick women who follow the Legion around from place to place. In one long shot we see her climb a small sand rise, take off her shoes, grab the rope around a donkey's neck from one of the other women and then slowly disappear from sight down the other side...

Reviewed on:
November 12th, 2014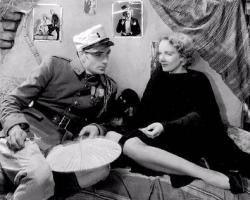 Gary Cooper and Marlene Dietrich in Morocco
First, let me add to Patrick's list. Goldie Hawn in The Duchess and the Dirt Water Fox sings suggestively in a dive about fruit, much as Dietrich does here. The most surprising name missing from Patrick's list is Madonna, who literally stole Marlene's cross dressing act for a music video and in a concert performance.
What makes Morocco so enticing is that sex is the top most subject matter. This is an obvious pre-code film. After arriving back in town Gary Cooper and a woman hold up fingers toward each other to schedule their date. Coopers commander demands, "What are you doing with your fingers?" Cooper responds suggestively, "Nothing, yet."
The first time we see Dietrich, she is being given an address if she finds herself needing anything from the wealthy Adolph Menjou. If she ever needs money he will be willing to help for an obvious exchange of goods. She understands that it is nothing more than a sexual proposition and rips his card into pieces. Later, he again makes an offer to help, this time she is blunter, "Every time a man has helped me there has been a price. What's yours?"
Cooper is playing a real stud here. While on his date, Cooper sees Dietrich in the club and she slips him her apartment key. His date gets jealous and leaves. On the way to see Dietrich, the company commander's wife practically begs him to have sex with her. Apparently it has happened often in the past. Three different women all vying for his attention; no wonder some men found the French Foreign Legion to be such an exciting adventure.
When Cooper enters Dietrich's place, she coos, "Oh, it's you." Cooper, fully aware of what is likely to happen answers, "Were you expecting someone else?" Goals change when they realize that they are both running from their past. Instead of sex, they find themselves genuinely interested in each other. Dietrich tells Cooper, "You better go now. I am beginning to like you." And Cooper responds, "I wish I met you ten years ago."
Had they simply hooked up, they would have been nothing but a booty call to each other. Feelings made it all complicated. As romantic and steamy as their shared stares and kisses are, it is a hard pill to swallow that these two people fall so quickly in love. I also never bought Menjou's marriage proposal to Dietrich. I get that he wants to nail her but how could he seriously bring her into his high society as his wife who sang in dives dressed as a man or in very revealing--for the time--clothes.
When the men are preparing to march out of town, they all seem to be lustfully kissing a woman good bye. Dietrich shows up to bid Copper adieu and asks, "Why didn't you stay last night?" He responds with a twinkle in his eye and three fawning women in his arms, "I had a few other calls to make."
Clearly Cooper and Dietrich were once done wrong and have since had numerous lovers hoping to mend their broken hearts. With each other they find a kindred spirit who they believe is the cure for what ails them. If you can allow yourself to believe in the love at first sight love triangle of the story you are in for a highly romanticized classic, starring two of the greatest stars of their time. Casablanca (1942) this is not, leaving me more taken with the sexual angle of the story, and the ending, that Patrick shamelessly gave away, is more ridiculous than moving.
Reviewed on:
November 2nd, 2015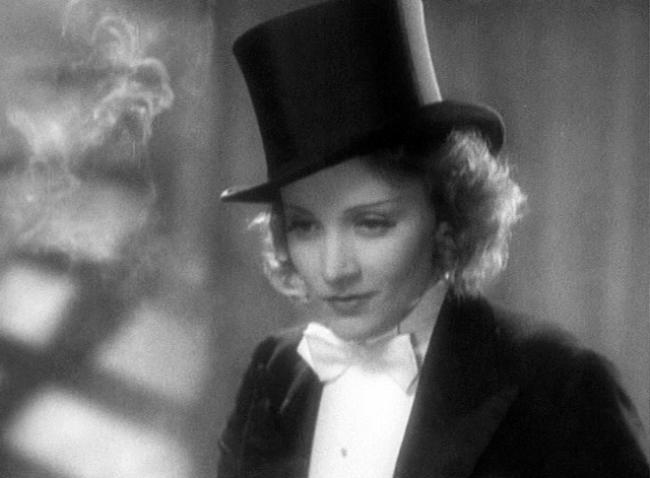 Marlene Dietrich in Morocco.
Morocco was the Hollywood film debut of both its star, Marlene Dietrich, and its director Josef von Sternberg. They were both hot off of the recently released German language version of The Blue Angel. According to Hollywood legend, it was von Sternberg who plucked Dietrich from obscurity and polished her onscreen persona. Supposedly, he so doted on her that co-star Gary Cooper felt left out and complained to the studio. Cooper also didn't like the film's original, female-lead emphasizing, title of Amy Jolly, The Woman of Marrakesh, and lobbied successfully for it to be changed to the more generic Morocco. Further Hollywood legend has it that Cooper's jealousy of Dietrich's star handling didn't prevent him from starting an offscreen affair with her, although she would later say of him, "Cooper was neither intelligent nor cultured. Just like the other actors, he was chosen for his physique, which, after all, was more important than an active brain."
von Sternberg, cinematographer Lee Garme, and Art Director Hans Freier were all nominated for Oscars for their work on this film and for good reason. From the very beginning atmosphere drips out of the screen. Barely 2 years into the sound era and you can already see what strides filmmakers and sound technology had made. During the opening scene, the camera moves backwards through the crowded and noisy city streets, following the returning legionnaires, in a style that feels modern and must have been ahead of its time in 1930. In contrast, the scene that features Dietrich's introduction could only have been filmed in the 1930s. She and Menjou arrive by ship on a misty night in glamorous black and white, with the mournful sound of the ship's horn in the background. She's in a veil and he's wearing a trench coat. Both scenes, which serve to perfectly introduce the three corners of the film's love triangle, are masterfully done, and the atmosphere is carried through to the ending, which Patrick spoiled (although perhaps 85 years is a bit late to worry about spoiler alerts).
The script, however, isn't as strong as the film's look and it certainly never matches the star power of its two leads. As Eric said, this is no Casablanca. Although it's easy to see that Cooper and Dietrich are lusting after each other and poor Menjou does more lusting than either of them, but his is never reciprocated. However, I never fully bought into the love story angle. You really just have to accept that these two are madly in love because they've said they are. The script provides no motivation beyond the physical and certainly not enough for me to believe that this relatively pampered cabaret singer is going to go traipsing across the desert after her man.
Audiences of the day didn't seem to have a problem with the love story. It earned $2 million at the box office and made Dietrich a Hollywood star. However, critics weren't quite so enamored. On November 17th, 1930, Mordaunt Hall wrote in the NY Times that, "Mr. von Sternberg evidently knows his camera, and he has done very well so far as the recording of voices is concerned, but he is far from efficient in directing the spoken lines. He accepts absurdly improbable situations, and he is often guilty of extraordinarily abrupt happenings and inconsistent characterizations." Almost exactly 85 years later and I'd say that assessment remains just as accurate as when he wrote those words.
Photos © Copyright Paramount Pictures (1930)
Related Reviews