Movie Review
Morning Glory
Breakfast TV Just Got Interesting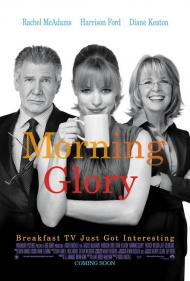 US Release Date: 11-10-2010
Directed by: Roger Michell
Starring
▸
▾
Rachel McAdams

,

as

Becky
Harrison Ford

,

as

Mike Pomeroy
Diane Keaton

,

as

Colleen Peck
Patrick Wilson

,

as

Adam Bennett
Jeff Goldblum

,

as

Jerry Barnes
Ty Burrell

,

as

Paul McVee
Matt Malloy

,

as

Ernie Appleby
Jerome Weinstein

,

as

Fred
Vanessa Aspillaga

,

as

Anna
Linda Powell

,

as

Louanne
Mike Hydeck

,

as

Ralph
Patti D'Arbanville

as

Becky's Mom

Reviewed on:
November 13th, 2010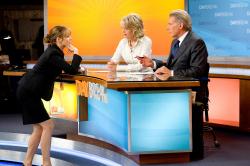 Rachel McAdams, Diane Keaton and Harrison Ford.
Morning Glory tries to be to morning television what The Devil Wears Prada was to fashion magazines. A young woman gets a high powered job and winds up working with an obnoxious older person (actually here it is two older, sort of obnoxious people). Unlike Prada, however, this movie winds up all warm and runny inside. Rachel McAdams, looking and acting like Anne Hathaway, "cutes" her way through this poorly written and predictable comedy.
Harrison Ford (slightly) and Diane Keaton (grossly) are underused. Had they been allowed more time to spar verbally this could have been a pretty good comedy. Their bickering scenes are easily the bright spots in this otherwise mediocre movie.
Ford is quite good as the pompous ex-journalist Mike Pomeroy. He gets some of the best lines in a movie without that many jokes. I did laugh when he starts spouting about his memorable moments that include, among others, wiping the sweat off Mother Teresa's forehead during a cholera epidemic, and lunching with Dick Cheney.
Keaton doesn't fare nearly as well. Her character of Colleen Peck is less clearly defined. The writers aren't sure whether this television anchor is a bitch or nice, talented or not. She fluctuates from scene to scene and her part is definitely supporting.
Ty Burrell from televisions' Modern Family has a funny - but blink and you miss it – part as the co-anchor of Day Break, the last placed morning show that Becky becomes executive producer of. The romance between Becky and Adam (a wasted and wooden Patrick Wilson) is unnecessary and slows the proceedings down.
On the plus side is a fine comic performance from Harrison Ford and there are a few decent chuckles. In the minus column are a predictable script, undeveloped characters and the waste of a talent like Diane Keaton. And the ending is feel-good Hollywood at its worst.

Reviewed on:
November 13th, 2010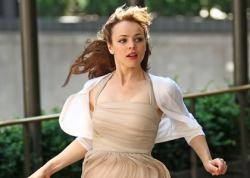 Rachel McAdams charms in Morning Glory.
Patrick, you make some good points, but overall you are a bit harsh on this movie and are far too dismissive of Rachel McAdams' performance.
I agree that Harrison Ford is good as Pomeroy. His gravelly voice and age make him completely believable as the old school newsman. He shares a nice (non-romantic) chemistry with McAdams. I hope this leads him to some better parts as it has been years and years since he's done anything good.
Likewise I agree about Diane Keaton. Her part is almost a non-entity and they could have saved some money and hired an unknown to play her character since she's given such small screentime. This is particularly surprising given that she is shown so heavily in the movie's previews.
As for McAdams, I found her adorably charming in this part and wouldn't be suprised at all to see her win the Golden Globe for Best Actress in a Comedy. At the very least she is guarenteed a nomination. She's cute, she's bubbly, she's funny and she has a couple of scenes where she genuinely gets to act. Nothing too dramatic, but she carries her scenes with charm. I predict that this will be the breakout hit that pushes her onto the A-List.
There's no doubt the plot is predictable. At the end of the film, when Becky is presented with a career changing decision, the outcome is never in any doubt. You can easily see where and how this movie is going to end. And yes, they could have cut back on the love story angle. At times the script (which is thin to begin with) is stretched to its limit trying to be both a workplace and a romantic comedy. The best jokes are at the workplace and that's where the story should have stayed focused.
Yes, this is a feel good, lightweight movie with a sappy Hollywood ending, but the cast is good, the pacing is fast and the laughs frequent enough that I was entertained throughout.

Reviewed on:
March 29th, 2011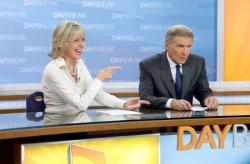 Diane Keaton and Harrison Ford banter,
I agree with Patrick that Harrison Ford and Diane Keaton are the best things about the movie. However, it takes about 30 minutes before they really start to interact. They create the most laughs in the way they react to each other and everything else going on around them. The slings and arrows they shoot back and forth are the movies best moments. There is just not enough of them.
Any actress from Jennifer Aniston to Amy Adams could have played the lead. Rachel McAdams is cute and charming but does nothing that any number of actresses could not have done. As Scott wrote, the plot should have stayed on the job. Patrick Wilson should have played the part of Lenny, the other producer, to keep the love story closer to Ford and Keaton.
Morning Glory sets up everyone against Becky. Harrison Ford says to her, "We do one good story together and suddenly I am your bitch?" Jeff Goldblum says, "Why don't you go over to PBS and see if you can ruin Sesame Street." Diane Keaton, "You will fail like everyone else." Yet, at no point do you ever think she will.
As my brothers said, the ending is so gooey sweet, my teeth developed plaque just watching it. The film should have skipped the opening and started with Adams walking on the set of her new job. This could have allowed more time for Ford and Keaton to bicker. They could have also found more ways to poke fun at the egos of news anchors. These people get paid large salaries for reading news stories that someone else writes. Doesn't anyone else see the humor in that.
Photos © Copyright Paramount Pictures (2010)