Movie Review
Monsters University
School Never Looked This Scary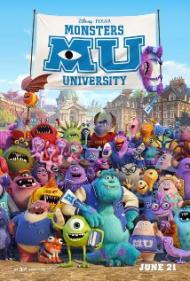 US Release Date: 06-21-2013
Directed by: Dan Scanlon
Starring
▸
▾
Billy Crystal

,

as

Mike
John Goodman

,

as

Sullivan
Steve Buscemi

,

as

Randy
Helen Mirren

,

as

Dean Hardscrabble
Peter Sohn

,

as

Squishy
Joel Murray

,

as

Don
Sean Hayes

,

as

Terri
Dave Foley

,

as

Terry
Charlie Day

,

as

Art
Alfred Molina

,

as

Professor Knight
Tyler Labine

,

as

Greek Council VP
Nathan Fillion

,

as

Johnny Worthington
Aubrey Plaza

,

as

Claire Wheeler
Bobby Moynihan

,

as

Chet
Noah Johnston

,

as

Young Mike
Julia Sweeney

,

as

Ms. Squibbles
Bonnie Hunt

,

as

Mrs. Graves
John Krasinski

,

as

Frank McCay
Bill Hader

,

as

Referee / Slug
John Ratzenberger

as

Yeti


Reviewed on:
June 27th, 2013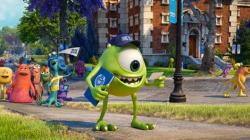 An anxious Mike on his first day of college in Monsters University
Whereas Monsters, Inc. (2001) was an original story, its sequel is a rehash of better films decorated in crisp colorful animation. Monsters, Inc. played on the common fear that many children have about monsters in their bedroom when they are alone at night. It confirmed our childhood fears but then turned it on its head by showing how absolutely harmless those monsters really are. It was a brilliant little idea.
Unfortunately, very little originality can be found in this sequel. Like Daniel Ruettiger dreaming and trying to get into Notre Dame to play on their football team in Rudy (1993), Mike Wazowski grows up dreaming of going to Monsters University to join their scare program. They each have a similar line. Rudy, "I've been ready for this my whole life." Mike, "I've been waiting for this my whole life! I'm gonna be a scarer!"
Like Rudy, Mike may have the desire but he does not have any natural aptitude for scaring. He ends up getting kicked out of the program along with fellow freshman James Sullivan. Sully is the opposite of Mike. He comes from a long line of successful scarers and thinks he can get through college riding on their legacy. He has the ability but is too lazy to work at it. His laziness becomes his downfall.
A possible way back into the program appears in the form of the Scare Games. They are a series of contests between fraternities and sororities based on scaring abilities. Winning the Scare Games may get them back into the program. Mike and Sully join the only fraternity available, Ozma Kappa. They are a group of misfits. One member is middle aged just as in Old School (2003). The rest are social rejects of some sort. Suddenly the movie turns into Revenge of the Nerds (1984), with the outcast monster fraternity competing against the jock fraternity.
The movie starts slow and is surprisingly sparse on humor, but it gets a bit better during the competing events. My wife and I commented to each other on just how little we heard the many children in the theater laugh. What humor there is comes mostly from the supporting characters. During scare class the professor states, "Let's see that slobber! Drool is a tool. Use it!" Several scenes are stolen by the mother of an Ozma Kappa fraternity member, whose house their fraternity resides in.
Mike's and Sully's friendship is played straight, with each at first not being impressed with the other, but over time they, of course, become friends. Sully helps Mike come to terms with his lack of scaring ability while Mike shows Sully that natural ability is not enough if you truly want to be good at something. They learn to become a great team by relying on each other and their own strengths. It Is a nice enough message but this movie lacks the pacing, fun and originality of the 2001 film.
Reviewed on:
October 13th, 2013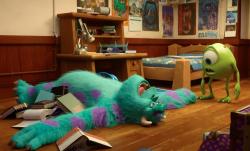 Sully, voiced by John Goodman, and Mike (voiced by Billy Crystal) are reunited in Monsters University, the prequel to Monsters Inc.
Even though I agree with Eric that the plot isn't very original and that the humor is fairly tame, I ended up enjoying it more than he did. The animation is nicely done, the voice work is top notch and the film's message is an affirming one.
A sequel to Monsters Inc. was planned as far back as 2005, but disagreements between Pixar's Steve Jobs and Disney's Michael Eisner held it up for many years. It wasn't until Eisner was replaced and Disney purchased Pixar that the sequel could finally move ahead, 12 years after the original was released. The original script, which would have found Sully and Mike trapped in the human world after trying to deliver a birthday present to Boo, was scrapped and the prequel idea was born. Despite contradicting a line from the first film where Mike mentioned being jealous of Sully since the 4th grade, having Sully and Mike meet in college, works very well.
I also agree with Eric that most of the real laughs come from the supporting cast, mainly from the the OK fraternity and their nerdy members. Mike and Sully's relationship provides more heart than it does laugh out loud moments. I wasn't bothered by that because it isn't as if the script is trying for laughs and failing. It's just trying to be more heartwarming than it is comical.
Sure there are elements in this film that were borrowed from other movies, but that's true of most films these days. Revenge of the Nerds is its closest inspiration. Ironically, John Goodman, who voices Sully here, played the part of the football coach in that 1984 comedy, where he fought against the nerds. Here of course, he's on the side of the underdogs.
All of the main voice actors are back for this sequel, although many are in reduced roles. Pixar stalwart John Ratzenberger shows up at the film's end reprising his Yeti role. The biggest name new character is the Dean of the Scare School voiced by Helen Mirren. While most of the monsters are actually fairly cute, her bat combined with centipede character is truly sinister.
Like most sequels, this one isn't a classic and it doesn't live up to the original. It is however, still a highly enjoyable, charming and very well made film of the kind we've come to expect from Pixar.
Photos © Copyright Pixar Animation StudiosWalt Disney Pictures (2013)
Related Review