Movie Review
Monkey Business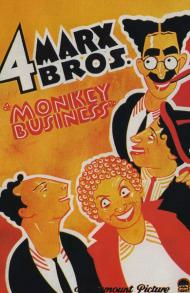 US Release Date: 09-19-1931
Directed by: Norman Z. McLeod
Starring
▸
▾
Groucho Marx

,

as

Groucho
Harpo Marx

,

as

Harpo
Chico Marx

,

as

Chico
Zeppo Marx

,

as

Zeppo
Rockliffe Fellowes

,

as

Big Joe Helton
Harry Woods

,

as

Alky Briggs
Thelma Todd

,

as

Lucille Briggs
Ruth Hall

as

Mary Helton

Reviewed on:
May 15th, 2010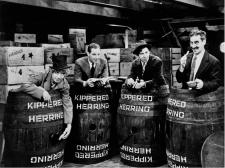 Harpo, Zeppo, Chico and Groucho stow away aboard a ship in Monkey Business.
The third Marx Brothers film and the first not to be adapted from one of their Broadway shows, Monkey Business is a fast paced and funny film. It's one of the brothers classic films and it clocked in at number 73 on the AFI's 100 Years... 100 Laughs list in 2000.
As the movie opens the Marx Brothers are stowed away onboard a passenger liner crossing the Atlantic. The longest portion of the film simply involves their antics on the ship. The Captain and the crew chase them around and the brothers experience comic adventures along the way, both alone and in various combinations. There's the vaguest plot where the brothers get involved with two different competing gangsters and improbably end up hired as bodyguards to both of them.
The final act of the film takes place at the house of one of the gangsters where he's holding a party for his daughter. After the daughter is kidnapped by the rival gangster, the brothers have to rescue her. It's not a complicated plot, but it does provide a structure for the brothers to do their schtick.
When the Marx Brothers are at their best, as they are here, the jokes fly fast and funny. Groucho spouts one-liners the way most people breathe. Harpo's slapstick can be amusing, but he's not my favorite of the brothers. Some of the best moments come when Groucho and Chico are bantering. Take the following surreal comedy exchange as an example:
Captain Corcoran: [describing the stowaways] One of them goes around with a black moustache.
Groucho: So do I; if I had my choice, I'd go around with a little blonde.
Captain Corcoran: I said, one goes around with a black moustache.
Groucho: Well, you couldn't expect a moustache to go around by itself. Don't you think a moustache ever gets lonely, Captain?
Chico: Hey, sure it gets-a lonely. Hey, when my grandfather's beard gets here, I'd like it to meet your moustache.
Groucho: Well, I'll think it over; I'll talk it over with my moustache. Tell me, has your grandfather's beard got any money?
Chico: Money? Why, he fell hair to a fortune.
In the movie's most famous scene, each of the brothers does a singing Maurice Chevalier impersonation as they try exit the ship using Chevalier's stolen passport. Harpo does his impression by strapping a phonograph to his back and lip-syncing. It's not only funny, but you'll have that damn song they sing stuck in your head afterward. ("If a nightingale could sing like you...")
Once again the musical moments are a Marx Brothers' movie low point. The whole movie runs about 80 minutes. The musical moments seem to take up about 15 minutes of that. Yes, Chico and Harpo are talented musicians, but their playing just slows down the movie. I'm sure it's a hangover from their vaudeville days where they'd do comedy and play music to entertain an audience, but the music isn't needed on film.
This is one of the few Marx Brothers movies not to star their long-suffering foil Margaret Dumont. Fourth brother Zeppo does appear. He gets to play the "normal" one and even gets the girl at the end.
The thing about Marx Brothers movies is that once you've seen one, you know whether or not you'll enjoy any of them. Although the jokes are different from film to film, they always play the same characters with the same style of humor. The only question is the degree of enjoyment. I put this one on the high end of the laughter scale.
Reviewed on:
January 23rd, 2011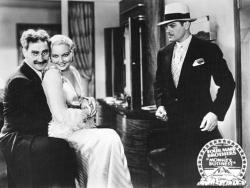 Groucho, Thelma Todd and Harry Woods in Monkey Business.
From the opening scene with the brothers in the hold of the ship, stowed-away in those four kippered herring barrels, to the ending in the old barn, Monkey Business is nonstop hilarity. This is my personal favorite of the five Paramount movies the Four Marx Brothers made between 1929 and 1933.
As usual anarchy reigns everywhere the brothers go.
All of them get at least one great moment, even Zeppo. He has his most heroic scene ever saving the girl in the barn at the end. Groucho does a cowboy impression that will have you in stitches. When a manicurist asks Chico if he wants his nails trimmed long, he answers, "Oh, about an hour and a half. I got nothin' to do." One of Harpo's best sight gags occurs when he hides inside of a large bustle. The woman walks away but her bustle stays put.
Harpo was the last great non-speaking clown of the movies. Everyone else was in a talkie while he was still making silent pictures. Chico was the most likable of the brothers, and though invariably overshadowed by Groucho, he manages to sneak in a few zingers himself, like telling a woman, "You've got It. And you can keep it." And speaking of Groucho, who else but he would ask a woman, "Is it true you're getting a divorce as soon as your husband recovers his eyesight?"
Although Margaret Dumont's absence creates a hole, the talented, and tragically fated, Thelma Todd fills it with gusto. She was so good that the brothers asked her back the following year for their next picture, Horse Feathers. She's a girl that wants to have Fun with a capital F. Or as she succinctly puts it, "I wanna sing. I wanna dance. I wanna ha-cha-ha."
In December of 1935 the 29 year old Todd's body was discovered in a garage, the cause of death was carbon monoxide poisoning. Initially presumed a suicide, it has long been suspected that she was actually murdered by a gangster boyfriend.
Scott you have to get over your aversion to the musical interludes. Chico plays the piano for like a minute and Harpo plays two short songs on the harp, one solo and one accompanying a female opera singer. I agree they weren't needed but they certainly aren't the catastrophic disruption you make them out to be.
The Four Marx Brothers existed in their own unique movie universe. It's a great place to visit even if you wouldn't want to live there. The aptly titled Monkey Business is a nearly perfect comedy.

Reviewed on:
November 17th, 2011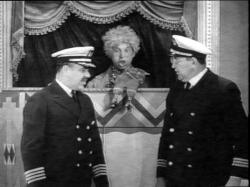 Harpo Marx, a living marionette.
The Marx brothers were very much of their time. Scott already mentioned Maurice Chevalier and his song "A New Kind of Love," made famous in the movie The Big Pond released the previous year. Monkey Business was made a few years after the stock market crashed. Groucho has this line. "A stockholder of yesteryear is a stowaway of today." Patrick mentioned Chico's line that is in reference to Clara Bow's 1927 hit film.
Although topical upon their original release, The Marx brothers movies and humor is timeless. An offended woman says to Groucho, "I don't like this innuendo." and he responds, "That's what I always say. Love flies out the door when money comes innuendo," Zeppo never got the credit of his other brothers but I like when he is mooning over a girl saying, "Mary I will never leave you." and then he runs off.
Harpo always chased after girls in these movies. He simply sees a cute girl, gives her a smile, she screams and runs off with him in hot pursuit. I never really got the joke. What is his intentions if he ever actually caught one?
I agree with Patrick on the musical interludes. They are short, sometimes humorous and not at all intrusive. Monkey Business has far too much going on to fault it for taking a breath in the middle of all the one liners, and what one liners they are, "With a little study you'll go a long ways, and I wish you'd start now." Groucho got most of the best lines, "You call this a party? The beer is warm, the women cold and I'm hot under the collar." Chico and Harpo needed their moments to shine as well.
Photos © Copyright Paramount Pictures (1931)
Related Reviews