Movie Review
Mona Lisa
Sometimes love is a strange and wicked game.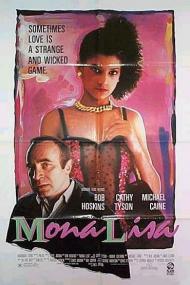 US Release Date: 06-13-1986
Directed by: Neil Jordan
Starring
▸
▾
Bob Hoskins

,

as

George
Cathy Tyson

,

as

Simone
Michael Caine

,

as

Mortwell
Robbie Coltrane

,

as

Thomas
Clarke Peters

,

as

Anderson
Kate Hardie

,

as

Cathy
Zoe Nathenson

,

as

Jeannie
Sammi Davis

,

as

May
Rod Bedall

,

as

Terry
Joe Brown

,

as

Dudley
Pauline Melville

,

as

George's Wife
Hossein Karimbeik

,

as

Raschid
John Darling

,

as

Hotel Security
Bryan Coleman

,

as

Gentleman in Mirror Room
Robert Dorning

as

Hotel Bedroom Man

Reviewed on:
May 5th, 2014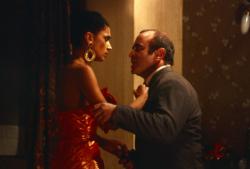 Cathy Tyson and Bob Hoskins in Mona Lisa.
For his role in this film, Bob Hoskins won 10 different awards, including the BAFTA, the Golden Globe, and the Cannes Film Festival award. He was nominated for an Oscar and probably would have won if he hadn't gone up against Paul Newman, who took home the award, supposedly for The Color of Money, but in actuality for his long career. It's a pity that Newman didn't win one for his earlier films, both because he deserved it, but also because Hoskins delivers an Oscar worthy performance here.
Although not really shot as a film noir, the plot is reminiscent of one. Hoskins plays George, a smalltime gangster who just spent the last 7 years in prison for an unnamed crime. As the movie opens he has returned to his haunts in London where he tries to visit his teenage daughter, which doesn't go well with his ex-wife, and and he also hits up his old boss, Mortwell (Michael Caine), for a job. Mortwell shunts him off with the small job of acting as the driver for Simone, a young prostitute played by Cathy Tyson, the niece of Cecily. At first the two clash, but soon George develops a crush on her, and she convinces him to help her find a young friend of her's; another prostitute that she used to know when she worked the streets. This simple plot leads to a climax where secrets are revealed. The ending isn't a happy one, and you won't be expecting it to be as you watch this melancholy story develop, but it is a satisfying one.
Irish director Neil Jordan (The Crying Game, Interview with a Vampire) scored his first big hit with this film. He brings a rough edge to the movie as it moves among the fleshpots of Soho in London, prior to its gentrification. Think Times Square of the 1980s and you'll have a good idea what it's like. Despite the ugliness, he manages to bring some beauty to his shots. He also co-wrote the script, which provides some great lines and several fully developed characters in a story that takes American crime film conventions and adds the British class structure to the mix.
Cathy Tyson won a few awards herself for her part and she does good work. She is the Mona Lisa of the title, or at least to George she is. He projects onto her what he wants to see, in the same way that people have been interpreting the famous smile of that painting for centuries. It isn't until near the end of the film that he and we truly see her, although it's easier for us as the audience to guess the truth than it is for George. Simone is by appearances, the exact opposite of George. She's tall, thin and unemotional, next to his short, overweight volatile personality.
Rarely does Michael Caine deliver a bad performance and this isn't one of them. He makes a terrifically slimy villain, smiling one minute and turning vicious the next. He deals in women and secrets and discards, abuses and sells them at his whim. It's a very small part, with probably less than 10 total minutes of screen time and yet he looms over the story.
As good as his co-stars are though, this is Hoskins' picture. Short, overweight and with quite a lot of body hair, he makes an unlikely leading man. More typically someone of his physique would be a character actor and indeed, in his later career he became exactly that, but for a short while he was able to headline a film. His performance here is an intense one. He's uncouth and unsophisticated, but also sensitive. Capable of anger and violence, but he never comes across as cruel or mean. His feelings for Simone are genuine. He spends the majority of the film in over his head and although we never feel that he truly understands all that's going on around him, at least until the end, we want him to find his way. The year after this movie, Hoskins would star in Who Framed Roger Rabbit, the film he will forever be the most associated with, but it's in this one that he demonstrates his greatest acting skill.
There's a sadness that pervades this story, but in the very best way. It will stay with you long after the credits have rolled.

Reviewed on:
July 8th, 2014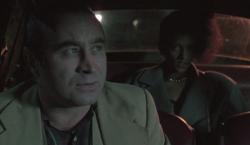 Bob Hoskins and Cathy Tyson in Mona Lisa
Hoskins' presence in the lead is the first clue that this is by no means a Hollywood film. Tinsel town would never cast a short, overweight, hairy actor in the lead role of such a film. Luckily Neil Jordan knew better and gave Hoskins the role of his career. Hoskins did not disappoint, bringing depth to a man who severely lacks the brains to see the obvious even when it is right in front of his face.
George took the rap for a crime he was not solely responsible for. It cost him his wife and 7 years without his daughter. His reward is getting paid to chauffeur a prostitute around as she meets with her clients, a process he does not seem to fully understand. As Scott wrote, he is uncouth, unsophisticated and has no idea how to act when waiting for Simone in a hotel lobby. Yeah, you think that would be an easy job, but George is not too quick on understanding any new situation, even acting as if he is not fully clear about what a prostitute does, at least not on an emotional level.
Early in the film, George and his friend Thomas talk about how when a woman dies she becomes an angel. George puts women on a pedestal and finds himself completely taken in by Simone. He even acts shocked when he discovers that Simone, a whore, made a porn film. The most telling line is when George asks Simone if her clients ever fall in love with her and Simone responds, "They fall for what they think I am." Apparently George is also too dense to hear the obvious.
The theme of Mona Lisa is how we exploit and are blinded by personal perceptions. Almost every plot point emphasizes this. George thought the crime he did would impress Mortwell. George has much to offer but all his ex-wife sees is the negative. His daughter wants him to pick her up at school in the nice car to impress her classmates. Simone teaches this to George when she buys him nice clothes so that he may better fit in at the upscale hotels she frequents. The biggest example of this is, of course, how George sees Simone. Sure he knows that she fucks men for a living but he chooses to not think of her in such ways, calling her a "lady" while others call her a "tart."
I was very much invested in this story. I cared deeply what happened to George. He is from the wrong side of the tracks but is still charmingly naïve. Although Scott wrote otherwise, I felt his movie had a happy ending, at least for George. He ends up with people who love him and a new lease on life. The events of this film take George on an emotional journey and he is so much more mature for it. Mona Lisa takes you inside the life of a man you would likely never give a second thought to in real life, but you will be glad it did. It also demonstrates with voracious power what an amazing acting talent Bob Hoskins truly was.
Reviewed on:
July 8th, 2014
Bob Hoskins and Cathy Tyson in Mona Lisa.
This gritty British neo-noir is an excellent showcase for the acting talents of Bob Hoskins. He's as good as both my brothers said he was. His George is a tough little mug who strides confidently through the picture like the ghost of James Cagney. He's not the sharpest card in the deck but he is loyal and possesses a big heart. These last two traits are what get him into the trouble he finds himself mixed-up in with Simone. His blind loyalty to Mortwell gets him the job and his big heart makes him feel sorry for the mysterious young woman he finds himself chauffeuring around London. And then of course he falls for her.
I agree with Eric that the movie's theme is how personal perceptions can be manipulated or taken advantage of. Specifically how some straight men see women, as represented by George's romantic notions and courtly behavior towards Simone. Like the painting of the title, and the lyrics sung by Nat King Cole throughout the movie, Simone is an enigma. She reveals very little of herself in casual conversation and keeps her true feelings hidden. All the while getting George to do her bidding. George, likewise, doesn't talk much about his past, but compared to Simone his face and heart are open books. In classic noir fashion she leads him on a journey that is dangerous both physically and emotionally. George willingly follows her, stubbornly guarding his illusions from the obvious evidence he sees all around him that his Mona Lisa isn't what he wishes her to be.
The rest of the movie is good and everyone in the supporting cast does fine work, but it's really all about George and the fantasy world he creates around Simone. He sees himself as her knight in shining armor and it isn't until he is absolutely forced to face reality that he gives up his fanciful notions. Ironically, it is only after he faces the mundane truth that he is able to reconnect with his daughter. He completes his quest, so to speak, and is allowed to go home. Simone was what George needed to transition back to life on the outside. In that sense I agree with Eric that it has a happy ending. It's just not a happy "Hollywood" ending.
Music plays an integral role in Mona Lisa. The title track is heard several times, and various instrumental arrangements of the tune are heard sporadically, in bits and pieces, throughout the movie. It acts as theme music for George and Simone's relationship. It lends the movie a timeless atmosphere. And then smack in the middle of the story we get a montage scene of George walking around Soho to the tune of Genesis's "In Too Deep". Now I love that song, and it fits both melodically and lyrically, but it stamps the movie with a date, removing any doubts that this is the 1980s.
I had never seen Mona Lisa and I'm glad my brother Scott recommended it. It's a terrific film that has romance, intrigue, violence, and a quirky sense of humor (Robbie Coltrane and plastic spaghetti). And it marks Bob Hoskins' finest onscreen hour. Now I love Paul Newman but Hoskins was robbed of that Oscar.
Photos © Copyright HandMade FilmsPalace Production (1986)