Movie Review
Mona Lisa Smile
You're invited to celebrate the art of living.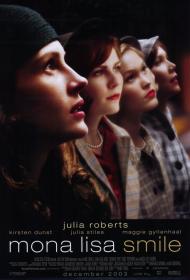 US Release Date: 12-19-2003
Directed by: Mike Newell
Starring
▸
▾
Julia Roberts

,

as

Katherine Watson
Kirsten Dunst

,

as

Betty Warren
Julia Stiles

,

as

Joan Brandwyn
Maggie Gyllenhaal

,

as

Giselle Levy
Ginnifer Goodwin

,

as

Constance Baker
Dominic West

,

as

Bill Dunbar
Juliet Stevenson

,

as

Amanda Armstrong
John Slattery

,

as

Paul Moore
Marcia Gay Harden

,

as

Nancy Abbey
Topher Grace

as

Tommy Donegal

Reviewed on:
December 21st, 2003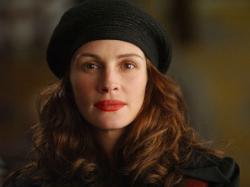 Julia Roberts in Mona Lisa Smile.
Movie megastar Julia Roberts is back with her latest picture. Set at the venerable New England campus of Wellesley College during the 1953-54 school year Mona Lisa Smile tells a familiar story with a brilliant cast. Wellesley, one of the most prestigious and (at that time anyway) conservative campuses in America, counts Hillary Rodham Clinton, Madeleine Albright, Diane Sawyer and Ali McGraw among its alumnae. The incongruity of these brilliant young women studying pre-law and advanced physics and yet being strongly encouraged to forgo a career for a husband immediately upon graduation fuels the plot. Roberts as the progressive minded Katherine Watson, newly arrived from California to teach art history, provides the impetus for her students to confront the conformity of their environment.
Granted this is all pretty formulaic, but it nonetheless is great entertainment. The movie is beautifully shot and moves through the school year at a nice pace. The story centers on four of Watson's students: the upper crust and uptight Betty (Kirsten Dunst), her best friend the less judgmental class valedictorian Joan (Julia Stiles), the rebellious and promiscuous Giselle (Maggie Gyllenhaal), and the shy, insecure Connie (Ginnifer Goodwin). All four young women give superlative performances as does the scene stealing Marcia Gay Harden as Nancy Abbey the girls' poise and elocution professor. Roberts does a great job at holding everything together. She is portrayed as a woman ahead of her time but is not canonized by the script. She, in fact, goes through a learning process of her own during the course of the movie.
The one area where the script falters is in the romance between Watson and fellow professor Bill Dunbar. Here the movie seems to reinforce the stereotype that women are attracted to the wrong men. The intelligent and free spirited Watson breaks off her engagement with her understanding boyfriend for Dunbar even though she is fully aware that he has no qualms about sleeping with his students.
One fun thing about the movie is the inclusion of many great songs from the period. Pop star Tori Amos appears in one scene as a singer and the soundtrack features standards of the era interpreted by many contemporary singers such as Celine Dion, Macy Gray, Mandy Moore and even Barbra Streisand.
The title of the movie, of course, refers to the enigmatic masterpiece. Much like the young women at Wellesley, it presents a smile to the world, but - as one of the students asks – 'Is she really happy?' If she saw this movie I think she would be.
Reviewed on:
December 24th, 2003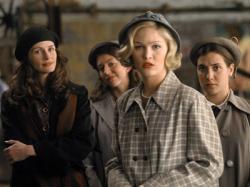 Julia Roberts and Julia Stiles in Mona Lisa Smile.
Patrick is right about this being an entertaining movie. However, it suffers from what I'm forced to call "The Chick Flick Syndrome". What I mean by that is that, not only do all of the male characters play subordinate roles to the female parts, there's nothing wrong with that, most movies play it the opposite way, but all of the male characters are lacking in any redeeming qualities. The men are all weak willed and completely dominated by their sex drives and the women in their lives. But putting that aside, the movie still stands out as quality entertainment, and carries a very even message, that it isn't so important what you do with your life, so long as it is your choice.
The movie also manages to avoid some clichés, no one commits suicide at least, as I'd feared from this female Dead Poet's Society. Also, rather than strictly saying that women need to forgo marriage and children and focus on their career, it reinforces the idea that marriage and children can be a valid life choice, so long as that is what it is, a choice.
I have never been a fan of Julia Roberts' work, and I can't say that this movie changed my mind. She's adequate here, fitting the suit so to speak, but her students steal the movie. Kirsten Dunst plays a great bitch, and Maggie Gyllenhaal plays the trampy girl well, making her human enough so that we forgive the stereotype. And as Patrick mentioned, Marcia Gay Harden steals most of the scenes she appears in with her humorous pathos.
An upbeat message, some quality performances, and the attention to detail of the period, all add up to an entertaining movie, that could only have been better, had the male characters been a little less two-dimensional.

Reviewed on:
December 26th, 2003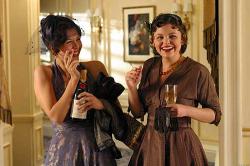 Maggie Gyllenhaal and Ginnifer Goodwin in Mona Lisa Smile.
"Chick Flick", as Scott wrote, is inadequate in describing this movie. I would describe it as a whine fest. Every woman in this movie has one or more scene where they get to express some negative feeling.
As Patrick wrote, Mona Lisa Smile follows a formulaic Hollywood plot of having a Liberal infiltrate a conservative domain and then attempt to change everyone. Scott wrote that it ends up being a message about choice. That may be the result, but the film is so liberally biased that it's disgusting. The liberal is a wonderfully nice person. The conservatives are all controlling bitches.
All of the girls are so taken in by this Art Teacher yet none are actually changed by her. Okay, Dunst's snob files for divorce, but she never sought the teacher's advice so you really can't attribute that to her. At the end of this movie, everyone is the same as when the movie started. Maybe the Art Teacher now understands that she is impotent as a teacher. It's just Art History.
This movie should come with a disclaimer that is shown before it starts that reads; "Any audience member with testicles may want to leave the theater now as the following film contains lots of women who do a lot of complaining."
Photos © Copyright Columbia Pictures (2003)