Movie Review
Miss Sadie Thompson
She's out for all she can get!...And in for all kinds of trouble!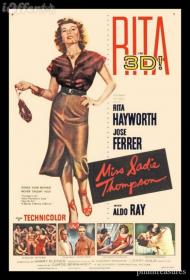 US Release Date: 12-23-1953
Directed by: Curtis Bernhardt
Starring
▸
▾
Rita Hayworth

,

as

Sadie Thompson
Jose Ferrer

,

as

Alfred Davidson
Aldo Ray

,

as

Sgt. Phil O'Hara
Russell Collins

,

as

Dr. Robert MacPhail
Diosa Costello

,

as

Ameena Horn
Harry Bellaver

,

as

Joe Horn
Wilton Graff

,

as

Governor
Peggy Converse

,

as

Mrs. Margaret Davidson
Henry Slate

,

as

Pvt. Griggs
Rudy Bond

,

as

Pvt. Hodges
Charles Bronson

,

as

Pvt. Edwards
Frances Morris

as

Mrs. MacPhail

Reviewed on:
August 9th, 2012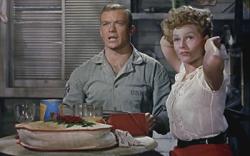 Aldo Ray and Rita Hayworth in Miss Sadie Thompson
Miss Sadie Thompson starts with three soldiers swimming in the ocean off a south seas island. They are all young, healthy red blooded Americans. A moment later one is in a tent making fun of a poster of an over weight Samoan woman, commenting that you know you have been there too long when she starts to look good. It is 1950s way of telling us these guys are horny.
They go to the docks to pick up a minister, his wife and another prim older couple who arrived on a ship that is in the bay getting supplies before moving on. The minister was a missionary and returns to the islands to preach to the locals and "Raise their moral standards."
Then Sadie makes her entrance sitting on the back of another boat. As it approaches the dock, one soldiers states, "I can't see her face." Another responds, "Two years on this rock and you want to see a dames "face" ?" The horny men are instantly taken in with her as she steps off the boat and asks them, "What's there to do around here?"
She is immediately taken to the nearest bar where her presence alone is enough to start a party, packing the place with Marines who heard an attractive woman had arrived on the island. The minister gets miffed, as the party interrupts his church services. Sadie's ship was supposed to make a brief stop before continuing on, but it gets quarantined for a week, leaving Sadie on the island for the duration. The minister claims to know that she was a prostitute in Hawaii.
The minister starts a personal war with Sadie. After coming back to her room with her soldier admirers, the minister, who is staying upstairs, breaks in announcing, "I will not allow this place to be turned into a brothel." The soldiers leave while Sadie and the Minister get into an argument, where the Minister tries to get Sadie to admit she is a prostitute.
One soldier in particular takes a liking to Sadie. He tries to help her out and eventually confesses his attraction, but Sadie dismisses his attempts at affection, "Friendship lasts much longer than love." O'Hara asks, "Can I interest you at all?" but Sadie politely responds, "I lost interest long ago." O'Hara is not so easily swayed and they end up kissing, but is Sadie in love with O'Hara or just using him to get back at the Minister? What will O'Hara think when he discovers her past?
The role of Sadie Thompson is a classic female film role. She was first portrayed in 1928 by Gloria Swanson and then in 1932 by Joan Crawford. Rita Hayworth was perfect casting for this semi-musical version. She was a favorite pin-up during World War II. She seems right at home surrounded by American GIs.
She looks clearly middle aged here but it works well for the role. The lack of fresh dew on her petals ads character to the role. Although not at her most svelte, she still looks good, especially when performing "When the Heat is On." She also proves to be a competent actress, handling the dramatic scenes like a true veteran. Her best line being, "Funny how I'm always running out of cigarettes. Sometimes I don't even know I'm smoking. I guess when something becomes a habit you don't think what you're doing."
Hayworth fans like to think of her as Gilda, but the role of Sadie Thompson may have hit closer to home. Sadie's feelings toward the Minister can be compared to how Hayworth felt about the head of Columbia Pictures, Harry Cohn. "He was very possessive of me as a person, he didn't want me to go out with anybody, have any friends. No one can live that way. So I fought him ... You want to know what I think of Harry Cohn? He was a monster."
Photos © Copyright Columbia Pictures Corporation (1953)
Related Reviews