Movie Review
Miss Pettigrew Lives for a Day
Every Woman Will Have Her Day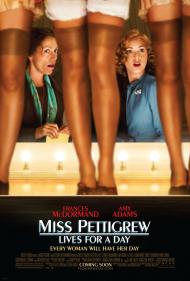 US Release Date: 03-07-2008
Directed by: Bharat Nalluri
Starring
▸
▾
Frances McDormand

,

as

Guinevere Pettigrew
Amy Adams

,

as

Delysia Lafosse
Lee Pace

,

as

Michael Pardue
Tom Payne

,

as

Phil Goldman
Mark Strong

,

as

Nick Calderelli
Shirley Henderson

,

as

Edythe Dubarry
Ciaran Hinds

,

as

Joe Blomfield
Christina Cole

,

as

Charlotte Warren
Stephanie Cole

,

as

Miss Holt
Beatie Edney

as

Mrs. Brummegan


Reviewed on:
October 27th, 2008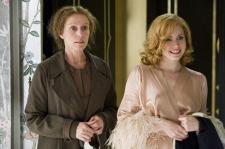 Frances McDormand and Amy Adams in Miss Pettigrew Lives for a Day.
Based on a then scandalous novel, Miss Pettigrew Lives for a Day is about a slutty, gold digging American girl, Delysia, living in London at the dawn of World War II. She is like Marilyn Monroe from Gentlemen Prefer Blondes, only Delysia is not a tease. Guinevere Pettigrew is a recently unemployed housekeeper who finds her life suddenly filled with drama and romance when she starts working for Delysia.
Upon arriving at Delysia's spacial and very expensive London flat, Miss Pettigrew walks in on a naked man in bed. "I'm afraid I walked in on your guest in his state of nature. I fear that I have outraged his sense of propriety." She apologizes to Delysia, who responds, "Oh no, Phil doesn't have one of those." Then a joke is made about his penis and the tone of the movie is set.
Miss Pettigrew Lives for a Day is a witty, whirlwind romantic comedy where the women are logical and head strong and the men are either sex starved or love starved. Either way, the women in this world are definitely in control. Delysia is sleeping with several men who do not know about each other. One owns the club in which she is a singer. He pays for the apartment she lives in and treats her like property. Another is producing a play that she hopes to star in. He enjoys her, and any other woman who wants the role, for sex. The last one is the piano player at the night club. He is in love with her. Delysia's best line is, "Men are so untrusting. I can't think why."
Among her efforts to help sort out Delysia's love life, Miss Pettigrew attracts an admirer. Like the piano player, he is a hopeless romantic. "I've been looking for you all night, and I believe, all of my life. If you'll have me." He tells her at one point.
Miss Pettigrew Lives for a Day is light, harmless fun. An older woman enters the life of a younger woman and they both come away better because of it. I came away from this movie thinking I should never feel guilty for any sexist thought I may ever have.
Reviewed on:
June 26th, 2015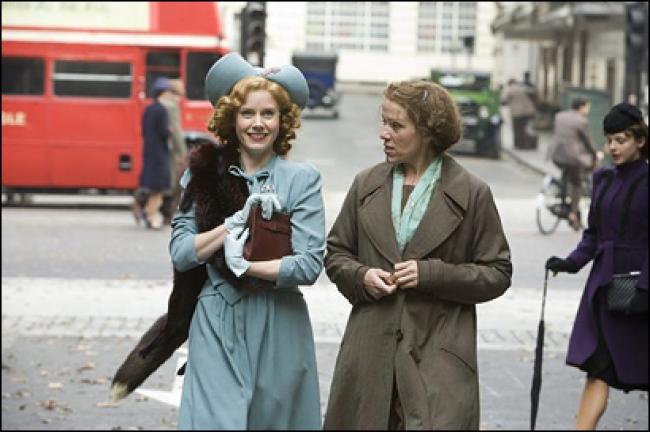 Amy Adams and Frances McDormand in Miss Pettigrew Lives for a Day.
I have a very different take on this movie. I didn't find the women to be all that logical. Guinevere Pettigrew is pragmatic when it comes to other people's problems but she's also filled with self doubt. Delysia Lafosse is about as far from logic as it's possible to get while maintaining motor function. I do agree that, through sex, she is able to control her three male suitors (it's obvious which one she'll end up with). She's a classic ditzy dame wonderfully played by Amy Adams. What I took from the picture, apart from being highly entertained, was how these two screwed-up, lonely women finally found love by accepting and being themselves.
When the novel Miss Pettigrew Lives for a Day was first published in 1938 it proved hugely popular in all English speaking countries as well as in France where it was translated. It was about to be published in Germany when WWII broke out. A movie musical was also being planned to star Billie Burke, but production on the film was abruptly canceled on December 7, 1941. As fate would have it, the book would be nearly forgotten for the next 60 years until it was reprinted in the year 2000. Its author, Winifred Watson, lived long enough to see her work rediscovered. She died in 2002 at the ripe old age of 95.
Frances McDormand stars as Guinevere Pettigrew, whose life is turned topsy-turvy when she enters the orbit of the human cyclone called Delysia Lafosse. Both are classic characters. A vicar's daughter, Miss Pettigrew is plain and straitlaced. She has never met anyone remotely like Delysia before in her life. At one point she comes to the belated realization that she has led a rather sheltered life. That's an understatement, although there is more to her past than meets the eye. McDormand is perfectly cast as the shy but strongwilled nanny. Delysia Lafosse was born Sarah Grubb a steelworker's daughter from Pittsburgh. Amy Adams is a delight as Delysia. Making like a cross between Jean Harlow and Marilyn Monroe she effortlessly wraps every man she meets around her little finger.
The fact that the novel on which this movie is based was actually written in the 1930s lends the movie an authentic flavor. The script mentions Carole Lombard and makes reference to the Errol Flynn/Olivia de Havilland comedy Four's a Crowd. When Delysia tells Miss Pettigrew she was in that picture, they have the following exchange...
Guinevere Pettigrew: "Four's a Crowd" is a wonderful movie. Who were you?
Delysia Lafosse: The crowd.
The soundtrack features such evocative 1930's tunes as "Anything Goes" and "Brother, Can You Spare A Dime" and Amy Adams warbles out a sweetly melancholy rendition of "If I Didn't Care". Part screwball comedy - part period romance, Miss Pettigrew Lives for a Day is funny and terrifically acted. I'm surprised it took me this long to discover it and I'm even more surprised that Scott hasn't yet reviewed it. As an Anglophile and a fan of Amy Adams I think he'd enjoy it quite a bit. I know I did.
Reviewed on:
June 27th, 2015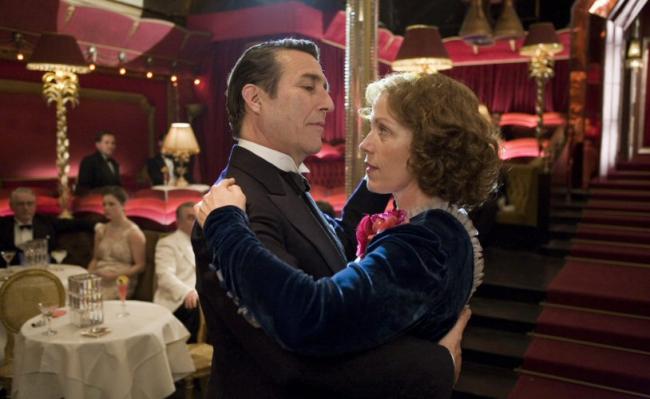 Ciaran Hinds and Frances McDormand in Miss Pettigrew Lives for a Day.
I'm definitely with Patrick on this one. It's a delightfully old-fashioned romantic-bordering on screwball-comedy. Both Frances McDormand and Amy Adams are perfectly cast in their two opposing roles. Although the ending features both of them finding love, the relationship at the heart of the film is the one between the two female leads. They are both exactly what the other needs.
As Patrick said, the book this was based upon was published in 1938. Its author, Winifred Watson, ceased writing shortly after her son was born in 1941 and her last novel was published in 1943. She never wrote another word and she used the earnings from her writing to pay for her son's education through university. There was a 57 year gap before anything written by her would be published again, when this book, as Patrick noted, was republished by Persephone Books, which specializes in reprinting forgotten gems. For a short time this nonagenarian found herself in the spotlight one last time and even spoke of the hope that it might finally be filmed, with her suggestion being Emma Thompson for the title character.
I too disagree with Eric's take that the women are logical while the men are not. And it's not just the men who are love starved. Miss Pettigrew is more love starved than anyone and her lack of love is symbolized by her physical hunger. When she says her final line about not having eaten in a very long time, she's speaking about so much more than food. It's true that the men aren't as fully developed characters as either Miss Pettigrew or Delysia, but as they're only playing supporting parts, this isn't surprising. Christina Cole's and Shirley Henderson's characters are likewise two-dimensional in their supporting roles, so it's not just the men.
McDormand, sporting a solid English accent, gives a quiet, but heartfelt performance as the title character. Adams is, again agreeing with Patrick (yawn), a delight as Delysia. She is playing a part it would be easy to see Jean Harlow playing, but her performance isn't all glitz and ditz. She also gets a few quiet, more dramatic moments, and she shines in those as well.
Miss Pettigrew Lives for a Day will be enjoyed by anyone with a romantic image of the Art Deco styled era of the Bright Young Things. Like that era, it's tinged with an underpinning of sadness as we, with our hindsight, know that the era is short-lived and soon to end with World War II. I came away from this movie thinking that I had just been highly entertained.
Photos © Copyright Focus Features (2008)