Movie Review
Miss Peregrine's Home for Peculiar Children
Stay peculiar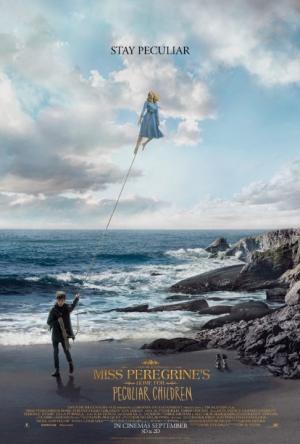 US Release Date: 09-30-2016
Directed by: Tim Burton
Starring
▸
▾
Eva Green

,

as

Miss Peregrine
Asa Butterfield

,

as

Jake
Samuel L. Jackson

,

as

Barron
Judi Dench

,

as

Miss Avocet
Rupert Everett

,

as

Ornithologist
Allison Janney

,

as

Dr. Golan
Chris O'Dowd

,

as

Franklin Portman
Terence Stamp

,

as

Abraham 'Abe' Portman
Ella Purnell

,

as

Emma Bloom
Finlay MacMillan

,

as

Enoch O'Conner
Lauren McCrostie

,

as

Olive Abroholos Elephanta
Hayden Keeler-Stone

,

as

Horace Somnusson
Georgia Pemberton

,

as

Fiona Fruanfeld
Milo Parker

,

as

Hugh Apiston
Raffiella Chapman

,

as

Claire Densmore
Pixie Davies

,

as

Bronwyn Bruntley
Joseph Odwell

,

as

Masked Ballerina #1
Thomas Odwell

,

as

Masked Ballerina #2
Cameron King

,

as

Millard Nullings
Louis Davison

as

Victor Bruntley

Reviewed on:
October 6th, 2016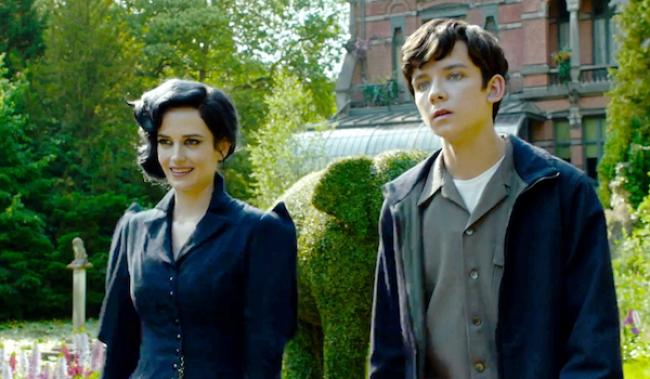 Eva Green and Asa Butterfield in Miss Peregrine's Home for Peculiar Children
Based on the Ransom Riggs novel, Miss Peregrine's Home for Peculiar Children tells the story of a boy who believes himself to be unexceptional but soon discovers he is very special indeed, or as the film commonly states, "peculiar." Yeah, this all seems like a tried and true formula, where a person discovers they are, in some way, more powerful and important than previously believed. This type of story goes all the way back to the Bible with Moses and for good reason. Who cannot relate, at some point in their life, to wishing they were more important or living a more exciting life?

Here that person is Jacob, a teenager living in Florida with his parents and within biking distance of his grandfather, whom Jacob shares a very strong bond. His grandfather has always told him of fantastic people he once knew, that have strange abilities. Upon his grandfathers directions, and encouraged by a scary night, Jake goes on a journey to a remote English Island with his father, where his grandfather has told him everything will be explained. Although his father has told him that his grandfather's stories are just that, Jacob soon discovers otherwise.
On the island, Jacob not only meets Miss Peregrine and her peculiar children, he also comes to understand that he very much belongs there. With his clueless father off bird watching, Jacob discovers that the world is actually filled with magic. He finds himself attracted to a girl who is lighter than air, which upsets a boy who can animate any object if he implants an organic heart inside it. Yeah, it is that kind of film. It is definitely a young adult novel but it does occasionally seem a bit dark.
Jacob is very fascinated by all of this and begins to ask questions, that get mostly ignored. This, of course, only encourages him to continue asking. Jake eventually finds himself in a mysterious world of time and dimensions.He also learns of unimaginable deadly danger and that he has a very important role to play. As expected, the normal average boy learns he has something peculiar to contribute.

With the children's unique abilities, there are plenty of special effects and wondrous sights. One of the best being the trip under water to the sunken ship. Although his imagination is clearly at work, Tim Burton filmed on location and not with a green screen as he has done so often in the past. It was filmed in Florida, Black Pool, England and at an actual residence in Belgium that stood in for Miss Peregrine's Home. Whenever Jacob is happy and safe, his world is colorful, bright and vibrant but when danger is at play Burton makes the color scheme dark and moody. Burton has never been my favorite director but I completely enjoyed his work here.
There was a moment or two in the story that I felt were weak, such as the time travel angle. The most glaring though, was when Jacob releases the birds. I do not want to give anything away but I felt it should have gone in a different direction. Perhaps the novel explained it better but here it contradicts all that we have been told about the birds and their jobs. Still, Miss Peregrine's Home for Peculiar Children accomplished what I expect from all movies, it took my mind on a two hour vacation with likable characters having exciting experiences. Rigg's has written, so far, three books in this series and I would eagerly watch any other film adaptations. Heck, I may even read the books.
Photos © Copyright Twentieth Century Fox Film Corporation (2016)