Movie Review
Miss Congeniality 2: Armed and Fabulous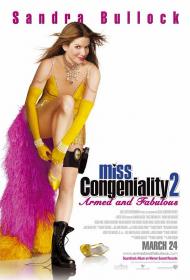 US Release Date: 03-25-2005
Directed by: John Pasquin
Starring
▸
▾
Sandra Bullock

,

as

Gracie Hart
Regina King

,

as

Sam Fuller
Enrique Murciano

,

as

Jeff Foreman
Diedrich Bader

,

as

Joel Myers
Heather Burns

,

as

Cheryl Frasier
William Shatner

,

as

Stan Fields
Nick Offerman

,

as

Karl Steele
Abraham Benrubi

,

as

Lou Steele
Adam LeFevre

,

as

Bartender
Stephen Tobolowsky

,

as

Tom Abernathy
Octavia Spencer

as

Middle-Aged Woman
Reviewed on:
March 25th, 2005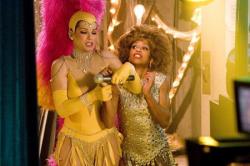 Sandra Bullock and Regina King in Miss Congeniality 2: Armed and Fabulous.
Sequels as a general rule are weaker than the originals and when you're already starting with a movie as weak as the original Miss Congeniality, a step down puts you pretty far down. There are a few laughs to be had, but not many, and only enough to please diehard Sandra Bullock fans.
In the original film, Bullock played FBI agent Gracie Hart, a tomboyish, disgruntled agent with a chip on her shoulder, who was forced to undergo an Eliza Doolittle transformation in order to go undercover at a beauty pageant. Michael Caine played her Professor Higgins and his chemistry with her was one of the highlights of the movie. Sadly, he does not return for the sequel, and her makeover artist this time around is Diedrich Bader (The Drew Carrey Show), who plays an over the top gay caricature.
The sequel opens with Gracie being dumped by her boyfriend Eric (Benjamin Bratt in the first film, but never shown in this one). This, coupled with the fact that her actions in the first movie made her too famous to go undercover, prompts Gracie to accept a job as the new 'face' of the FBI. Ten months skim by and suddenly Gracie is the exact opposite of everything she was in the first film. She only cares about her appearance and the latest fashions. It is only when her friend and Miss USA is kidnapped that Gracie decides that it's time to get back into fieldwork.
Instead of a love story this time around, this movie is more of a buddy picture with an underused Regina King playing second fiddle to Bullock's Gracie. And while the two of them do show a few sparks of chemistry when they're sparring, there just aren't enough scenes where they share screen time. Bullock is the star and the movie revolves around her. King is clearly there as a supporting player and not an equal partner.
As I said, there are a few laughs, but most them feel forced. At one point, as shown endlessly in the previews, Bullock and King dress as Tina Turner and a Vegas showgirl. The reason they do this is so that they can get backstage at a drag show to interview a witness. And the reason they can't just flash their badges is because Gracie is too famous to go unrecognized. So why doesn't King's character go back and do the interrogation? Obviously because that would mean a scene without Bullock and since she also produced this movie, she gets all the screen time she wants. This includes another scene, also repeated in the previews, where Gracie dresses up like an old woman to infiltrate an old folks home. Again, it's unnecessary or could have been handled differently, but is done to maximize Bullock's chances at getting laughs.
Recently Bullock stated that she was done making romantic comedies. If this is the best she can do instead, she might want to reconsider that plan.
Photos © Copyright Warner Bros. (2005)