Movie Review
Misery
Paul Sheldon used to write for a living. Now, he's writing to stay alive.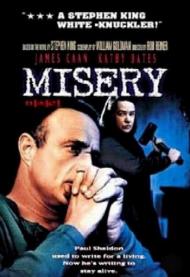 US Release Date: 11-30-1990
Directed by: Rob Reiner
Starring
▸
▾
James Caan

,

as

Paul Sheldon
Kathy Bates

,

as

Annie Wilkes
Richard Farnsworth

,

as

Buster
Frances Sternhagen

,

as

Virginia
Lauren Bacall

,

as

Marcia Sindell
J.T. Walsh

as

State Trooper Sherman Douglas

Reviewed on:
March 12th, 2012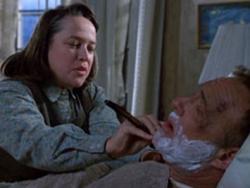 Kathy Bates and James Caan in Misery
Although Kathy Bates had been acting in small roles in movies and on television shows since the 1970's, it was not until her turn as Annie Wilkes in Misery, that she made it big. The role earned her a slew of award nominations, including an Academy Award win for best actress in a leading role. She has since become one of the most prolific actresses on television and in movies, completing multiple projects a year.
Based on a Stephen King story, Annie Wilkes is vaguely reminiscent of Carrie's mother. Both are crazy religious and both keep someone they claim to love locked up and under their control. In Carrie it was her daughter, while in Misery it is her favorite writer, Paul Sheldon, played by James Caan.
Sheldon is a Best-selling author of a series of books about a character named Misery Chastain. They are romantic period stories that are popular with its fans but not the critics. As his last "Misery Chastain" novel is going to press, Sheldon writes a brand new novel at a Colorado hotel, as he always does. After completing it and driving away, he gets in a car accident during a blizzard. Lucky for him, his number one fan, Annie Wilkes, finds him and takes him to her remote farm house to recuperate.
Paul is severely injured and bed ridden. Annie, a nurse, sets his broken legs and arm. She at first seems very pleasantly quaint, "Oh forgive me Paul for prattling away and making everything all oogy. ." Paul then lets Annie read his just completed manuscript. Annie gets upset with Paul about the swearing in the book. Her temper tantrum is irrational, but merely a sign of things to come.
Annie picks up the latest "Misery Chastain" novel, not knowing that Sheldon intended it to be the last in the series. Once she finds out that Misery dies at the end, Annie lets her dark side completely out. She walks into Paul's room like a woman possessed. "I DON'T WANT HER DEAD! I WANT HER!" She then forces Paul, who now knows he is no more than a prisoner, to write a new "Misery Chastain" book. The rest of the film plays out as a battle of wits between the author and his sadistic number one fan.
James Caan is the star and does what is required of him, but Kathy Bates steals the entire film She has all the memorable lines, "He didn't get out of the COCKADOODIE CAR!" When trying to state how good she thinks his most recent "Misery Chastain" book is, Annie compares it to, "What's the ceiling that Dago painted?" "The Sistine Chapel?" Paul answers. The most famous scene being of course when Annie punishes Paul with a sledgehammer for snooping around her house.
As one of the most famous American authors of his time, I wonder how many times Stephen King has had a fan tell him they are his number one fan? It is an interesting paradox that celebrities can sometimes fear the ones who claim to love them the most. Misery nearly changed the saying, "I am your number one fan." from a form of flattery to a threatening phrase.
Photos © Copyright Castle Rock Entertainment (1990)