Movie Review
Miracles from Heaven
How do we explain the impossible?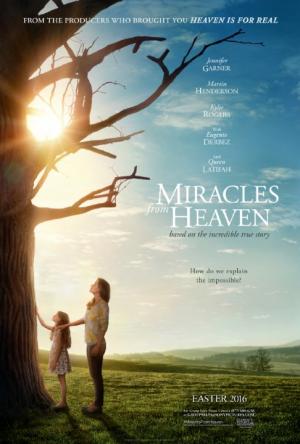 US Release Date: 03-16-2016
Directed by: Patricia Riggen
Starring
▸
▾
Jennifer Garner

,

as

Christy Beam
Kylie Rogers

,

as

Anna Beam
Martin Henderson

,

as

Kevin Beam
Brighton Sharbino

,

as

Abbie Beam
Courtney Fansler

,

as

Adelynn Beam
Queen Latifah

,

as

Angela
Eugenio Derbez

,

as

Dr. Nurko
John Carroll Lynch

,

as

Pastor Scott
Wayne Pére

,

as

Ben
Bruce Altman

,

as

Dr. Burgi
Hannah Alligood

,

as

Haley
Zach Sale

,

as

Dr. Todd Blythe
Kenny Alfonso

,

as

Dr. Dorsi
J.M. Longoria

as

Airline Ticket Attendant

Reviewed on:
March 24th, 2016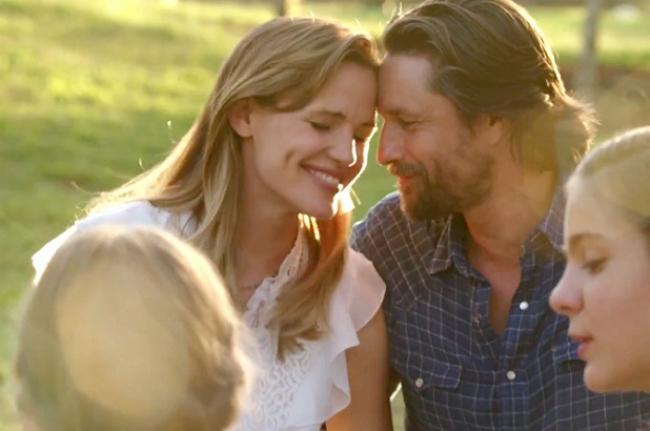 Jennifer Garner and Martin Henderson in Miracles From Heaven
Based on an amazing true story, Miracles From Heaven will either leave you in tears or bored to them. Your enjoyment of this film may be greatly determined by your religious perspective or tolerance of others spiritual views and beliefs. Yes, this movie is directly aimed at a christian audience or an audience member that is on the fence.
Jennifer Garner stars as Christy, the Texas mother of three daughters who discovers that her ten year old daughter Anna, has a rare and incurable disease. This comes after having had several medical professionals misdiagnosis her condition. Faced with having to watch her daughter suffer, she seeks out every medical help she can, finally making contact with the Boston Children's Hospital where a specialist introduces them to a new medication that may help.
During this odyssey, Christy begins to lose her faith in God. Her husband, Kevin, stands by her, trying to encourage her faith but she cannot reason why God would allow her baby to suffer so. What sin has she or her family committed that would bring upon such damnation. She stops attending church and dedicates all of her time to her daughter. Kevin, a veterinarian, begins working longer hours to pay for the growing medical debt, and Anna's sisters start to feel neglected.
Just as Christy has become resigned to the fact that her daughter does not have long to live, a freak accident occurs that ends up curing Anna's affliction. Her almost immediate recovery stuns her doctors and the other medical specialists. It also restores Christy's faith in God, who sees it all clearly as a miracle from heaven.
Although I just gave away the entire plot, just as the trailer does, the movie is about so much more than just the actual events described. Miracles From Heaven is a tale of of how we can all affect others. We can inspire with just a simple gesture or a kind word of encouragement. Many examples of such acts occur throughout the film, with some being quite heart felt.
As this is a faith based film, it features many scenes inside a church and characters are often shown praying. This film's intentions are definitely from a Christian perspective. I respect that completely but at times I felt the movie was a bit too preachy. I know, if you are a religious person, you may likely disagree and that's fine by me. We all look at the world through our own eyes. Was what happened to Anna a religious miracle or a medical one, or maybe it was both. Garner gives a sermon at the end where she quotes Einstein about how he once said some people see life as a bunch of miracles while others see none. It is like religion and faith, it is your choice to make.
The religious aspect aside, I was emotionally drawn into Christy's and Kevin's journey. Any parent who could not have empathy for them as they watch their daughter go through her ordeal should probably consider giving their children up for adoption. My wife and I, as well as several other audience members, were wiping our eyes. Any time a movie causes such a reaction from me, it has obviously done something right.
Photos © Copyright TriStar Pictures (2016)
Related Reviews