Movie Review
Miracle on 34th Street
Capture the spirit of Christmas with this timeless classic!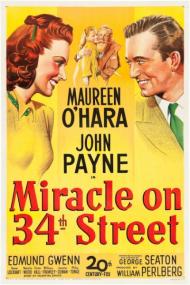 US Release Date: 05-02-1947
Directed by: George Seaton
Starring
▸
▾
Maureen O'Hara

,

as

Doris Walker
John Payne

,

as

Fred Gailey
Edmund Gwenn

,

as

Kris Kringle
Natalie Wood

,

as

Susan Walker
Gene Lockhart

,

as

Judge Henry X. Harper
Porter Hall

,

as

Mr. Granville M. Sawyer
William Frawley

,

as

Charles Halloran
Jerome Cowan

,

as

District Attorney Thomas Mara
Philip Tonge

as

Mr. Shellhammer

Reviewed on:
May 2nd, 2001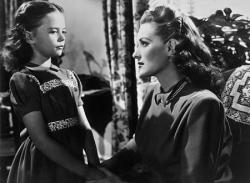 Natalie Wood and Maureen O'Hara in Miracle on 34th Street.
Even though Miracle on 34th Street was released in 1947 it remains a perennial Christmas favorite. The spirit in which this delightful movie was made still rings true. Maureen O'Hara and Natalie Wood are both very good in their roles, but neither one keeps Edmund Gwenn from stealing the movie as Kris Kringle. He creates the classic Santa, one who is feisty and jolly. The movie is filled with great little details, like Kris correcting the placement of his reindeer in the window display or when he speaks Dutch to the little girl.
For those few who have never seen Miracle on 34th Street it tells the story of a man hired to play Santa Clause for Macy's Manhattan department store when the current 'Santa' gets sloshed right before the big Thanksgiving Day Parade. He turns out to be the perfect man for the job, until he starts telling everyone that he is the real Santa. Natalie Wood plays the daughter of Maureen O'Hara, the woman who hired him. Young Natalie doesn't believe in Santa Claus. The only way she will believe in him is if Kris can get her a house for Christmas. Meanwhile Kris gets into an altercation with Macy's mental health counselor and before you know Santa is on trial for insanity.
Miracle on 34th Street is touching and funny. For those of us from a certain generation this is cinematic comfort-food. Though it has been remade several times over the years, like most movies, the original remains the best.
This was easily my favorite Christmas movie when I was a kid. After all, the 'miracle' on 34th street turns out to be proof of the existence of Santa Clause. What child can't relate to that?

Reviewed on:
May 2nd, 2002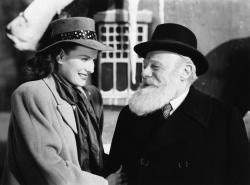 Maureen O'Hara and Edmund Gwenn in Miracle on 34th Street.
Miracle on 34th Street is quite simply the most cherished Christmas film of all time. I know that some would argue that It's a Wonderful Life is, but it's a movie about discovering your value in life. Miracle is about a child's awakening to the most magical time of the year. It is all about Christmas and the miracle that all children, and some adults, feel at that time of the year.
The movie was made shortly after World War II. It never says what happened to Susan's father. However, I imagine thousands of war widows and fatherless children understood without ever having to actually be told.
Macy's, the building, is practically a character in the movie. You see where the associates eat. They have their own doctor. I only wish the movie had been made in color so all the store decorations could have been better appreciated.
Patrick calling this movie 'cinematic comfort-food' is dead on. Watching this movie as an adult takes you back to when you were a child and your biggest worry was whether or not their really was a Santa Claus. With all the stress and problems that adulthood brings, it is occasionally nice to escape into your childhood and enjoy this movie.
Reviewed on:
November 26th, 2010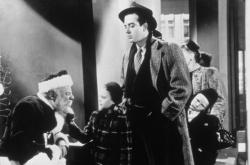 Edmund Gwenn, Natalie Wood and John Payne in Miracle on 34th Street.
This is one of those movies that I loved as a kid that still holds up when I watch it now as an adult. Its message of belief is a good one and it's backed up by some strong and delightful performances, led by the great Edmund Gwenn, who won the Best Supporting Actor Oscar for his performance.
Of course there are things that I can appreciate more now as an adult than I did as a child. One of the funniest scenes that was rather over my head when younger is when Mr. Shellhammer gets his wife drunk so that she'll be receptive to having Kris stay with them. "Of course we'd love to have Santy Claus stay with us," she slurs into the phone after finally getting it the right way up. And where as a child I enjoyed the relationship between Susan and Kris, I now relate more to the romance between Doris and Fred.
While the script is filled with sentimentality, it balances it so perfectly with humor that it never becomes overly sappy. It has a message, as expressed so perfectly by Fred when he says, "Look Doris, someday you're going to find that your way of facing this realistic world just doesn't work. And when you do, don't overlook those lovely intangibles. You'll discover those are the only things that are worthwhile." But it's not preaching the message to you and it's filled with so many nuggets of humor that it never takes itself overly serious.
Nearly every scene is a classic, from the opening at the Macy's parade (featuring footage from the actual 1946 parade) right up until they find that cane leaning in the corner. My favorite sequence has to be the courtroom scenes. Fred's clever defense and manipulation of the prosecutor by putting his son on the stand are well done. William Frawley (Fred Mertz on I Love Luchy) has a small but funny part as the political advisor to the Judge who's trying the case.
This is just one of those utterly flawless cinematic gems. As Patrick mentioned, they've tried to remake it several times, but they shouldn't bother. You can't top perfection. This is one of a handful of Christmas films that I rewatch every year and never fail to enjoy.
Photos © Copyright 20th Century Fox (1947)