Movie Review
The Miracle of Morgan's Creek
A Scanda-Laugh Fest!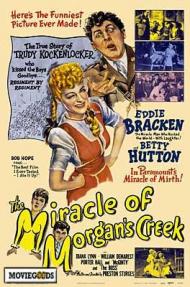 US Release Date: 01-19-1944
Directed by: Preston Sturges
Starring
▸
▾
Eddie Bracken

,

as

Norval Jones
Betty Hutton

,

as

Trudy Kockenlocker
Diana Lynn

,

as

Emmy Kockenlocker
William Demarest

,

as

Const. Kockenlocker
Porter Hall

,

as

Justice of the Peace
Emory Parnell

,

as

Mr. Tuerck
Al Bridge

,

as

Mr. Johnson
Julius Tannen

,

as

Mr. Rafferty
Victor Potel

,

as

Newspaper Editor
Brian Donlevy

,

as

Governor McGinty
Akim Tamiroff

,

as

The Boss
Chester Conklin

,

as

Pete
Jimmy Conlin

,

as

Mayor
Arthur Hoyt

,

as

McGinty's Secretary
J. Farrell MacDonald

,

as

Sheriff
George Melford

,

as

U.S. Marshal
Joe Devlin

,

as

Benito Mussolini
Bobby Watson

as

Adolf Hilter


Reviewed on:
February 27th, 2008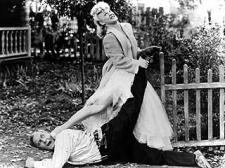 Betty Hutton and William Demarest in The Miracle of Morgan's Creek
Betty Hutton was born in Battle Creek, Michigan in 1919. Twenty years later she made her film debut and was one of Paramount's most popular stars during the war years. Many of her films were related to the war, with titles like; The Fleets In and Here Come the Waves. Following World War II her career died. She was reportedly not always easy to work with. Her last notable starring role was the lead in Annie Get Your Gun in 1950. One of her favorite roles was that of Trudy in The Miracle of Morgan's Creek.
Written and Directed by Preston Sturges, it tells the story of a girl who goes out one night partying with some soldiers who are leaving for overseas duty the next day. The next morning, she wakes to find that she is married but without any memory of which of the soldiers she got married to. Things get even more complicated when she also discovers that she is pregnant.
Made in 1944, this movie could be considered quite controversial as its lead character has anonymous sex. I must also mention one thing. In the film, Trudy's dad refers to her as a minor. They never establish Trudy's age but in 1944 being a minor meant under 21 and not under 18. In one scene she has a conversation with the lovelorn Norville and they talk about when they were in high school.
Miracle of Morgan's Creek is a fast paced comedy with plenty of snappy dialogue. When Trudy and her sister consult with a lawyer about her situation, he responds with this sexist line, "The responsibility for recording a marriage has always been up to woman. If it wasn't for her, marriage would have disappeared long since. No man is going to jeopardize his present or poison his future with a lot of little brats hollering around the house unless he's forced to. It's up to the woman to knock him down, hogtie him, and drag him in front of two witnesses immediately if not sooner. Any time after that is too late."
My favorite scene comes near the end when the Governor and another man are barking orders over the phone at the same time. It's too much dialogue to copy here but it a frantic conversation with commentary.
I will leave the miracle, the title of the movie refers to, for you to discover on your own. It will help to know some history of the time as headlines pop up on the screen that will only make sense if you do. Even Benito Mussolini and Adolph Hitler appear in the movie and comment on the "miracle".
In the scheme of movie history, Betty Hutton's fame was short lived and has no doubt been mistaken for Betty Grable more than once. They were famous at the same time. They were both blondes. They both did musicals and comedies and their names make it even more confusing. However, in Miracle of Morgan's Creek she is a great comedian in the mold of Carole Lombard. Her scheming to get Norville to do whatever she wants proves her talent. In these scenes she is being self-centered and manipulative, but Hutton was so charming you never held it against her.
Reviewed on:
December 26th, 2013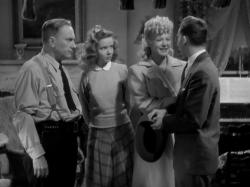 William Demarest , Diana Lynn, Betty Hutton and Eddie Bracken in The Miracle of Morgan's Creek.
Not only could this movie be considered controversial, it was controversial at the time of its release. When Paramount submitted the first 116 pages of the script to the Motion Picture Production Code Office, they returned seven single-spaced pages of objections. It was only with the greatest of care that Sturges was able to proceed with his film. In fact, when he began actual filming, he only had 10 pages of approved script and was unsure of what the miracle of the title was going to turn out to be. It also generated plenty of complaints after it was finished, some from audience members who saw the plot as a parody of the virgin birth while others thought that the ending meant that Trudy had sex with six different soldiers. The controversy did nothing to stop the film from becoming a hit that is still remembered fondly today. The American Film Institute listed it on the 100 Years...100 Laughs list, placing it at number 54.
From the vantage point of the 21st century of course, the way the script tiptoes around the subjects of sex and pregnancy seems quite quaint. Somehow though, that just adds to the comedy and there's plenty of that to go around in this fast paced screwball comedy.
Betty Hutton is ditzy and charming as Trudy Kockenlocker (even that name must have been a struggle to get past the censors), the girl who just wants to see the army go off to war with a smile on its face. Eddie Bracken is equally funny as her long suffering "boyfriend". Reportedly, he was reluctant to take a part where he would play second fiddle to Hutton again, but he does everything he can to upstage her and nearly succeeds. In many ways, he's the real heart of the story. As Eric wrote, you never really resent Trudy for manipulating Norval, but it's still easy to feel bad for him.
William Demarest and Diana Lynn are also quite adept at stealing scenes as Trudy's father and sister. Demarest gets some of the film's funniest lines, many of which are complaints about having two daughters. When his younger daughter angers him, he tells her, "Listen, Zipper-puss! Some day they're just gonna find your hair ribbon and an axe someplace. Nothing else! The Mystery of Morgan's Creek!" Lynn likewise has a perfect sarcastic delivery as the wise beyond her years younger sister.
Both Sturges' and Hutton's careers went downhill after they left Paramount studios. For awhile in the 1940s though, they were both at the top of their game and this film is one of the best for both of them. The controversy surrounding it has long since faded away, but the humor is timeless.
Reviewed on:
January 21st, 2014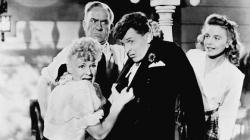 Betty Hutton, William Demarest, Eddie Bracken, and Diana Lynn in The Miracle of Morgan's Creek.
The Miracle of Morgan's Creek was actually filmed in late 1942 and early 1943. Paramount had such a glut of movies in the can that it didn't arrive in theaters until early 1944. Not that the intervening year did anything to lessen the controversy surrounding the subject matter, but for the sake of historical accuracy I wanted to point that out. If anything the taboo aspect of the plot brought in audience members by the droves. It turned out to be Paramount's biggest moneymaker of the year.
Eric mentioned the scene at the end where the governor barks orders over the phone. He was played by Brian Donlevy and the other man on the other phone is Akim Tamiroff. His character is known as The Boss. Both actors are reprising their roles from Sturges' 1940 movie The Great McGinty. This explains why they are so comfortable issuing orders that are anything but legal and why their comic timing is so perfect together.
Preston Sturges' entire stock company is quite funny but this movie really belongs to the four main characters played by Bracken, Hutton, Demarest, and Lynn (see photos in mine and Scott's reviews).
Both Betty Hutton and Eddie Bracken are hilarious, together and separately. I don't think stuttering has ever been used in a funnier manner than it is here in the scene with the Justice of the Peace. The way they play around with the name Ignatz Ratzkywatzky is comedy gold. Hutton plays ditzy effortlessly and manages to evoke sympathy even while being the cause of all the trouble.
Bracken would play a similar character later in 1944 in Sturges' Hail the Conquering Hero (Preston Sturges would in fact be Oscar nominated for Best Original Screenplay for both movies in the same year. He would lose to Lamar Trotti for Wilson). Norval Jones may be the dupe of Morgan's Creek but at least the script laughs with him and not at him. As evidenced in the scene where Constable Kockenlocker tries unsuccessfully to get Norval to escape from jail without coming right out and telling him to do so. Norval may be naive but he is never dishonorable.
I agree completely with Scott about William Demarest and Diana Lynn. They're both hilarious. Whether taking a pratfall or gruffly stating, "Daughters. Phooey." he is never less than perfect as the exasperated father. Lynn was 16 playing 14 going on 30. She is indeed wise beyond her years and a great foil for Demarest.
The script may tiptoe around the subject of sex and pregnancy but it still manages to retain a very modern sensibility. Especially in the inter-familial relationships between this widowed father and his two teenaged daughters. They are all strong-willed characters who think and act for themselves. The Miracle of Morgan's Creek is one of the funniest movies of the 1940s and a true screwball comedy classic.
Photos © Copyright Paramount Pictures (1944)