Movie Review
Mini's First Time
Sex. Murder. Blackmail. There's a first time for everything.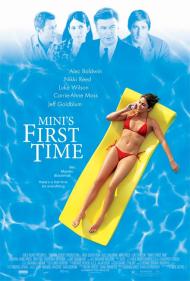 US Release Date: 07-14-2006
Directed by: Nick Guthe
Starring
▸
▾
Alec Baldwin

,

as

Martin
Nikki Reed

,

as

Mini
Luke Wilson

,

as

John Garson
Carrie-Anne Moss

,

as

Diane
Jeff Goldblum

,

as

Mike Rudell
Svetlana Metkina

,

as

Jelena
Rick Fox

as

Antonio
Reviewed on:
July 16th, 2006
Alec Baldwin and Nikki Reed in Mini's First Time.
Not since Wild Things as a young femme fatale so twisted those around her to her own financial advantage in a movie. While in that movie it was Neve Campbell, in Mini's First Time it is newcomer Nikki Reed playing the twisted Lolita. And while the ending of this movie is pretty predictable, and we the audience see through her machinations much faster than the other characters in the movie, it still manages to entertain along the way.
Spoiled little rich girl Mini is the daughter of Diane (Moss), a pill-popping almost was actress who begins her mornings with a margarita and a cigarette. Diane's idea of loving advice is to tell her daughter that her thighs look fat in that skirt because, "Honey, if I don't tell you these things, who will?". Mini's father is long gone and in his place is her ineffectual step-father, Martin (Baldwin), whose main function is pay Diane's liquor bills and to turn a blind eye to her many, many affairs.
Mini spends her days trying to accomplish as many "firsts" as she can. One of those firsts involves her finding work with an escort agency as a prostitute. When her first client finds her too similar to his niece to perform, she goes out again and this time discovers that the client is her step-father. Thinking of this as one hell of a first, she goes ahead and sleeps with him, keeping him blindfolded so that he doesn't know that it's her. When she leaves her car keys behind in the hotel room however, Martin brings them out to her and he learns the truth.
The two then begin an affair and between them they decide that Diane has to go and that the best way of getting rid of her is to drive her insane so as to have her committed. When their plan goes awry however, Diane ends up dead and the two find themselves in deeper than they ever expected, especially with a mild mannered, but suspicious, police detective (Wilson) following up on their every move. They also have to contend with a nosy neighbor (Goldblum) whom Martin is convinced knows everything. As I said, the ending doesn't really come as a surprise, except to some of the characters, but the journey to the end is still one that keeps you entertained.
Nikki Reed, whose previous credits include a co-writing and co-starring credit on Thirteen and a stint on The O.C. is great as the sexy vixen who sees the world as her plaything. She's pure evil and while you can't ever like her, you have to admire her chutzpah. Also to her credit and the filmmakers, she manages to be very sexy without ever doing a nude scene. Baldwin is also good as the man caught up in her web, as is Moss as Diane, stealing every scene that she's in.
Trashy but fun, Mini's First Time is like one of those paperback books you might take to the beach. You don't brag about having read it, but you enjoy every page.
Photos © Copyright First Independent Pictures (2006)