Movie Review
Minions
Before Gru, they had a history of bad bosses.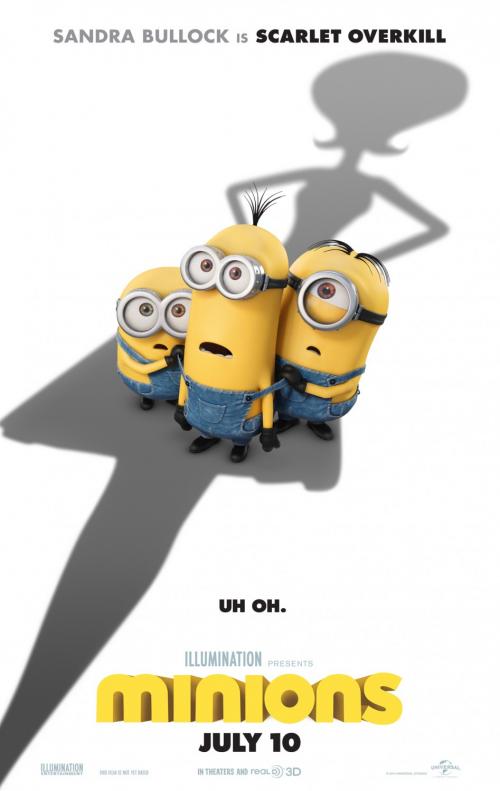 US Release Date: 07-10-2015
Directed by: Kyle Balda and Pierre Coffin
Starring
▸
▾
Sandra Bullock

,

as

Scarlett Overkill (voice)
Jon Hamm

,

as

Herb Overkill (voice)
Michael Keaton

,

as

Walter Nelson (voice)
Allison Janney

,

as

Madge Nelson (voice)
Steve Coogan

,

as

Professor Flux / Tower Guard (voice)
Jennifer Saunders

,

as

The Queen (voice)
Geoffrey Rush

,

as

Narrator (voice)
Steve Carell

,

as

Young Gru (voice)
Pierre Coffin

,

as

The Minions (voice)
Katy Mixon

,

as

Tina (voice)
Michael Beattie

,

as

VNC Announcer / Walter Jr. (voice)
Hiroyuki Sanada

,

as

Sumo Villain (voice)
Dave Rosenbaum

,

as

Fabrice (voice)
Peter Serafinowicz

as

SheBot (voice)

Reviewed on:
July 13th, 2015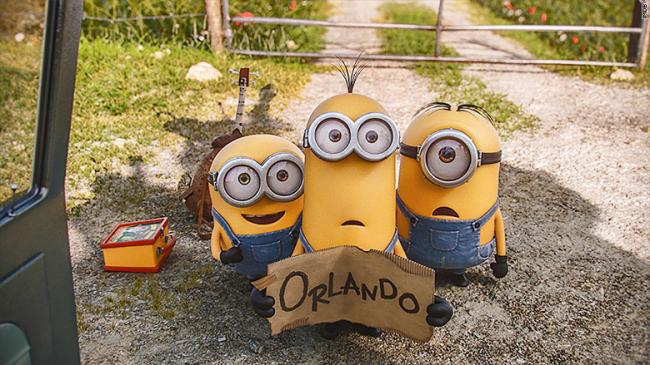 Bob, Kevin, and Stuart in Minions.
I enjoyed the two Despicable Me movies and found the Minions to be the funniest elements in them. Given the little yellow pill-shaped creatures appeal, and the endless marketing opportunities they represent, a spin-off movie of their own must have seemed like a no-brainer. Financially that's certainly correct as the movie opened to huge box office receipts its opening weekend and no doubt the merchandising is likewise raking in money. However, it's far from a great film. The youngest children in the audience will no doubt love it and there are some funny moments that will appeal to audience members of all ages, but it's lacking the subtext for adults that all the truly classic animated films possess. Beyond the soundtrack, there's nothing included here specifically for the parents.
The story follows the Minions from the dawn of time when they are single yellow celled creatures. Over the first 20 minutes or so, we see them through history as they evolve through a fish stage and finally on land in the form we've become familiar with. Through each stage of their evolution they follow their herd instinct to serve the most evil master they can find. This is actually one of the most amusing portions of the film. They latch onto a T-Rex, a caveman, Dracula, and Napoleon, each one of which they kill with kindness as they attempt to serve them.
It's when the story kicks off properly that it starts to feel a little lost. In 1968, 3 of the Minions, Kevin, Stuart, and Bob, leave the remote Arctic cave where the Minions have been living, to find a new Master. After a short detour in New York, they end up in Florida at Villain-con, an obvious spoof of Comic-con that fails to capitalize on the satirical possibilities this presents. By a fluke they end up working for Scarlett Overkill (Bullock), who has a plan to steal the Crown Jewels from the Tower of London, or rather she has a plan for the Minions to steal them for her. A whole lot of sound and fury happens as a result, some of it amusing, but with a lack of heart or even much originality.
Although the cast features several recognizable voices, none of them bring much to their parts. Scarlett Overkill ends up shrill and flat as a rather generic villain. John Hamm fares a bit better as her groovy inventor husband. Jennifer Saunders does a decent Queen Elizabeth, and Michael Keaton and Allison Janney turn up in small roles as the head of a family on a crime-spree. Honestly though, I have to wonder why the filmmakers even bothered to hire such big names. The little kids, who are obviously the film's target audience, aren't going to recognize them, and this isn't the kind of voicework that requires great emoting.
It would be easy to say that the Minions should just be doled out in small doses, but I still believe they could carry their own film if it were written properly. Those opening 20 minutes are proof of that. The smaller moments that focus on the interactions of the three main Minions are the ones that work best. The more outlandish sequences are the least entertaining, although the little children in the theater when I saw this would undoubtedly disagree.
Minions is an amusing film and I did laugh through most of it, but it's too lightweight for anyone older than 10 to truly love.
Reviewed on:
July 14th, 2015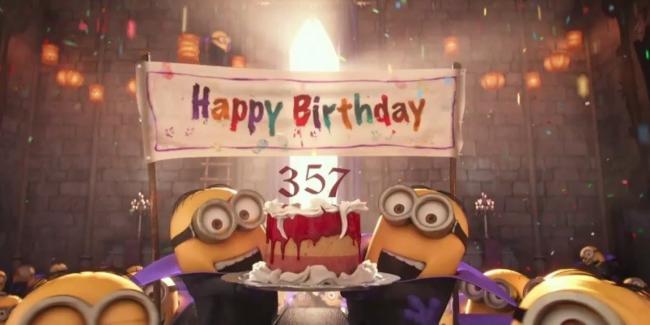 The minions surprise Dracula on his birthday in Minions.
I agree. Minions is definitely aimed at the pre-teen and under age group. It's cute but only sporadically funny for adults. Kevin, Bob and Stuart are three likable lead characters. Their quest to find a new evildoer to serve is silly and even endearing at times. Like my brother I enjoyed the first half hour of the movie the most. It is clever and quite funny.
Naturally enough the Minions speak Minionese, which is a mix of many different languages including English, Spanish, French, Portuguese, Hebrew and, of course a smattering of Gibberish. It is quite humorous sounding. According to IMDB, there are 899 Minions in the movie and director Pierre Coffin voiced them all. He does a good job at giving the three main Minions distinct sounds and personalities. They were modeled after Gru's three daughters, Agnes, Edith and Margo.
As my brother mentioned, some of the best moments for the adults in the audience are the songs. "Make 'Em Laugh" (from Singin' in the Rain), the theme from Hair, the theme from The Monkees television show, and even "Auld Lang Syne", are all given fresh renditions by the Minions. There are also a few historical references to the year 1968 that will go over the heads of the children watching. When Kevin, Bob and Stuart first arrive in the Big Apple they see a Billboard with a picture of Richard Nixon on it and a slogan that reads... Finally, a name you can trust.
Once they arrive at Villain-con, the story loses a bit of its creativity. Although judging by the reactions of the kids in the audience, they loved this section of the movie as much as the rest. In my opinion, Scarlett Overkill is a pretty lame villain and Sandra Bullock does nothing vocally to make her more interesting. She is the least funny character in the movie. John Hamm and Jennifer Saunders both fare much better as her far-out, fashion conscious husband and the (pub-hopping) Queen of England respectively.
But it is the Minions themselves who are the stars of the movie. As they should be. No matter what any adult critic has to say about it, kids will love Minions.

Reviewed on:
May 12th, 2016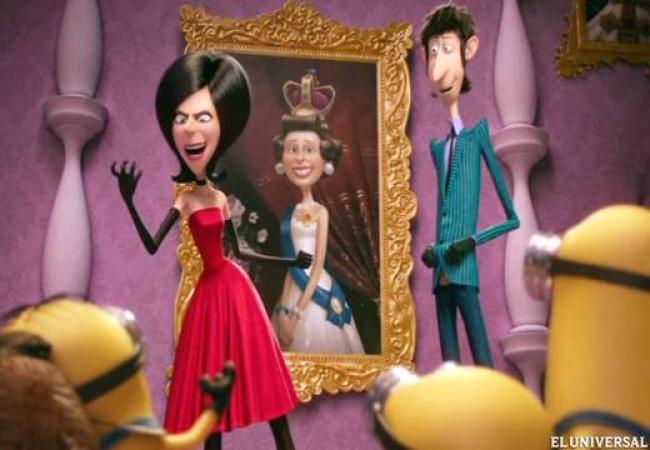 Scarlett and Herb let the Minions in on their plans to steal the Queen's crown.
I have never been a fan of the Minions. I know, it puts me in the minority as this is the third film they have appeared in so obviously, as Patrick mentioned, they are fairly popular with others. Minions, by their very definition, are supporting players. They make good background and butts of jokes. My favorite being when the woman looks out her car door at them hitchhiking (see picture in Scott's review) and says to her husband, "Oh Walter, look, these adorable little freaks are headed to Orlando too."

I think of the Minions like Scooby Doo. They do not talk completely but just enough for basic comically intended communication. Like that detective dog, the Minions are rather dull on their own. The only time they generate any real laugh is when they interact with some other character and even then it is hit or miss at best. Like Scooby and his snacks, the Minions tend to be a one note banana joke.

The criminal family going to Villain-Con are the best characters in the film. After accepting the ride to Orlando, and sitting in the back seat with the children, the little girl shows Kevin a magazine featuring villains and excitedly tells him, "I'm going to get all of my favorite villains to sign my magazine! Scarlet Overkill! If I was a minion, that's who'd I want to work for!" Of course the trip is funded by robberies committed along the way by the seemingly otherwise normal family. Unfortunately, they soon disappear from the film.

I agree with my brothers that Sandra Bullock is adequate as Scarlett Overkill and by that I mean absolutely any actress could have done what she does here. Her voice is not distinct enough, nor is she given any decent lines to make any real impact. I guess her best is when she is telling the Minions her version of the story of the Three Little Pigs and ends it with , "...One day, the pigs did something very stupid, so the wolf huffed, and puffed and she BLEW THEM OFF THE FACE OF THE EARTH! The end."

As I found little to enjoy here, I looked for a social message but the only one I could come up with was one that says you are no one unless someone else is telling you what to do. That cannot be it. Maybe it was to follow any leader, no matter how evil they are. No, no, no I am sure that is not it either. I know, it is that if you just move along with all the other sheep you will have friends just as long as you never question the decisions made by the leader you are blindly following. No, I am sure there is something else here....right?

Photos © Copyright Universal Pictures (2015)
Related Reviews