Movie Review
Mildred Pierce
A mother's love leads to murder.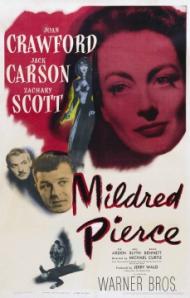 US Release Date: 10-20-1945
Directed by: Michael Curtiz
Starring
▸
▾
Joan Crawford

,

as

Mildred Pierce Beragon
Jack Carson

,

as

Wally Fay
Zachary Scott

,

as

Monte Beragon
Eve Arden

,

as

Ida Corwin
Ann Blyth

,

as

Veda Pierce
Bruce Bennett

,

as

Bert Pierce
Lee Patrick

,

as

Mrs. Maggie Biederhof
Butterfly McQueen

as

Lottie

Reviewed on:
October 20th, 2001
Joan Crawford gives an Oscar awarded performance as Mildred Pierce.
James M. Cain wrote three novels that were made into movies in the nineteen-forties and all three became classic entries in the film noir genre. In 1944 Billy Wilder made Double Indemnity, in 1946 John Garfield and Lana Turner steamed up the screen in The Postman Always Rings Twice and smack in between these two Michael Curtiz directed Joan Crawford in her Oscar winning, come-back role in Mildred Pierce. Perhaps Mr. Cain should have been a screenwriter because these celebrated films are still revered today while the novels that inspired them are long since forgotten.
Mildred Pierce opens with a man being murdered. We hear several gunshots and as the man falls to the floor he murmurs, 'Mildred. Mildred.' From here the story moves to a police station where most of the main characters are introduced and - under interrogation - the long-suffering Mildred Pierce tells her story in flashback.
The details of this soap opera plot are pure Hollywoodland clichés. But that's only part of the fun. The lighting, the characters and the score by Max Steiner are all wonderful. And Joan Crawford proves that you can be a powerful and sexy screen presence even after the age of forty. Sure other women had played sexy roles at her age but what made this performance unique was the honesty with which her age is portrayed.
This movie is a showcase for its female stars. In addition to Crawford, Eve Arden, Ann Blyth, Jo Ann Marlowe and Butterfly McQueen all give inspired performances. Unfortunately the same cannot be said of the men in this picture. With the exception of the always-reliable Jack Carson, the performances of the male stars are weak and forgettable. Zachary Scott and Bruce Bennett both barely register on the screen and are forgotten the second they leave a shot. It's quite amazing that Mildred Pierce turned out as good as it did given this major flaw, still one can't help but wonder what this movie would have been like with Jimmy Stewart or Cary Grant in one of the main roles.
Mildred Pierce is a stylish murder mystery with a surprise ending. But more than that it is a story about a mother's sacrifices for an ungrateful daughter. It is also interesting today because it is a perfect time capsule of the birth of suburbia. This movie screams mid-forties from opening shot to closing credits.
The image of Joan Crawford doing her best martyred mother, gazing helplessly at her daughter and saying in that impossibly understanding voice, 'But Veda darling.' will stay with you long after the final shot.
Reviewed on:
March 27th, 2011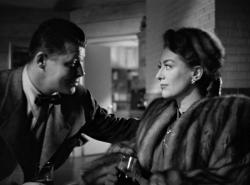 Jack Carson and Joan Crawford in Mildred Pierce.
As you well know Patrick, I'm not the fan of 1940s melodrama that you are. If I'm not in the right mood for it, I can find the overly dramatic music and histrionic acting to be unintentionally funny. Fortunately for Mildred Pierce, I was in just the right mood for this dark and well acted noir thriller.
Although this is Crawford's movie and she deserved her Oscar for her performance (despite (or because) it being very, very 1940s style acting), several of the supporting cast manage to upstage her.
Jack Carson is terrific as Wally. He provides some much needed comic relief as well as moving the plot along at key points. His constant flirting with Mildred is a treat to watch and in some scenes it seems as though he has more than two hands as one of them is constantly touching her.
Also providing some laughs and delivering some of the movie's best lines is Eve Arden as Ida. When Wally stares lustfully at her while she's adjusting her skirt, she tells him, "Leave something on me - I might catch cold." Later she tells Mildred, "Personally, Veda's convinced me that alligators have the right idea. They eat their young."
Young Ann Blyth does a great job as the evil Veda. She makes a great and unlikely villain and is one of those characters that you love to hate. I wish she'd been in it more as she lights up the screen with every appearance.
I do agree with you Patrick the other two male leads (both of Mildred's husbands) are rather forgettable. Bert is a bit of a sad sack and Monte is supposed to be charming and dashing, but Zachary Scott doesn't bring enough verve or panache to the part. Having two stronger actors play their roles would definitely have added a little zest to the movie.
The only really weak area of the plot is in the mystery. It's pretty plain who the murderer is if you pay any sort of attention. This doesn't weaken the atmosphere or the melodrama, but it doesn't help the suspense at all.
As far as 1940s melodramas go, Mildred Pierce is a classic.

Reviewed on:
June 26th, 2012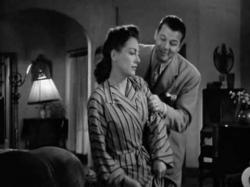 Joan Crawford and Jack Carson in Mildred Pierce
Mildred Pierce starts strong and fascinating with a murder, a suspect and lots of questions. I have never had much affection for Joan Crawford but have always respected her acting. From flapper to dramatic diva, she has played lots of roles, but this is the highlight of her distinguished acting career.
Crawford starts as a dutiful housewife trying to make the best of her husband being out of work. She is a flawed character as she spoils her ungrateful daughters. She has men chasing after her much as they were in all of her films up to this point. Her character starts out clueless to almost all aspects of life outside her kitchen and men's advances. As the film progresses, she develops into a determined woman who slowly begins to see the truth around her.
Jack Carson is one of my favorite character actors of the time. He did not have leading man looks but his voice was very distinct and a character onto itself. He even has this line in the film, "There's something about the sound of my own voice that fascinates me."
As my brothers wrote, many supporting players stand out. Besides Carson's vocal talent we have Eve Arden's snide remarks. "Jealous? That doesn't sound like Wally. No profit in it - and there's a boy who loves a dollar." Butterfly McQueen and her high pitch voice, earns some laughs as the half wit maid who tries hard.
I agree with Scott that the mystery is not too hard to figure out. At about half way through it suddenly becomes glaringly obvious if, as Scott wrote, you are paying any sort of attention. This does not diminish the value of the film as it still holds our attention as we need to see how it will all play out.
Mildred Pierce is one of the more unique film noirs of the 1940s. It is one of the few with a strong female lead. Most centered around a hard boiled detective or private dick solving a crime, while here we have a house wife trying to get by. It may not sound that interesting, but trust me, if you like these old black and white mysteries, you will love Mildred Pierce.
Photos © Copyright Warner Bros. (1945)