Movie Review
Mike and Dave Need Wedding Dates
They needed hot dates. They got hot messes.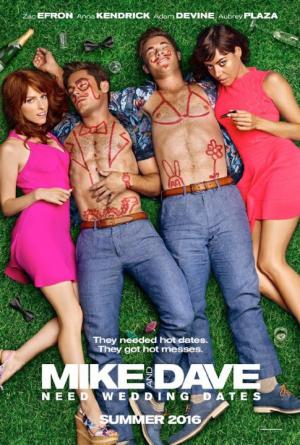 US Release Date: 07-08-2016
Directed by: Jake Szymanski
Starring
▸
▾
Zac Efron

,

as

Dave Stangle
Adam Devine

,

as

Mike Stangle
Anna Kendrick

,

as

Alice
Aubrey Plaza

,

as

Tatiana
Stephen Root

,

as

Burt
Stephanie Faracy

,

as

Rosie
Sugar Lyn Beard

,

as

Jeanie Stangle
Sam Richardson

,

as

Eric
Alice Wetterlund

,

as

Cousin Terry
Lavell Crawford

,

as

Keith
Mary Holland

,

as

Becky
Kumail Nanjiani

,

as

Keanu
Jake Johnson

,

as

Ronnie
Marc Maron

,

as

Randy
Wendy Williams

,

as

Wendy Williams
Kyle Smigielski

as

Luke

Reviewed on:
July 13th, 2016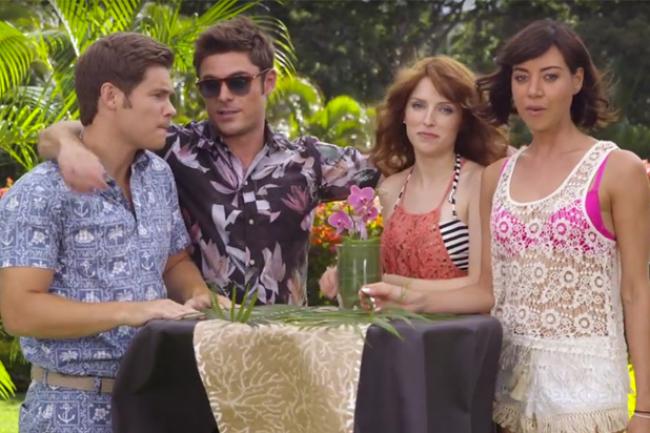 Adam Devine, Zac Ephron, Anna Kendrick and Aubrey Plaza in Mike and Dave Need Wedding Dates
Mike and Dave Need Wedding Dates was inspired by the true story of brothers Mike and Dave Stangle who, in 2013, placed an ad on Craigslist for dates to join them at their cousin's wedding. The post went viral and the boys received thousands of responses. This was helped by being interviewed about it on television and the fact that these guys are not butt ugly. Lets be honest, had these guys been fat and gross, they would have attended that wedding with hired women. As they were somewhat appealing, in looks and sense of humor, a book and movie deal followed. Their story however, is not as much to brag about as the press would have you believe.

Portrayed here by Adam Devine and Zac Efron, MIke and Dave are party animal brothers and business partners who disrupt every family event they attend. Their dad tells them, "Over the years of our family gathering, you two show up, and you ruin it. I want you to bring a date to your sister's wedding. We don't want you showing up stag and rile each other up." Mike yells back, "WE DON'T RILE EACH OTHER UP!" While Dave adds, just as loud, "WE NEVER GET RILED UP!" Their mom then shows them a video of all of their disastrous gatherings for proof.
As in real life, the boys place an online ad and end up dating/interviewing lots of potential wedding dates. That is pretty much where reality and movie part ways. In real life the Stangle brothers ended up taking two girls they knew since childhood. In the film, party girls Alice and Tatiana (Anna Kendrick and Aubrey Plaza) pretend to be polite, well mannered girls in order to get the free trip and vacation in Hawaii. In reality, the cousin's wedding was held in Saratoga, New York.

Shortly after arriving in Hawaii, everyone's true personalities come out and it starts to look like the wedding will not go off smoothly. Mike, Dave, Tatianna and Alice are four immature adolescents in adult bodies, faking it horribly as grown ups. Which means, of course, that they are meant for each other but not for civilized situations like a wedding. Disaster and some hilarity ensues.

Most jokes are intended to come via foul language, graphic sex talk, drug use and some nudity. Some scenes are just intended to shock as if that alone is a punch line. Your intellect will not be challenged here in the least but you still may find yourself laughing. There are enough jokes to go around.

The story tries for some heart with the boys realizing what fuck ups they are and by them trying to fix everything they destroyed. The one scene that goes too far is when Alice pays a masseuse extra to give the bride a happy ending. She later convinces the groom that although she had an orgasm, she was not unfaithful because the guy never touched her vagina. Huh? Does that excuse apply to men? "Honey, I had sex with another woman but don't worry, she never touched my dick, just the condom I was wearing over it." Let me be clear. This movie was written by the same guys who wrote the Neighbors films.
So in short, a cute little anecdote was mistaken for an actual story and made into a theatrical film. Look these guys up on youtube. They are a charming pair but their story is better told during an alcohol enhanced dinner party than in a two hour movie.

Photos © Copyright Twentieth Century Fox Film Corporation (2016)