Movie Review
A Mighty Wind
Back together for the first time, again.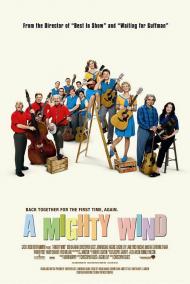 US Release Date: 04-16-2003
Directed by: Christopher Guest
Starring
▸
▾
Bob Balaban

,

as

Jonathan Steinbloom
Christopher Guest

,

as

Alan Barrows
Eugene Levy

,

as

Mitch Cohen
Michael McKean

,

as

Jerry Palter
Ed Begley Jr.

,

as

Lars Olfen
Catherine O'Hara

,

as

Mickey Devlin Crabbe
Parker Posey

,

as

Sissy Knox
Harry Shearer

,

as

Mark Shubb
Fred Willard

,

as

Mike LaFontaine
Mary Gross

as

Ma Klapper

Reviewed on:
April 28th, 2003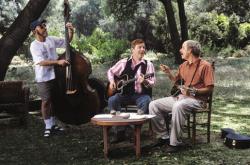 Harry Shearer, Michael McKean and Christopher Guest in A Mighty Wind.
Christopher Guest has made a nice niche career for himself by producing a series of mockumentaries including Waiting for Guffman and Best in Show, and was a part of the original Mockumentary, This is Spinal Tap. With A Mighty Wind, he carries on the tradition, producing another comedy classic in a similar style. Using the reunion of a group of aging ex-Folk Music stars as his back story, Guest manages to create a movie that is funny and somehow more touching and heartfelt than his earlier movies.
The catalyst for the movie is the death of an aging Folk Music Producer. His son, Johanathan Steinbloom (Bob Balaban), decides to hold a memorial concert featuring the three biggest acts from his Father's hey-day in the sixties. They are The New Main Street Singers; a re-incarnation of the original Main Street Singers with the new group being fronted by a sunny young couple who believe in the God of Color. The Folksmen; a trio of aging Folkies, and Mitch and Mickey; the former romantic couple of the Folk Movement who haven't spoken to each other in many years.
All of the usual cast of Guest's films are back for this one. Guest himself is a member of The Folksmen, along with Harry Shearer, and Michael McKean. Mitch and Mickey are played by Eugene Levy and Catherine O'Hara. And The New Main Street Singers are filled with familiar faces such as Parker Posey and Mary Gross. Fred Willard, another regular has a small, but funny role as The New Main Street Singer's agent.
Of all the cast Eugene Levy stands out as the funniest. In a voice that has to be heard to be believed, he portrays Mitch as an absentminded sixties burnout, but in such a sweet and funny way, that he easily steals the film. And this sweet and funny combination is carried over throughout the movie. Rather than being a biting satire of aging musicians, this is closer to being an affectionate tribute to them. And perhaps since I'm not a fan of Folk Music, I had trouble distinguishing between these groups efforts and the authentic music of the era.
The 'documentary' follows the three different folk groups as they prepare for the concert in New York City, culminating in the big night when they all get to perform one last time. It is a tribute to Christopher Guest and the rest of the cast, that by the time the film ends, you've really come to care about these people as real people. It may hurt the comedy, but it makes for a better movie.
Reviewed on:
March 16th, 2004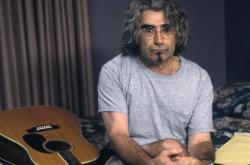 Eugene Levy in A Mighty Wind.
Christopher Guest is a genius. No other film maker so brilliantly walks the line between parody and homage. He writes great lines and has an incredibly talented group of ensemble players to give them just the right inflection or tone. Comedy like this is precise stuff. With A Mighty Wind the writing is extended to include songs. As Scott pointed out the songs in the movie are very similar to real vintage folk songs. The arrangements and lyrics are true to the genre but with a wry, subtle twist. 'Kiss at the end of the Rainbow' even garnered an Oscar nomination for Best Song.
Scott's review pretty much encompasses my opinion, so I thought I'd share a few funny lines worth repeating...
Jane Lynch as Laurie Bohner explaining her and her husband's religious belief's, 'We are Winc. W-I-N-C. Witches In Nature's Colors.'
Jennifer Coolidge as the big breasted, ditzy socialite Amber Cole being shown a model train set, 'Thank God for the model trains, you know? If they didn't have the model trains they wouldn't have gotten the idea for the big trains.'
Now that Christopher Guest has hilariously satired small-town theatre, big-city dog shows and folk music, I can't wait to see what subject he chooses to gently spoof next.

Reviewed on:
September 26th, 2004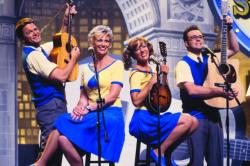 A Mighty Wind
Christopher Guest understands that great comedy is when the audience laughs at the characters, not with them. Arthur, starring Dudley Moore, is one of the best comedies of its time. The sequel sucked. The difference is that Moore delivered his lines in the first movie with all sincerity. In the sequel, he laughed along with his own jokes and thus sucked all the humour right out of them.
A Mighty Wind has a bunch of funny characters who really do not see themselves as funny. They all have very serious lives. The jokes slide in and out of scenes quite naturally. And the best part is that all of the actors know how to deliver their lines; straight faced.
One of my favorite pieces of dialogue comes from the very wholesome looking couple of The New Main Street Singers. They are talking about how they met. Very casually the woman reveals that she once made porn films; "I learned to play the ukulele in one of my last films, Not so Tiny Tim".
I will also ditto my brothers opinion about the songs. These songs are supposed to be funny, and quite often are. However, when you consider that Peter Paul and Mary actually recorded Puff the Magic Dragon, these song also seem very realistic. I am still humming to myself; "A kiss at the end of a rainbow is more precious than a pot of gold."
Photos © Copyright Castle Rock Entertainment (2003)