Movie Review
A Mighty Heart
It was an event that shocked the world. This is the story you haven't heard.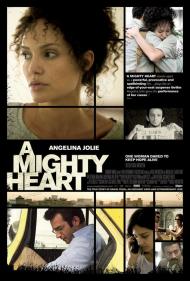 US Release Date: 06-22-2007
Directed by: Michael Winterbottom
Starring
▸
▾
Angelina Jolie

,

as

Mariane Pearl
Dan Futterman

,

as

Daniel Pearl
Archie Panjabi

,

as

Asra Q. Nomani
Mohammed Afzal

,

as

Shabir
Will Patton

,

as

Randall Bennett
Aly Khan

,

as

Omar/Bashir
Irfan Khan

as

Captain


Reviewed on:
June 29th, 2007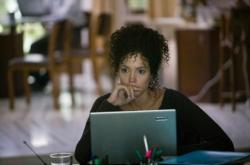 Angelina Jolie in A Mighty Heart.
Everyone remembers the death of Wall Street Journal reporter Danny Pearl. A Muslim terrorist group kidnaped him and eventually decapitated him. I recall seeing his wife all over the news and was struck by how emotionless she was through it all. A Mighty Heart shows what pressure she was under and that she was anything but cold.
Angelina Jolie gives a remarkable performance. Her accent is great and she disappears into the role. The scene where she hears the news is the movie's most memorable moment. Her primal scream of anguish sounds like the very bowels of hell being released. It is the moment that will stay with you.
The movie does not spoon feed you information. You may get a bit lost with all of the foreign names and politics. I am a news junkie and thus was quite able to follow this film for the most part. My wife, no offense intended, does not follow international news and was left confused by some of the plot.
What is essentially a story of a pregnant woman trying to find out what has happened to her husband, is bogged down by filler. Far too often the movie breaks up scenes by showing the local people and city. Once or twice, to establish the setting, would have been enough, but after a while it just becomes tedious padding.
A Mighty Heart reveals very little that the news did not already cover when it happened. Thanks to Jolie's performance, Marianne comes to life in ways that she never even did in real life. The Academy Award voters should remember her performance come this winter.
Reviewed on:
January 22nd, 2008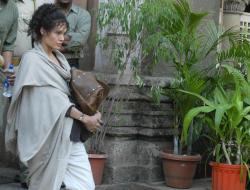 Angelina Jolie in A Mighty Heart.
This movie reveals so very little that wasn't already known that I can't help but wonder what the point of making it was. I guess if you want Daniel's story laid out before you in one go then this is the place, but as Eric said, you pretty much have to come to this story with some pre-knowledge to understand it. This isn't helped at all by the fact that the movie doesn't employ subtitles when the spoken language isn't English. Generally you get the point of what is being said, but not the specifics.
Like Eric, I think Jolie does a terrific acting job and deserves a nomination at the very least. While the moment she learns of Daniel's death is the movie's showiest moment, it's in the quiet moments, when she is holding it all together and her emotions are kept on the inside, that her nuanced performance shines through. The scene that struck me the most is when she asked in an interview if she watched the tape of her husband's death.
If you're unfamiliar with the events with which this movie deals, you will have difficulty keeping up and if you are familiar, this movie will add little to your knowledge, except to show the human side of Mariane Peral.
Reviewed on:
March 4th, 2008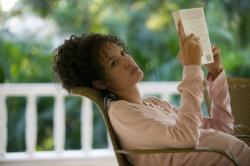 Angelina Jolie in A Mighty Heart.
I have little to add except that neither of my brothers mentioned how good Angelina's French accent is. She enters the ranks of great accent-accomplishing movie stars like Brando and Streep. She combines beauty, screen presence and acting chops like no other female star since Elizabeth Taylor. I'm in awe of her talent.
The story is powerful but no movie could equal the human drama of the actual events as they played out in the news. Many years from now when Daniel Pearl's death is a distant memory, this movie will stand as a testament to the courage he displayed under horrific circumstances and to Mariane's dignity and loving spirit that never became bitter or vengeful.
Photos © Copyright Paramount Vantage (2007)