Movie Review
A Midsummer Night's Dream
Three hundred years in the making!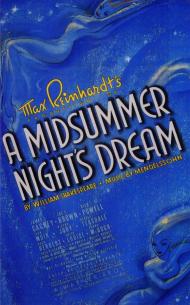 US Release Date: 10-30-1935
Directed by: William Dieterle, Max Reinhardt
Starring
▸
▾
Ian Hunter

,

as

Theseus, Duke of Athens
Verree Teasdale

,

as

Hippolyta, Queen of the Amazons, betrothed to Theseus
Hobart Cavanaugh

,

as

Philostrate, Master of Revels to Theseus
Dick Powell

,

as

Lysander, In love with Hermia
Ross Alexander

,

as

Demetrius, In love with Hermia
Olivia de Havilland

,

as

Hermia, In love with Lysander
Jean Muir

,

as

Helena, In love with Demetrius
Grant Mitchell

,

as

Egeus, Father to Hermia
Frank McHugh

,

as

Quince, the Carpenter
Dewey Robinson

,

as

Snug, the Joiner
James Cagney

,

as

Bottom, the Weaver
Joe E. Brown

,

as

Flute, the Bellows-mender
Hugh Herbert

,

as

Snout, the Tinker
Otis Harlan

,

as

Starveling, the Tailor
Arthur Treacher

,

as

Epilogue
Victor Jory

,

as

Oberon, King of the Fairies
Anita Louise

,

as

Titania, Queen of the Fairies
Nini Theilade

,

as

Fairie, Attending Titania
Mickey Rooney

,

as

Puck or Robin Goodfellow, a Fairy
Katherine Frey

,

as

Pease-Blossom
Helen Westcott

,

as

Cobweb
Fred Sale

,

as

Moth
Billy Barty

,

as

Mustard-Seed
Kenneth Anger

,

as

Little Boy
Rags Ragland

as

Acting Troupe Member
Reviewed on:
December 6th, 2010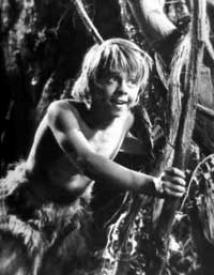 A 14 year old Mickey Rooney steals the movie as Puck.
The first talking motion picture of William Shakespeare's A Midsummer Night's Dream stands alone as a unique Hollywood creation. The play was originally produced on the London stage around 1595, hence the tag line – "Three hundred years in the making!" This movie version marked several important firsts.
It was the first adaptation of a Shakespeare play to be nominated for Best Picture, although it would lose to Mutiny on the Bounty. It also marked the first and only time that a write-in candidate would win an Oscar. Write in votes were allowed in 1934 & '35 only. Hal Mohr would win for Best Cinematography even though he hadn't been officially nominated by the Academy. Finally this movie was the film debut of Olivia de Havilland although it would be released after her second and third movies, Alibi Ike and The Irish in Us, had hit theaters, respectively.
This cinematic interpretation of the play was inspired by the highly influential theatrical genius Max Reinhardt's production at the Hollywood Bowl in 1934. Reinhardt himself had discovered the then 18 year old de Havilland acting in a production at Mills College at Oakland. This led to her being cast as Hermia for the Hollywood Bowl production and ultimately the movie version.
In his illustrious European stage career Reinhardt had visually inspired such filmmakers as F.W. Murnau, Fritz Lang, Ernst Lubitsch, Otto Preminger and William Dieterle. Dieterle, in fact, would be assigned as co-director by Warner Brothers since Reinhardt was unfamiliar with the Hollywood studio system and had directed only a few early silent movies in Germany. The result is a visual masterpiece featuring an interesting mix of styles from Elizabethan England and Classical Greece that could only come out of Tinsel Town.
Today this Shakespearean adaptation seems incongruously filled with 1930's Hollywood stars. 14 year old Mickey Rooney steals the show as the mischievous woodland fairy Puck who sets most of the plot devices in motion. He also gets the play's most famous line, "Lord, what fools these mortals be!" James Cagney, the biggest star at the time, plays Bottom, one of the actors rehearsing for the wedding between Theseus, Duke of Athens and Hyppolyta, Queen of the Amazons. Puck famously turns his head into that of an ass. Familiar Warner Bros. faces Dick Powell, Joe E. Brown and Frank McHugh also star.
The silly plot involves one night spent in an enchanted wood by several young couples and a troupe of actors. They are charmed and influenced, unbeknownst to them, by several immortal characters such as Puck, and the King and Queen of the fairies, Oberon and Titania. These fairies toy with the mortals by having them fall in and out of love with each other to suit their own whims.
Visually this movie is breathtaking - it is truly one of the most beautifully shot black and white movies ever made – but like the disparate time periods which inspired the costumes and sets, the acting is also inconsistent. Cagney, Brown and McHugh, for example, talk with an urban 1930's rapid staccato style of speech. Most of the other characters, especially de Havilland who seems to be still playing to the back row of the Hollywood Bowl, use a much more expressive, florid tone. Still as a comedy it all seems to work, mixing low brow slapstick with humor of the more loquacious sort.
A Midsummer Night's Dream may not beg for repeat viewings but it is definitely worth sitting through once for the experience. This 1935 classic is unlike any other movie from that or any other year.

Photos © Copyright Warner Bros. Pictures (1935)