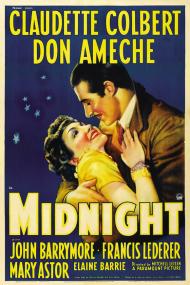 US Release Date: 03-15-1939
Directed by: Mitchell Leisen
Starring
▸
▾
Claudette Colbert

,

as

Eve Peabody/Baroness Czerny
Don Ameche

,

as

Tibor Czerny/Baron Czerny
John Barrymore

,

as

Georges Flammarion
Francis Lederer

,

as

Jacques Picot
Mary Astor

,

as

Helene Flammarion
Elaine Barrie

,

as

Simone
Hedda Hopper

,

as

Stephanie
Monty Woolley

as

The Judge


Reviewed on:
September 23rd, 2008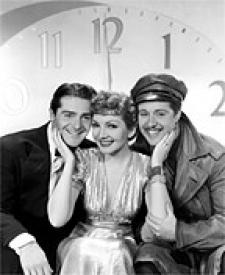 The gigolo, the Baroness and the taxi driver.
As a movie buff, there is nothing better than finding an old movie that I never heard of, yet enjoy immensely. Midnight is a screwball comedy that starts simple enough and then spin further and further out of control. The movie was written by several people, including Billy Wilder before he became a director.
Having lost everything, minus her evening gown, in Monte Carlo, showgirl Eve finds herself stranded penniless in Paris at midnight. After avoiding the advances of a love struck Taxi driver, Tibor Czerny, Eve crashes a party with some very rich folk. There she meets and is hired by a wealthy man, George, to flirt with his wife's lover and break them up.
With an expensive wardrobe, provided by George, and the newly made up title of Baroness Czerny, (it was the first name that popped into her head) Eve finds it very easy to attract the gigolo in question. Meanwhile, Tibor has enlisted the help of every taxi driver in Paris to help find the woman he fell in love with.
Although I enjoyed the entire film, the last part is down right hilarious. Eve, under the guise of the baroness, gets invited to spend the weekend with George, his wife and her lover at their country estate. Before she knows it, Eve is having feelings for the gigolo as he confesses his love for her. Everything seems to be working out for Eve and George, but then she has this line, "Don't forget, every Cinderella has her midnight." On that cue, all hell breaks loose as Tibor shows up saying he is the Baroness's husband, Baron Czerny. Eve's stories get more and more complicated as she tries to keep up appearances.
Ameche and Colbert try to out do each other as they bicker and lie, but it is Barrymore who has some of the funniest scenes. I have never seen him in a comedy before, but he looks funny just staring at someone. Astor has the throw away role of unfaithful wife. If the movie has any weakness it is that she never fully gets her comeuppance.
If you appreciate old screwball comedies, you will love Midnight. From the opening line, when the train conductor tells Eve that she is in Paris, "Well, from here it looks an awful lot like a rainy day in Kokomo, Indiana." to the final one, that I cannot tell you as it would spoil the ending, you will laugh the entire film.
Reviewed on:
August 4th, 2009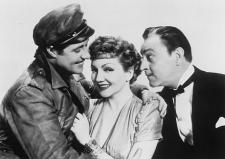 Ameche, Colbert and Barrymore.
Midnight is yet another example of why 1939 was such a magnificent year for Hollywood. I agree with Eric completely. This is a charming and hilarious screwball comedy. Colbert and Ameche have wonderful chemistry together but Barrymore does indeed steal the movie. The scene where he is on the other end of the phone line pretending to be the Baron and Baroness' young daughter is priceless.
Like all screwball comedies this one has great dialogue, "From the moment you looked at me, I had an idea you had an idea." Or Eve giving a backhanded compliment to a woman trying on a hat, "It does something for your face. It gives you a chin." The jokes and situational laughs don't stop until the final scene in the courtroom.
This may not be the best role of Mary Astor's career and I agree that she never gets her comeuppance, but she always makes me laugh when she plays a snob. The common side of her personality always shines through. The great character actor Monty Woolley has a small part as the judge in the final scene. He was wonderful at conveying exasperation and incredulity. Famed gossip columnist Hedda Hopper was still acting at this point in her life. She nearly always played high society matrons.
As its title suggests Midnight is a romantic fairytale. Barrymore plays Fairy Godmother to Colbert's Cinderella. Ameche is a working class Prince Charming searching for the girl of his dreams. Only instead of meeting her as a princess and then discovering she is a poor cleaning girl, the opposite happens. He meets her as a penniless showgirl but when he tracks her down she has somehow morphed into a Baroness.
Midnight is timeless.
Reviewed on:
September 21st, 2010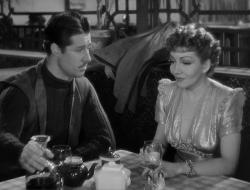 Don Ameche and Claudette Colbert in Midnight.
After both of your glowing reviews I have to say I felt a bit let down after watching this movie. It's fun and very funny in parts, but not in a sustained way. This is a screwball comedy, but it lacks the fast paced repartee that is so essential to the genre. It only really gets going at the very end when Don Ameche shows up pretending to be the Duke. Before that, it's only funny in places. Don't get me wrong, I don't mean to be overly harsh as I still very much enjoyed this movie. It's just I was expecting more.
Barrymore is a major scene-stealer and I laughed out loud when he was impersonating Francie and called Don Ameche, "Daddy". If you look close though, you can see him looking offscreen in several scenes, as if he was reading cue cards. This was late in his career when he was a notorious alcoholic and I can only assume he was having trouble remembering his lines.
I also found it interesting seeing Don Ameche as a young man for the first time. I'd only known him before this from his work in Cocoon and Trading Places. I had no idea he was such leading man type material in his youth. His romance with Colbert feels rushed though. They have one brief night together and suddenly he shows up at the end proposing marriage.
Despite the rest of the famous cast, this is Colbert's movie and she's terrific in it. My favorite moment is when she wakes up in the hotel and starts wondering if she's going crazy and maybe really is the Duchess. She has a conversation with herself that is delivered with perfect comic timing.
I also agree that Mary Astor should have been given her comeuppance. Her relationship with her husband and the gigolo reminded me of that story Woody Allen tells in Radio Days about the upper-class radio hosts who catch each other cheating on the other but because they're so sophisticated, instead of getting a divorce he, her and her lover spend the weekend together in Havana.
Although there are screwball comedy elements to this movie, it's really more of a romantic comedy, especially the first half. There's very little of the rat-a-tat-tat back and forth dialogue that you get in movies like His Girl Friday or Bringing up Baby. Perhaps if I hadn't gone in expecting that I wouldn't have felt slightly let down.
Photos © Copyright Paramount Pictures (1939)