Movie Review
Midnight Mary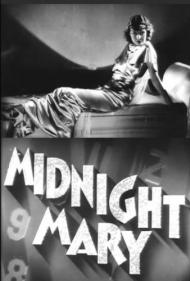 US Release Date: 06-30-1933
Directed by: William A. Wellman
Starring
▸
▾
Loretta Young

,

as

Mary Martin
Ricardo Cortez

,

as

Leo Darcy
Franchot Tone

,

as

Thomas 'Tom' Mannering Jr.
Andy Devine

,

as

Samuel 'Sam' Travers
Una Merkel

,

as

Bunny 'Bun'
Frank Conroy

,

as

District Attorney
Warren Hymer

,

as

Angelo Ricci
Ivan F. Simpson

,

as

Mr. Tindle
Harold Huber

,

as

Mr. 'Puggy' Nestle
Sandy Roth

,

as

Blimp
Martha Sleeper

,

as

Barbara Loring Mannering
Charley Grapewin

,

as

Court Clerk
Louise Beavers

as

Anna, Mary's Maid
Reviewed on:
January 11th, 2012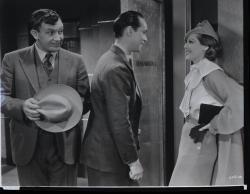 Andy Devine, Franchot Tone and Loretta Young in Midnight Mary.
Midnight Mary was made by MGM but has the look and feel of a Warner Brothers' movie. It was stylishly directed by William A. Wellman from a story by Anita Loos. In one scene Mary is walking the streets at night in search of employment. Everywhere she looks she sees brightly lit neon signs. As she is looking at them the words the lights spell change to "No Work". Another inventive camera trick is the way the scenes change. They slide to the left side of the screen as the next scene enters from the right.
Loretta Young stars as the titular character. When the story opens she is on trial for murder. While the jury deliberates we see her life story shown in flashback.
Mary's mother died when she was a little girl leaving her impoverished. Mary gets falsely accused of shoplifting and sent to a reformatory at 13. At 16 she's hanging out with the wrong crowd and by 18 she's a full-fledged gangster's moll to small time hood Ricardo Cortez. One night during an attempted robbery of a casino she meets a wealthy attorney played by Franchot Tone. She quickly finds herself torn between her former life of crime and the possibilities of a happy future with Tone.
Where the story goes from here should be pretty obvious to anyone who has seen many movies.
MGM draped Loretta Young in many stylish gowns and cunning little hats, courtesy of legendary costume designer Adrian. Young was incredibly beautiful with large expressive eyes. She was adept at playing both the tough talking dame and the upper class lady and Midnight Mary gave her a chance to do both. Her best scene is where she drops her ladylike demeanor and reveals her true personality to Tone.
The cast includes Una Merkel, in her usual role as the dumb blonde best friend, and a young Andy Devine as Tone's equally wealthy lifelong friend. Seeing Devine in a tuxedo makes for a rather strange sight but even then his voice was unmistakable. The pre-Code aspects of the movie include the fact that Merkel's character gets pregnant out of wedlock and the ending, which I won't give away. Let's just say that after the Code, Mary's fate would have been quite different.
Midnight Mary is a minor little movie from 1933. Thanks to TCM is has been released on DVD as part of the Forbidden Hollywood Collection. Anyone interested in movies made before the enforcement of the Production Code should check it out.

Photos © Copyright Metro-Goldwyn-Mayer (MGM) (1933)