Movie Review
Memphis Belle
It was to be their final mission, one way or another.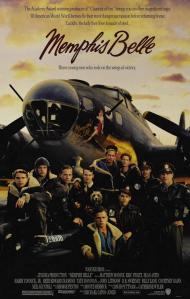 US Release Date: 10-12-1990
Directed by: Michael Caton-Jones
Starring
▸
▾
Matthew Modine

,

as

Capt. Dennis Dearborn
Eric Stoltz

,

as

Sgt. Danny Daly
Tate Donovan

,

as

1st Lt. Luke Sinclair
D.B. Sweeney

,

as

Lt. Phil Lowenthal
Billy Zane

,

as

Lt. Val Kozlowski
Sean Astin

,

as

Sgt. Richard Moore
Harry Connick Jr.

,

as

Sgt. Clay Busby
Reed Diamond

,

as

Sgt. Virgil Hoogesteger
David Strathairn

,

as

Col. Craig Harriman
John Lithgow

,

as

Lt.Col. Bruce Derringer
Jane Horrocks

as

Faith

Reviewed on:
October 12th, 2001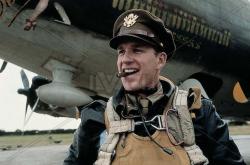 Matthew Modine in Memphis Belle.
Memphis Belle is based on true-life experiences and historical facts. Director William Wyler (The Best Years Of Our Lives) made a film about the Flying Fortresses in 1944. William's daughter Catherine Wyler and David Puttnam produced this movie with much of its inspiration coming from his documentary.
The officers and crew of the Memphis Belle have almost completed their tour of duty. The only thing standing in their way is one last bomb run over Bremen Germany. Through flack filled skies and enemy fighter planes, the Memphis Belle flies it's final mission.
On board the Memphis Belle is an all-star cast of B-actors. When this movie first came to theatres, Mathew Modine was the big star, having already found success in Full Metal Jacket. Since this movie's release the rest of the cast has gone on to mediocre success. Tate Donovan did several episodes of Friends as Rachel's love interest. Harry Connick Jr. has a recurring role on Will And Grace as Grace's husband. Billy Zane took a cruise on the HMS Titanic. Reed Diamond, who plays Vigil, the virgin, became the love interest on television's Judging Amy. Sean Astin became Samwise Gamgee in The Lord Of The Rings trilogy. Now what ever happened to Mathew Modine?
The cast standouts are Harry Connick Jr. His southern accent is strong. "I don't want yer dawg." Sean Astin is the comic relief who thinks he is a stud. Tate Donovan does the best job of all. His character is the most fleshed out. His jealous copilot has the biggest life changing experience of the group.
Memphis Belle is a history lesson. The details are wonderfully exact. The film briefly utilizes actual footage from the war. The film was shot on an old World War II English air base. To often this movie feels like a documentary. Whenever something happens, one of the characters has to explain it. "The electrical system must be totally out." "They only have one wheel down." I know this is exposition, but it takes us away from the tension. The characters would have just reacted, not explained it to other crewmembers that already know what is going on.
Still, the movie earns some emotional responses from its audience. The scene where the copilot takes over for the tail gunner knocked the wind out of me the first time I saw it. Other scenes get a bit to melodramatic. The drunken navigator falling to his knees and screaming "I don't wanna die." Is a bit too much. Then there is the scene where Modine's Captain talks lovingly to his plane. Sure, he may have some affection for it and his crew but the scene just makes Modine's character look stupid.
The movie offers few surprises, but it takes its subject matter so seriously that you have to respect the effort. At the end of the movie, the audience is informed that 200,000 men lost their lives in planes fighting in World War II. Perhaps that statistic should have appeared at the beginning of the movie. It would have helped to raise the tension of the film.
Photos © Copyright Warner Bros. (1990)