Movie Review
Melinda and Melinda
Life can be a comedy or a tragedy, it all depends on how you look at it.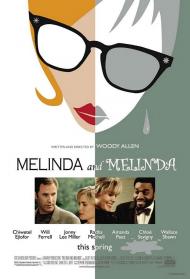 US Release Date: 03-18-2005
Directed by: Woody Allen
Starring
▸
▾
Radha Mitchell

,

as

Melinda
Will Ferrell

,

as

Hobie
Chloe Sevigny

,

as

Laurel
Amanda Peet

,

as

Susan
Steve Carell

,

as

Walt
Brooke Smith

,

as

Cassie
Chiwetel Ejiofor

,

as

Ellis
Josh Brolin

,

as

Greg
Jonny Lee Miller

as

Lee

Reviewed on:
February 25th, 2005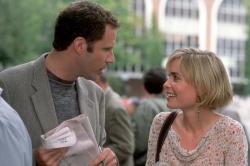 Will Ferrell and Radha Mitchell in Melinda and Melinda.
After a recent series of less then spectacular movies, Woody Allen returns at least partly to form with his latest movie, Melinda & Melinda. It contains most of the classic elements of an Allen film, you know the ones; a group of upper class Manhattanites deal with love and life amongst all the usual Woody trappings.
The central conceit of Melinda & Melinda, is that it tells the same story twice. The movie opens with a group of four New Yorkers in a restaurant, arguing whether life is a tragedy or a comedy. To settle the matter, one of the diners tells a story and then asks two of the other diners to tell him whether or not it's a comic or tragic tale. The two versions of the story make up the bulk of the rest of the film.
Both versions of the story begin with a young woman, Melinda (played magnificently by Radha Mitchell in both versions), arriving at an apartment in the middle of a dinner party, but from there, the stories quickly diverge. The tragic tale tells of Melinda's recent suicide attempt, her messy divorce, and the even messier breakup that followed with her lover. In the comic version, which more closely resembles a typical Allen movie, Melinda is the loveable neurotic female character that was perfected by Diane Keaton in Annie Hall. While both versions cover Melinda's attempts to find love again, the journey and the final ending are wildly different.
Wisely, Woody chose not to appear in this film, although he could have played one of the characters at the beginning of the film telling the story, and instead uses Will Ferrell as his surrogate character. Ferrell is an inspired choice. Unlike previous Woody surrogates like John Cusack and Jason Biggs, who basically did Allen impersonations, Ferrell is so physically different from Allen and with such a completely different brand of humor, that he breathes fresh life into his hapless character. His story is by far the most entertaining of the two.
The dramatic version of the tale takes longer to hit its stride. At times, the dialogue is very stiff and unnatural. Fitting for a tragedy, the characters are much less sympathetic and likable. However, at times they are so unsympathetic that it becomes hard to care very much about them. And unfortunately, this version of the story takes up more screen time than the comedic version, or at least it seems to.
Like all of Allen's best work, the city of New York plays a character in its own right. The entire portfolio of his work is practically a love song to the city and this movie is no exception, with locations ranging from SoHo to the Upper East Side and out to the Hamptons. Although Woody is forever linked to the city, one wonders just how in touch he is with the ordinary New Yorker when he has the couple in the tragic version state that they're poor but happy, when they're living in an enormous and beautifully decorated loft apartment that no one could ever afford and still call themselves poor.
Not on par with his earlier classics, Melinda & Melinda is a huge step in the right direction. I wonder what sort of movie he could have made however, if he had dropped the two stories and combined them into one, because my response to the diners who open the movie is that life is tragically comic and comically tragic. Rarely is it strictly one or the other.
Reviewed on:
April 25th, 2005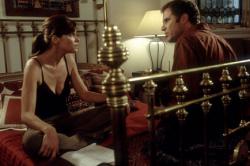 Amanda Peet and Will Ferrell in Melinda and Melinda.
Like Scott I found this to be Allen's best work in years. Clearly he hasn't yet run out of ideas and his directing is as deft as ever. The fact that he doesn't appear in the movie himself is a huge plus. I really think his acting has suffered in recent years.
The screenplay is typical Allen. Here are a few choice lines. "Of course we communicate. Now can we not talk about it anymore?" and "Melinda had a reputation for being Postmodern in bed." Although I must say it seems a bit odd to see twenty and thirty-something's using the speech patterns of a much older generation. Apparently these people pay absolutely no attention to modern pop culture.
The young cast - incidentally this is the most multicultural cast I've ever seen in a Woody Allen film - gives it a 21st Century feel but the dialogue and all the cultural references makes it seem dated at the same time.
Will Ferrell and Rhada Mitchell are standouts in a solid cast. Mitchell really seems to understand both Melinda's very well and Ferrell should act as Woody's surrogate self in all his movies from now on.
To echo my brother this is a step in the right direction for the iconic New York filmmaker. But by no means is it a classic.

Reviewed on:
April 28th, 2008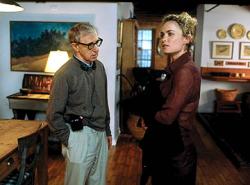 Woody Allen directs Radha Mitchell in Melinda and Melinda.
Melinda and Melinda seems more like a creative film project than an actual theatrical feature. One story ends on a sad, but realistic note, while the other ends like Rachel and Ross from Friends. Neither is satisfying. Allen is saying that life is neither a tragedy or a comedy, or that life is a combination of both. Either way, so what? Do we not all know this already? This movie is full of New York snobs, who love to dissect music and art, but none are honest in their relationships. It is in that which the comedy and drama derive.
I found the most realistic character to be that of Lee. Here is a man married to a woman he has fallen out of love with, but not enough to leave her. He dreams of being a movie star but cannot get past tooth paste commercials. So being a man in a movie, he has affairs with young women. He is not the most likable character, just the most understandable one.
Ferrell spends the entire time imitating Allen. Not only are his lines typical Allen dialogue, but his mannerisms as well. My favorite parts with him is when he dates the Playboy Centerfold. "Hard to believe a Republican could be so sexual." He says in reference to her. Later in their date, when things are starting to heat up, Ferrell says to her, "I'd hate to get all worked up and then differ on a tax cut."
I agree with Patrick that these relationship-confused 30 year olds, talk like a 60 year old film maker. It is charming at first, but then seems forced. At no point does anyone actually seem young. On Halloween, they go to a screening of the 1934 Boris Karloff, Bela Lugosi film, The Black Cat. Have these people ever even heard of Freddie Kruger?
Photos © Copyright Fox Searchlight (2005)