Movie Review
Meet Me in St. Louis
MGM's glorious love story with music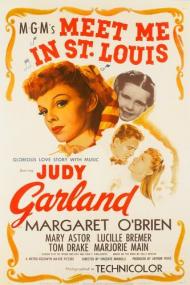 US Release Date: 11-28-1944
Directed by: Vincente Minnelli
Starring
▸
▾
Judy Garland

,

as

Esther Smith
Margaret O'Brien

,

as

'Tootie' Smith
Mary Astor

,

as

Mrs. Anna Smith
Lucille Bremer

,

as

Rose Smith
Leon Ames

,

as

Mr. Alonzo Smith
Tom Drake

,

as

John Truett
Marjorie Main

,

as

Katie
Harry Davenport

,

as

Grandpa
June Lockhart

,

as

Lucille Ballard
Henry H. Daniels Jr.

,

as

Alonzo 'Lon' Smith Jr.
Hugh Marlowe

as

Colonel Darly

Reviewed on:
August 10th, 2005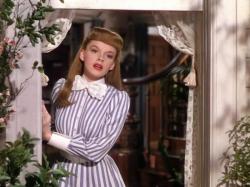 Judy Garland in Meet Me in St. Louis.
Meet Me in St. Louis is the most perfect motion picture postcard ever made. It is MGM's Technicolor musical tribute to a bygone era. An era that never really existed but that only Hollywood could recreate. The movie shows the life of one Smith family living in St. Louis during the years 1903 and 1904 when the World's Fair was held there.
The Smith's have five children, one son and four daughters. Also a maid and a live-in Grandpa. The movie opens in the summer of 1903. The street the Smith's live on was built on the back lot of the famous MGM studios. The first scene sets up the rather inconsequential plot. Mr. Smith announces to his family over dinner that he has been offered a job in New York City and that therefore the entire family will be moving there after the first of the year. Naturally his wife and children don't want to leave their home, especially with the World's Fair only months away.
Although admittedly light on plot the magic of Meet Me in St. Louis comes from the interaction of the characters and most of all from the wonderful songs. "The Trolley Song", "The Boy Next Door" and "Have Yourself a Merry Little Christmas" are all from this movie, as is the whimsical cakewalk performed by Judy Garland and Margaret O'Brien during "Under the Bamboo Tree".
Director Vincente Minnelli showcases his impeccable eye for color and detail. We see the Smith house as the seasons change from summer to fall and then to winter. This world may never have really existed but that doesn't stop us from waxing nostalgic for it. In my opinion Meet Me in St. Louis ranks with Singin' in the Rain as one of the greatest musical movies of all time.

Reviewed on:
August 13th, 2005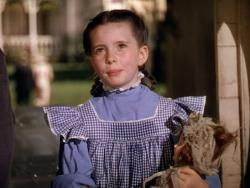 Margaret O'Brien in Meet Me in St. Louis.
Meet Me in St Louis is the greatest chick flick musical. I am not sure if that really means anything, but it can be quite entertaining. It came out in 1944 when thousand of men were over seas. A movie about a bunch of strong willed women was quite appropriate for the time. As Patrick noted, the setting for the movie is very simple and quaint. I imagine that this was great escapism for many people during World War II.
When I watched this movie as a kid I laughed at Margaret O'Brien's mischief. Watching it as an adult it tends to be a little melodramatic. The worst part for me though, is that none of the male characters are at all fleshed out. There is the blink and you, missed him brother. The dad who acts as the antagonist. The boy next door is just there for Judy to gush over and sing about.
Like I wrote, this is a chick flick. So where as it will never be my favorite musical, I can appreciate it for what it is. It has some memorable songs and plenty of humor. My favorite piece of dialogue is when one of the older sisters scolds a younger one for playing a potentially dangerous trick. "Agnes Smith, you're nothing less than a murderer. You could have killed dozens of people!" To which Agnes responds, "Oh Rose, you're so stuck up."
Reviewed on:
March 25th, 2012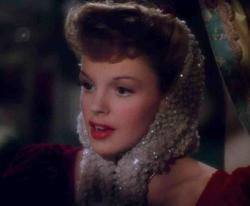 Judy Garland, musically wishing you a Merry Little Christmas, in Meet Me in St. Louis.
I agree with both of my brothers to some degree about this movie. It is most definitely a nostalgic look back at a more innocent era in the form of an old Hollywood chick flick musical. Where I disagree with them is in my opinion of the songs.
There's definitely a shortage of plot. This is in part due to the fact that the script is based on a series of short stories by Sally Benson that appeared in The New Yorker magazine. It's easy to see where the different stories start and end. There's the opening about the long distance phone call, the Halloween segment, the big dance and of course the moving to New York City storyline, which very loosely ties the whole thing together.
Eric, you mention laughing at Margaret O'Brien's mischief as a kid as if to imply that you don't laugh at them as an adult. I still found her to be the most entertaining and funny character. I laughed at her obsession with death and the way she buried her dolls. She gets one of the funniest lines in the movie when she learns that they're moving to New York City when she says, "It'll take me at least a week to dig up all my dolls in the cemetery." And course the highlight of the film, comedically, has to be Halloween night when, after plastering the scary neighbor with flour, she is hailed by the other kids as the most horrible, which she takes as the highest compliment.
I wasn't impressed with the songs at all. That damn "Trolley Song" is catchy as hell and "Under the Bamboo Tree" is cute, but I can't say I really enjoyed them, despite the talent of the great Judy Garland. There is one exception and that is "Have Yourself a Merry Little Christmas". This classic carol has been sung many times, many ways, but this version is perfect. Garland flawlessly captures the sadness in the lyrics with her definitive rendition.
Although there isn't a complicated plot, the series of stories do add up to a feeling of cohesiveness by the film's end. It's a sweet and innocent story that feels doubly old fashioned. It's filled with nostalgia for the time it was set and the time it was made. I wouldn't rank it nearly as high as Singin' in the Rain, but it definitely has its innocent charms.
Photos © Copyright Metro-Goldwyn-Mayer (1944)