Movie Review
McCabe & Mrs. Miller
Name Your Poison.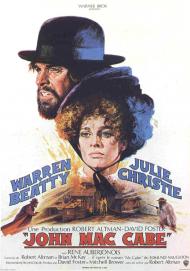 US Release Date: 06-24-1971
Directed by: Robert Altman
Starring
▸
▾
Warren Beatty

,

as

John McCabe
Julie Christie

,

as

Constance Miller
Rene Auberjonois

,

as

Sheehan
William Devane

,

as

The Lawyer
John Schuck

,

as

Smalley
Corey Fischer

,

as

Mr. Elliott
Bert Remsen

,

as

Bart Coyle
Shelley Duvall

,

as

Ida Coyle
Keith Carradine

,

as

Cowboy
Michael Murphy

as

Sears

Reviewed on:
October 4th, 2011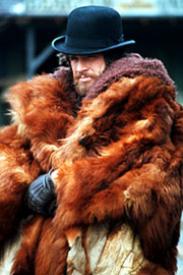 Warren Beatty in McCabe & Mrs. Miller.
For years Robert Altman was a successful television director before hitting the big time with the movie MASH in1970. Having tackled the Korean War in that comedy hit and following it up with the whimsically offbeat Brewster McCloud, he decided to revisit the pioneering days of the Pacific Northwest for his next movie, McCabe & Mrs. Miller. As you might expect the maverick auteur put his own unique stamp on the Western genre.
The movie begins with the arrival of John McCabe (Beatty) to a small mining town in the Northwest Territory. He exhibits a brash ambitious personality and quickly establishes a small scale whorehouse using three small tents and three of the ugliest prostitutes in cinema history. The proprietor of the local saloon spreads a rumor that McCabe is a former gunslinger who once killed an acquaintance of his in cold blood.
With the arrival of Mrs. Miller (Christie), a hardnosed business woman/Madame who forces her way into a business partnership with McCabe, the makeshift whorehouse becomes a thriving house of ill repute offering a much more attractive group of girls. The relationship between McCabe and Mrs. Miller soon evolves into a sexual one.
The prosperity of the growing town brings outside interest in the form of a large landholding corporation. McCabe turns down their offers to buy him out and this decision changes the lives of all those involved. Set during the winter months, the climactic gunfight takes place during a snowstorm. This sets it apart visually from all the other gunfights in movie history. It is beautifully shot and gives the scene a feeling of authenticity.
The movie was filmed in the wilds of British Columbia in Canada. Altman and his cast and crew actually cleared the land and built the entire town seen in the movie. They lived there during the shoot so the buildings had to be completed structures on the inside and out. The cinematography makes great use of the panoramic vistas in the background in many of the shots.
This movie features the director's trademark use of multilayered audio. As in real life Altman has his characters talk over each other. Altman is also famous for featuring large casts of characters with multiple intertwining storylines. McCabe & Mrs. Miller keeps things on a smaller scale although there are a fair amount of lesser characters moving in and out of the picture.
Another thing that sets McCabe & Mrs. Miller apart from other Westerns is the subject matter. The entire story is set in and around a whorehouse. One grisly scene features a berserk whore attacking and repeatedly stabbing a client that clearly did something to make her snap. There are scenes featuring full frontal nudity of several women as they bathe together in a very large tub. Breasts were a fairly common sight in movies by 1971 but bush was not. Altman pushed the envelope and did it in a non-sensational manner.
Warren Beatty and Julie Christie make a memorable screen pair. For all his cockiness, McCabe isn't that bright. Mrs. Miller is the brains of the outfit and her presence challenges McCabe's authority and masculine self esteem. McCabe & Mrs. Miller is a mournful and unique film, unlike any other Western I've seen. It showcases the talents of Robert Altman and just why he is revered as a true original.


Reviewed on:
January 4th, 2014
Julie Christie and Warren Beatty in McCabe and Mrs. Miller
The one thing that always sticks with me after watching McCabe & Mrs. Miller is the location. Unlike most westerns that take place in a scenic desert or were filmed in the California hills, this one takes place in Washington state even though, as Patrick pointed out, it was filmed in British Columbia. The location is a character all of its own.
The entire film has an overcast of gloom. It often appears wet and dreary. Depression permeates the very fiber of the town and its population. The whores are none to attractive. Even the ones Mrs. Miller brings only look good by comparison to the "chippies" that McCabe brought in earlier. Try this on. One of the supposedly better looking of Mrs. Miller's prostitutes is played by Olive Oil herself, Shelley Duvall.
These girls may be bland looking, but considering how rare women were in those parts at that time, a "piece of ass", as Keith Carradine says to Warren Beatty, is a piece of ass. As unimpressive as these girls are, they are still able to bring a little brightness into the lives of these sad little dreamers hoping to find gold.
Altman is known for large casts, plenty of sub plots and overlapping dialogue. There is some of that to be found here but Altman mostly focuses on John McCabe, a gambler turned brothel owner and his business partner, Mrs. Constance Miller. Their difference in managing styles is quite noticeable. McCabe is content to have his whores service their customers in tents. Once Mrs. Miller takes over, she demands a house be built and customers bathe first.
The two develop feelings for each other. I like the scene where McCabe visits the brothel to see Mrs. Miller but is disappointed when told by one of the girls that Mrs. Miller is with a customer. McCabe and Mrs. Miller live harsh lives in a harsh place. A happy, traditional ending does not look likely. In fact, this movie is more of a mood than a love story. The gun fight at the end that takes place in the dead of winter is brilliant.
Although a western, McCabe & Mrs. Miller is more of a film with atmosphere than shootouts. This is a place where men hope to strike it rich when not paying women to pretend to love them. The brothel and the church are the town's biggest buildings. It is quite a metaphor as both businesses are selling peace and happiness to a bunch of men stuck in a purgatory of their own making.
Photos © Copyright Warner Bros. Pictures (1971)
Related Review