Movie Review
Maze Runner: The Scorch Trials
The maze was just the beginning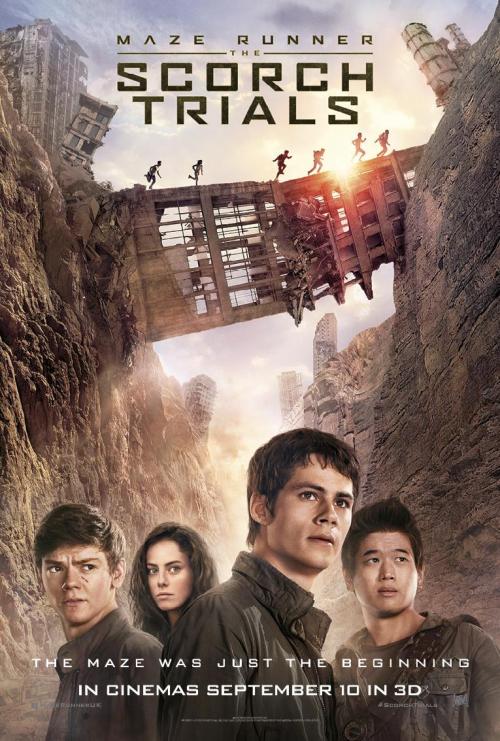 US Release Date: 09-18-2015
Directed by: Wes Ball
Starring
▸
▾
Dylan O'Brien

,

as

Thomas
Ki Hong Lee

,

as

Minho
Kaya Scodelario

,

as

Teresa
Thomas Brodie-Sangster

,

as

Newt
Dexter Darden

,

as

Frypan
Alexander Flores

,

as

Winston
Jacob Lofland

,

as

Aris Jones
Rosa Salazar

,

as

Brenda
Giancarlo Esposito

,

as

Jorge
Patricia Clarkson

,

as

Ava Paige
Aidan Gillen

,

as

Janson
Lili Taylor

,

as

Mary
Barry Pepper

as

Vince

Reviewed on:
September 23rd, 2015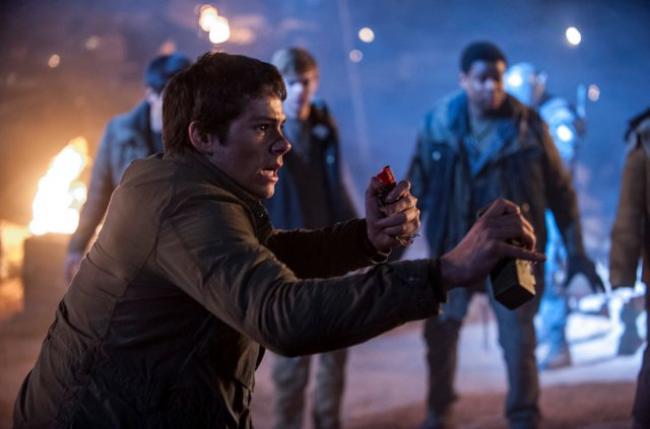 Dylan O'Brien in The Scorch Trials
Perhaps it would have helped if I had read the Maze Runner novels but this series of films continue to make little to no sense. It probably would not have made much of a difference as I read that this second installment has moved away from the source material. The producers have promised to bring it back to the books in the third movie. Whatever!
When last we saw Thomas and his friends, they had been rescued from the group that was holding them hostage to observe them in the glade and maze for some unexplained reasons. They are taken by their rescuers to a large complex and immediately locked up. Thomas soon learns that the people "caring" for them are working for the same people that put all of them in the maze in the first place. Through a series of action sequences they escape with a couple of new characters and find themselves in a desert wasteland that used to be a metropolis of skyscrapers and bridges.
Are you lost yet or just confused? I am both as well as pissed off by the plethora of plot holes. Why let them escape only to be taken to another facility by the same organization? We find out what the boys are for and it does not require they explore the maze or be let out of it in such a dramatic fashion. Why is the world a desert when the glade is fertile green with grass and trees? If the rest of the world is in such dire straits how in the hell was it possible to build acres of ecofriendly plant supporting earth surrounded by an extensive electronically moving huge maze? Why in the hell does the helicopter land so far away from the complex when they know infected zombie type humans roam the area? Why are the soldiers so dumb as to not find the escapees who turn on a bunch of lights at night in the desert? That building would have glowed like a light house on a lonely dark seashore. I could go on and on but it is giving me a headache.
The plot, what little there is, moves very quickly. Thomas and company seem to get chased non-stop. A couple of characters die along the way. It may keep you distracted but if a film makes up the rules as it goes, there is little for the audience to connect with. The scene where Thomas says he is done running is his best moment but not as munumental as it should have been.
There lies the other big flaw. Other than Thomas wanting to find out what is going on, he has no motivation or personality. Thomas is nothing more than a teenager who finds himself in a desperate situation with some new friends who all have the same value to the evil organization as him. He is the main character but if he dies, what changes?
I return to my original thought, maybe I just have not caught on to all that is happening. Maybe the third film will clear all of my questions up and make this mess suddenly make sense, but I doubt it. They would have to pretty much state all of this is a dream for it to satisfactorily rationalize this schizophrenic plot. Of course, a dream is a really cheap way to explain anything and would not help my enjoyment of this movie series. Run away from this movie.
Photos © Copyright Gotham Group (2015)
Related Review