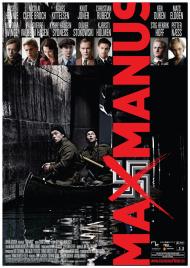 Norway Release Date: 12-19-2008
Directed by: Joachim Ronning
Starring
▸
▾
Aksel Hennie

,

as

Max Manus
Agnes Kittelsen

,

as

Ida Nikoline 'Tikken' Lindebrakke
Nicolai Cleve Broch

,

as

Gregers Gram
Ken Duken

,

as

Siegfried Fehmer
Christian Rubeck

,

as

Kolbein Lauring
Knut Joner

,

as

Gunnar Sonsteby
Mats Eldoen

,

as

Edvard Tallaksen
Stig Henrik Hoff

,

as

Politikaptein Eilertsen
Pal Sverre Valheim Hagen

as

Roy Nilsen

Reviewed on:
September 7th, 2011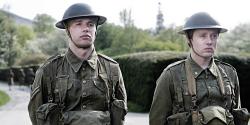 Nicolai Cleve Broch and Aksel Hennie in Max Manus
I have often watched and enjoyed foreign films for their un-American take on relationships and sense of humor. Another fascinating aspect of foreign films are their true stories about people I have never heard of before. This is the case with Max Manus, Norway's most notable hero of World War II.
Besides having a cool comic book sounding name, Max Manus lead an adventurous life, which he wrote about in two autobiographies. Born and raised in Norway, he spent much of his teen years in South America and Latin America. He returned to Norway before the onset of World War II, where he volunteered with the Norwegian Army to fight with the Finns when the Russians attacked.
The fighting in Finland plays in the film as flash backs to a particular battle that haunts Max throughout the film. Max Manus returned to Norway when the Germans invaded on April 9, 1940. The royal family escaped to England while Norway was occupied by Germans including a Gestapo officer named Siegfried Fehmer who became Max's nemesis.
Max and some friends help start the Norwegian resistance. His best friend Gregers is a writer, and together they print and distribute a newsletter to counter the propaganda provided by the Nazis. Due to their inexperience a couple of them get caught, including Max. While getting interrogated, Max jumped out of an upstairs window onto the street below, scratching and bruising himself. He was taken to a hospital where the doctor lied to the Nazis that his wounds were worse than they actually were and that he could not be moved. With the help of a nurse he escaped.
Max is now famous within the resistance community as well as with the Nazis. He escaped the country and ended up in Scotland. The movie makes it seem as if it happened quickly, but in real life Max traveled through several countries, including the United States, before finding his way to Scotland. The film only hints at this when a British officer asks him how his journey was and Max responds, "Long."
In Scotland he joins Gregers who earlier left Norway. Together they train and learn about bombs. They return to Norway, reteam with the resistance and go about sabotaging the Nazis where and when they can. They specialize in blowing up ships. Two of the films most tense scenes happen when they row out through a harbor, past docks and decks filled with German soldiers, to plant bombs on the side o f ships.
In between acts of sabotage, Gregers and Max traveled back and forth to Stockholm to meet with a female courier, Tikken, who worked at the British consulate. She is Gregers friend but Max has eyes for her, even though she is already married with a child. Max meets and makes many friends during the course of the movie but my favorite scene finds Max alone at the end of the war drinking alone. Suddenly the ghosts of all his dead friends appear and share a toast with him.
Max Manus was one of Norway's most expensive films. The money was well spent as the special effects scenes are worthy of a big Hollywood production. It's stars, Aksel Hennie and Nicolai Cleve Broch have been called the Ben Affleck and Matt Damon of Norway. Nicolai Cleve Broch was nominated for a best supporting actor Norwegian Academy Award, called an Amanda Award, while Aksel Hennie won for best actor.
Photos © Copyright Nordisk Film (2008)