Movie Review
The Matador
A hitman and a salesman walk into a bar...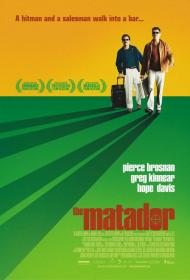 US Release Date: 12-30-2005
Directed by: Richard Shepard
Starring
▸
▾
Pierce Brosnan

,

as

Julian Noble
Greg Kinnear

,

as

Danny Wright
Hope Davis

,

as

Bean
Philip Baker Hall

,

as

Mr. Randy
Adam Scott

,

as

Phil Garrison
Dylan Baker

,

as

Lovell
Portia Dawson

,

as

Genevive
Roberto Sosa

as

Skinny Mexican Man

Reviewed on:
September 29th, 2005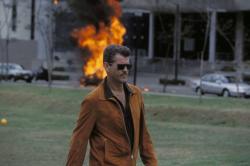 Pierce Brosnan in The Matador.
The Matador is a quirky, slightly off-kilter and very funny movie. It's the best hitman comedy since Grosse Pointe Blank, although come to think of it, it's probably the only hitman comedy to come out since that one.
Pierce Brosnan stars as Julian Noble, an aging assassin (or facilitator as he likes to be known since he facilitates people's passage from this life to the next) whose fashion sense and hair style seems to have peaked in the 1970s. An alcoholic on the verge of job burnout, he strikes up an unlikely friendship with traveling businessman Danny Wright (Greg Kinnear) in a hotel bar in Mexico City. At first it's simply a drunken meeting wherein Julian is seeking human companionship of the kind that he doesn't have to pay for on his birthday. As the pair spends time together over the next couple of days, as Danny waits to see if he's landed the business contract that he came to town for, an actual friendship begins to develop. Julian even confides in Danny what he does for a living.
When Julian asks for Danny's help with his next job, their quick friendship seems to melt away. "Forget you know me," Julian says. "Just consider me the best cocktail party story you ever met." It's not meant to be of course, as six months later Julian shows up on Danny's front door on the run from his employers due to his failure to complete two jobs. He needs Danny's help again and this time he won't take no for an answer.
Like a lot of fans, I'm sure, Brosnan will always be Bond to me, but in this movie that actually helps his character. He comes with confidence and the knowledge of killing of a Bond-type character, but then his manners and dress sense are as far as you can possibly get from the ultra-sophisticated British Spy. He gets the movie's best and funniest lines, most of which are so completely vulgar that I won't repeat them here. In The Tailor of Panama, he also played a vulgar spy, yet that character still retained a certain suaveness that is completely absent here. Just try to picture Bond walking across a hotel lobby in just a Speedo and cowboy boots, cigarette in one hand, beer in the other.
Coupled with Kinnear, the two make the most mismatched buddies since DeNiro teamed up with Charles Grodin in Midnight Run. They have an onscreen chemistry that lights up the movie. Kinnear brings Danny, the movie's everyman, to life, holding his own against the scene-stealing Brosnan and generating his own laughs. Hope Davis is also quite funny in a small part as Danny's wife who suddenly finds a hitman staying over at her house.
Dark comedies like this one are far too rare these days. If you get a chance to see this one, take it.

Reviewed on:
July 24th, 2006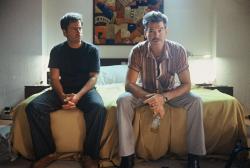 Greg Kinnear and Pierce Brosnan in The Matador.
The Matador is made or broken by the believablity of the unlikely friendship of Julian and Danny. Fortunately, for the movie, their meeting and time spent together is completely acceptable. Julian is lonely. He has an employer and he kills people he does not know. Danny has bad luck. A tree falls through his roof when he is about to have sex with his wife. He also has the unfortunate luck to meet and befriend an assassin.
As Scott wrote, the movie has some great lines, and Julian gets them all, "I look like a Bangkok hooker on a Sunday morning, after the navy's left town.""I'd only be interested in your mother if she lost 20 pounds and 30 years." "I wouldn't do that for all the teenage twat in Thailand." Kinnear is good here, but it is Brosnan's movie.
The real unique aspect to The Matador is that it is about grown men with actual feelings. Danny was fired and wants to make the deal go through so as to take care of his family. Julian is a loner who wants some real companionship. They just so happen to be in the same bar at the same time.
Reviewed on:
February 22nd, 2013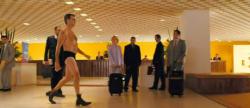 Pierce Brosnan in The Matador.
The Matador is a forgotten little gem that somehow didn't make much of an impact when it was first released back in 2005. I predict it will grow in stature over time and one day be rediscovered as a classic dark comedy. Like Pierce Brosnan's performance as Julian Noble, it's colorful, boisterous and funny. I agree that he and Kinnear make a great comic duo with Kinnear -for the most part- playing straight man to the scene stealing inebriated and randy assassin for hire.
Although Julian travels around the globe during the movie to places like Vienna, Las Vegas, Moscow, Sydney, Budapest, Tucson and Manila, the entire movie was actually shot in Mexico City in just 40 days. During the scenes at the bullfight the bulls themselves were CGI creations. Although the movie may not be that well remembered it has at least one major fan (and a wealthy one at that) as evidenced by the fact that the sombrero worn by Brosnan in the movie sold at auction for $22,000.
Julian Noble is full of pithy yet incredibly vulgar nuggets of wisdom. Scott declined to repeat any of his foulmouthed quotes while Eric mentioned several of them. Here are a few of my favorites... "I hate these Catholic countries. It's all blushy-blushy and no sucky-fucky." "A Vietnamese girl I once knew had her legs so locked together I couldn't get a whiff of her spring roll. Two drinks, half a quaalude later, I was at an all you can eat buffet."
And my favorite bit of dialogue in the entire movie occurs between Julian and Danny during their first chance encounter at that bar in Mexico.
Julian Noble: "Margaritas always taste better in Mexico."
Danny Wright: "They certainly do."
Julian Noble: "Margaritas and cock."
Awkward silence, then as an afterthought Julian adds, "Sorry about the cock thing, it's kind of a conversation stopper."
Of course not all of the jokes are of the vulgar variety. Check out how Julian explains to Danny how he gets his assignments, "My handler, Mr. Randy, contacted me the way he always does, through an ad in the International Tribune looking for cat sitters in Bali."
With a run time of just an hour and a half The Matador flies by. It is fast-paced, often-hilarious and a shitload of fun.
Photos © Copyright The Weinstein Company (2005)