Movie Review
The Master of Disguise
He Can Get Into Any Disguise... Getting Out Is Another Story.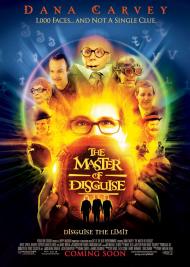 US Release Date: 08-02-2002
Directed by: Perry Andelin Blake
Starring
▸
▾
Dana Carvey

,

as

Pistachio Disguisey
Brent Spiner

,

as

Devlin Bowman
Jennifer Esposito

,

as

Jennifer Baker
Harold Gould

,

as

Grandfather Disguisey
James Brolin

,

as

Fabbrizio Disguisey
Austin Wolff

,

as

Barney Baker
Edie McClurg

as

Mother Disguisey

Reviewed on:
August 4th, 2002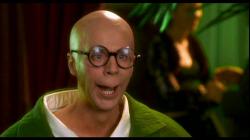 Dana Carvey in The Master of Disguise.
The Master Of Disguise is a silly film. It is slapstick on the level of The Three Stooges. It is funny as long as you can find that 8 year old inside you. I watched this movie with my two sons and we laughed through most of it.
Dana Carvey plays Pistachio, the son of a legendary disguise artist, James Brolin. Pistachio is unaware that being a disguise artist is a family business until his parents are abducted and his grandfather shows up to train him. His grandfather asks him if he saw anything when his folks were taken away. Pistachio says that he heard something. His Grandfather immediately reaches over and slaps Pistachio several times across the face. "Did it sound like that?" He asks. "Yes." Pistachio replies nonplussed. Hey, I told you it was slap stick.
With the help of this hot chick with a small butt, Pistachio goes looking for his parents. There is this running joke that Pistachio wants to marry a woman with a huge butt so there are plenty of references made about this babes tiny rear end. She, however, has a boyfriend until they discover he is actually dating the big butted girl of Pistachios dreams. Hey, I said you had to find your inner child to like this movie.
One of my son's favorite scenes is where Pistachio fights a bunch of ninja's. They do karate on him as he slaps them. It was how his grandfather taught him to fight. He says "Whose your daddy?" then slaps the shit out of them. Another running joke is that whenever the bad guy, Brent Spiner, lets out his bad guy laugh he always farts and then looks embarrassed. My kids laughed every time.
One of the things I liked about this movie were the cameos. Bo Derek in cornrow hair is in the opening scene running in a familiar bathing suit. When she gets in the car you find out it's actually James Brolin in disguise. Another cameo is Jessica Simpson, who in my opinion, is hotter than Britney Spears.
This is a movie for kids of single digit age. Its humor and pacing will keep them occupied. As an adult you might just sit there thinking that this is the stupidest thing since The Three Stooges.
Photos © Copyright Columbia Pictures (2002)